Los Angeles
Kevin James Endorses Eric Garcetti For Los Angeles Mayor
Ex-rival and former mayoral candidate Kevin James is endorsing Eric Garcetti Tuesday as his choice for mayor of Los Angeles.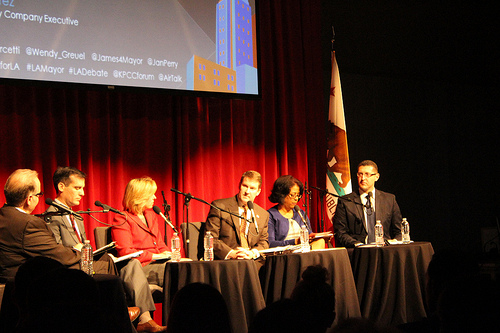 "The voters have made a decision and there are two candidates that remain," James said Monday in an interview with the Los Angeles Times. "I had to look at both of those candidates and decide which one is best to lead the city forward for the next four years."
Garcetti was the top vote-getter in the primary with 33 percent of the vote. Former city controller Wendy Greuel took home 29 percent of the vote.
James' endorsement means all three losing candidates in the March 5 primary election are backing councilmember Garcetti over former city controller Wendy Greuel in the May 21 runoff election.
Together, the three losing candidates earned more than 36 percent of votes in the primary election.
District 9 councilmember Jan Perry announced Thursday her endorsement for Garcetti. The Los Angeles Times called Perry's endorsement "one of the most prized" because of her influence and favor among African American voters in Los Angeles.
Former tech executive Emanuel Pleitez, who finished last in the primary, also endorsed Garcetti.
James told the Los Angeles Daily News he is endorsing Garcetti for his record of job creation in District 13, leadership in City Hall and his relative independence from labor group interests, in comparison to Greuel.
"I think we will be able to get more of an independent decision maker," James told the Los Angeles Daily News. "Wendy bartered that away when she lined up with all the City Hall labor groups."
READ MORE: Eric Garcetti Showcases His Union Support
According to the Los Angeles Daily News, Greuel has earned the endorsements of multiple union groups in Los Angeles and benefitted from outside spending on her behalf. During the primary, James was an outspoken critic about city leaders' ties to labor interest groups.
James, a former conservative radio show host, was the only Republican in the primary race.
According to the Los Angeles Times, James was not intially considered a serious candidate in the race. With "strong debate performances, shrewd use of media attention and the backing of an independent committee funded by Texas billionaires," James was able to edge past better-known city councilmember Jan Perry. He finished third, earning 16 percent of the vote.
Despite the major endorsement, it remains unclear if James' support will motivate Republican voters to back Garcetti.
The Los Angeles Daily News noted many conservative voters in the San Fernando Valley are loyal to Greuel, who represented parts of the Valley as a city councilwoman. Also, there is speculation that "the majority of Republican voters will skip the May 21 election given that both Greuel and Garcetti are viewed as liberal Democrats."
READ MORE: L.A. County Democratic Party Can't Decide On Mayoral Candidate
On March 25, former U.S. president Bill Clinton endorsed Greuel, calling her "a smart, dedicated and creative problem-solver."
Greuel worked for President Clinton in 1994 as a member of the U.S. Department of Housing and Urban Development. In his endorsement, Clinton called Greuel "a valued member" of his administration. He cited her role in delivering more than one billion dollars in federal aid to Los Angeles following the Northridge earthquake.
To read President Clinton's full endorsement, click here.
Los Angeles basketball legend Magic Johnson also endorsed Greuel. According to NBC News, Johnson has previously endorsed Phil Angelides for California governor in 2005, Hilary Clinton for president and Sen. Barbara Boxer in her 2010 re-election race.
RELATED CONTENT
Eric Garcetti Showcases His Union Support
Bill Clinton Endorses Wendy Greuel
L.A. County Democratic Party Can't Decide On Mayoral Candidate
LA Mayor Celebrity Endorsements May Not Be Successful
L.A. Mayoral Race: Annenberg TV News Candidate Profiles (VIDEO)
For Neon Tommy's full coverage of the 2013 Los Angeles mayoral race, click here.
Reach Executive Producer Vicki Chen here; follow her on Twitter here.