Los Angeles
LA Mayor Celebrity Endorsements May Not Be Successful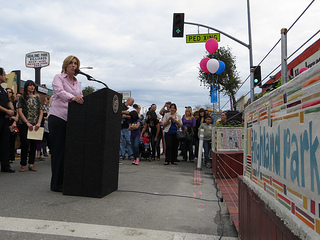 Both candidates for L.A. mayor made a play for the black vote today by announcing endorsements from prominent members of the city's African-American community.

Basketball legend and Los Angeles figurehead Earvin "Magic" Johnson announced his support for Wendy Greuel on the steps of the 28th St. YMCA today.

Candidate Eric Garcetti received City Council member and former opponent Jan Perry's endorsement.

While the two candidates are using different strategies - Garcetti trying to gain Perry's primary election supporters and Greuel hoping to piggyback off Magic's popularity- both are means to tie up every last vote in an election with a low voter turnout.

While the tactic may draw some voters, others in the South L.A. community are not swayed by the new endorsements.

"That's kind of messed up, you know?" said Christian Cardenas of West California Machine Shop, a South L.A. mechanic. "People who like [Magic Johnson] are going to go for that because they like him, but they really don't think about the other person."

Christian may have a point. Politicians have been using celebrity endorsements as a way to garner votes for years. Just last year, in the 2012 presidential campaign, Mitt Romney received endorsements from actors such as Chuck Norris and Clint Eastwood. President Obama used the same strategy during the campaign with entertainers like Chris Rock and Matt Damon.

When asked about today's endorsements, Tim Harris of Express Yourself Books said, "I've found with those endorsements, that it's a lot of buddy-ism, so I don't really take those endorsements too seriously."

Endorsements may not dictate Tim's vote, but we will find out about the rest of Los Angeles after the runoff election on May 21st.

Contact Staff Reporter Kyler Jae

here

.