International
France Passes Same-Sex Marriage Bill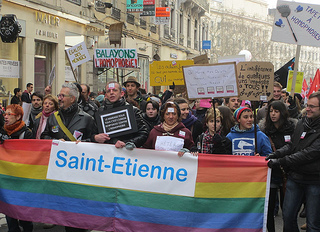 The French Senate passed a bill Friday allowing same-sex couples the right to marry and adopt,
according to the Associated Press.
The bill will return to France's lower house, the National Assembly, for a second reading by Wednesday, far ahead of the projected date of May 20.
President Francois Hollande has said that he will sign the bill into law should it reach his desk. Justice Minister Christiane Taubira told Al-Jazeera that the bill would improve society "by granting the simple recognition of full citizenship to homosexual couples." In 1999, France allowed gay and lesbian couples to have civil unions, but that law does not grant them the right to adopt children.
SEE ALSO | Why Does Support For Gay Marriage Continue To Rise?
The bill has been the center of controversy and heated exchanges throughout France, which is predominantly Catholic. In January, over 300,000 people held a rally against the bill at the Eiffel Tower. Two weeks later, 125,000 proponents held a rally of their own in Paris. One protest against the bill last month resulted in tear gas being fired and dozens of arrests. The main protest group, La Manif Pour Tous, or Protest For All, is planning another Paris protest next month, when the bill is expected to pass.
"You're disrupting the civil code," said conservative senator Jean-Claude Lenoir. "Traditional family is the main pillar of society."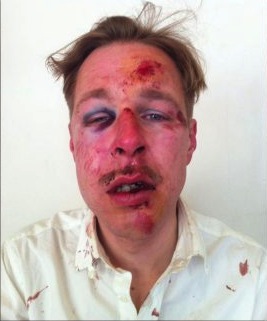 OPINION |
Where Christians Went Wrong With Marriage Equality
The debate has also resurrected fears of homophobic violence in France. The Daily Beast reports that Paris resident Wilfred De Bruijn was assaulted last week by two men while walking with his boyfriend. A picture he posted on Facebook, shown left, has become a major story in the French media and has sparked further protests. Rights group SOS Homophobie said that reports of assaults on homosexuals in France has risen by 30 percent, with a particular spike of incidents when debate on the bill began last fall.
"We expected opposition, but not to that extent," said Dominique Boren, vice president of the Association of Gay and Lesbian Parents told The Wall Street Journal. "We've heard things about homosexuals we hadn't heard in over 30 years."
Polls show that support in France for gay marriage has hovered between 50 and 60 percent over the past year, while support for adoption rights for same-sex couples is currently at 41 percent.
Reach Executive Producer Jeremy here or follow him on Twitter