Los Angeles
City Council President Herb Wesson Endorses Eric Garcetti For Mayor
City Council President Herb Wesson announced Saturday his endorsement of District 13 councilmember Eric Garcetti as his choice for the next mayor of Los Angeles.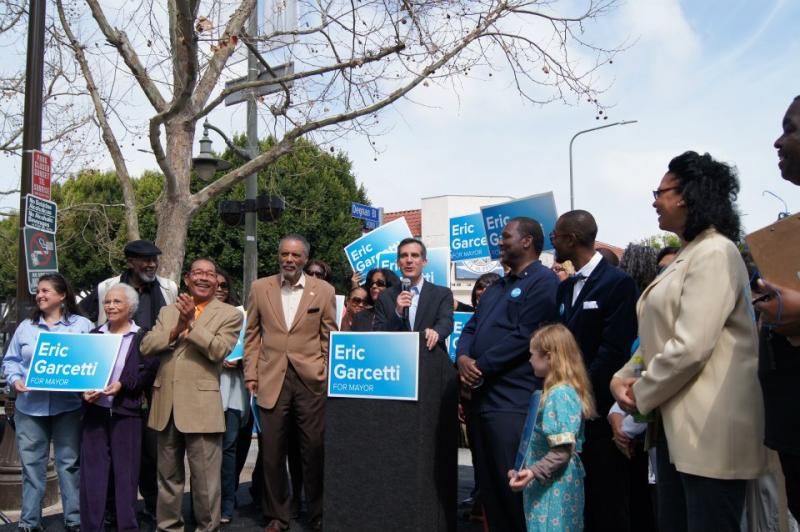 This endorsement means all three African American members of the L.A. City Council officially support Garcetti in his run against city controller Wendy Greuel.
Councilmember Bernard C. Parks, who represents District 8 in South Los Angeles, joined District 9 councilmember Jan Perry to endorse Garcetti on March 29. The two councilmembers represent District 8 and 9, respectively, which encompass large portions of South Los Angeles.
READ MORE: Jan Perry, Magic Johnson Make Big Endorsements For Mayor
Garcetti was the top vote-getter in the primary with 33 percent of the vote. Former city controller Wendy Greuel took home 29 percent of the vote.
Perry, a former rival in the primary race, won 16 percent of the primary vote. The Los Angeles Times called Perry's endorsement "one of the most prized" because of her influence and favor among African American voters in Los Angeles.
All three councilmembers rallied Saturday with Garcetti in Leimert Park, the historic center of the African American community in Los Angeles.
Garcetti aims to translate the support into votes from the African American community on the May 21 election day.
READ MORE: L.A. County Democratic Party Can't Decide On Mayoral Candidate
According to the Los Angeles Times, Wesson said "it was very difficult to choose between friends," referring to Garcetti and Greuel, who served on the City Council from 2002-2009.
Garcetti served as City Council President from 2006-2012 and formally backed Wesson as his successor in 2011. Wesson is the first black president of the L.A. City Council.
Wesson said Garcetti's character made him the best candidate for mayor, according to the Los Angeles Times. Wesson touted Garcetti's political accomplishments and his decision to enlist in the Navy during a time of war. Garcetti still currently serves as an officer in the Naval Reserve.
Wesson also spoke out on labor unions, a hot topic in the mayoral race. According to the Los Angeles Times, Wesson praised Garcetti "for the 'courage' he showed by pursuing pension reform for city workers despite the wedge it drove between him and union leader."
READ MORE: Eric Garcetti Showcases His Union Support
On March 25, former U.S. president Bill Clinton endorsed Greuel, calling her "a smart, dedicated and creative problem-solver."
Greuel worked for President Clinton in 1994 as a member of the U.S. Department of Housing and Urban Development. In his endorsement, Clinton called Greuel "a valued member" of his administration. He cited her role in delivering more than one billion dollars in federal aid to Los Angeles following the Northridge earthquake.
To read President Clinton's full endorsement, click here.
Greuel also has the formal backing of Los Angeles County Supervisor Mark Ridley-Thomas, a key leader in the Los Angeles African American community.
Los Angeles basketball legend Magic Johnson also endorsed Greuel. According to NBC News, Johnson has previously endorsed Phil Angelides for California governor in 2005, Hilary Clinton for president and Sen. Barbara Boxer in her 2010 re-election race.
RELATED CONTENT
Eric Garcetti Showcases His Union Support
Bill Clinton Endorses Wendy Greuel
L.A. County Democratic Party Can't Decide On Mayoral Candidate
LA Mayor Celebrity Endorsements May Not Be Successful
L.A. Mayoral Race: Annenberg TV News Candidate Profiles (VIDEO)
For Neon Tommy's full coverage of the 2013 Los Angeles mayoral race, click here.
Reach Executive Producer Vicki Chen here; follow her on Twitter here.