National
Boston Bombing Suspect Denied Burial At Mosque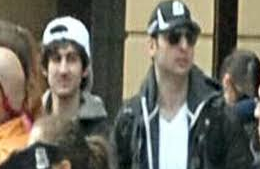 Dzhokhar Tsarnaev, the surviving suspect in the Boston Marathon bombings, told investigators he and his brother Tamerlan, who was killed on Friday after a shootout with police in the Boston suburbs, were "inspired by an al Qaeda propaganda magazine, and plotted the bombing to defend Islam after the U.S.-led wars in Iraq and Afghanistan," federal law enforcement officials told NBC News.
The Tsarnaevs' aunt also said on Wednesday that the Boston mosque the brothers attended has refused to hold Tamerlan's funeral.
According to The Daily Beast, the brothers were known to have attended the Islamic Society of Boston mosque in Cambridge, and a spokesman for the mosque said burying Tsarnaev is a "complex" situation because "what the guy did was absolutely disgraceful."
SEE ALSO: Report: Elder Tsarnaev Influenced By Radical Islamist, Conspiracy Website
The bombs set off during the Boston Marathon last Monday killed three people and injured about 200. Sean Collier, a 26-year-old campus police officer at Massachusetts Institute of Technology, was also slain during a shootout with the suspects. His memorial was held on Wednesday with Vice President Joe Biden among the thousands in attendance, according to Reuters.
Reuters reported that investigators have begun focusing on a trip Tamerlan took to Dagestan last year and whether he became involved with or influenced by Islam extremists there.
According to Reuters, a member of the extended family Tsarnaev said "they were victims of a Russian plot to portray them as Chechen terrorists operating on U.S. soil."
NBC News also reported that Dzhokhar told investigators he and his brother were planning to go to New York to party after the attack, accordng to the New York police commissioner.
Find more Neon Tommy coverage on the Boston bombings here.
Reach Executive Producer Paige Brettingen here. Follow her here.
Watch video of the funeral for MIT officer Sean Collier here: