Style
Raf Simons Delivers At Dior's Fall 2013 Paris Fashion Week Runway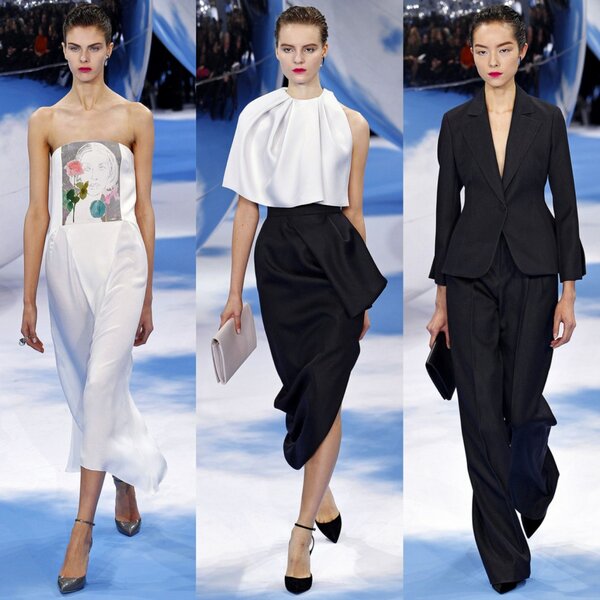 The Christian Dior Fall/Winter 2013 lineup by Raf Simons is a celebration of silhouettes and creative cuts, bound by cohesion in colors and fun patterns.
Simons created a dreamy runway set out of mirrored spheres and cloud projections. The reflections of the models as they strutted down the curved runway provided a surreal atmosphere for the show.
Surrealism was exactly what inspired this season's Dior collection, along with the design codes of the House of Dior. Simons kept alive the spirit of Dior's first occupation (a gallery owner), when fabricating the artsy designs for the lineup. Simons also teamed up with the Andy Warhol Foundation, resulting in intricate detailing on the various shoes, handbags, and dresses.
The collection mainly stuck to the common black, white, and grey fabrics typical of colder seasons, but a handful of the looks featured more eye-catching colors like red and beige. The somber colors captured the darkness of the fall, but the splashes of color and playful prints helped to lighten the mood of the overall collection.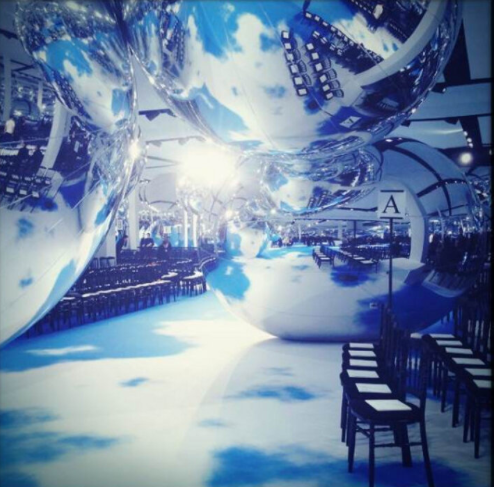 Every look had something that made it pop on the individual model. Every dress had its own movement, allowing for fluidity.
Each accessory, though subtle next to such overwhelming pieces, had a purpose. Everything was appropriate for the everyday world, but also contained a dazzling effect for immediate attention.
The Dior collection consisted of a diverse amount of looks that all worked well together.
Grey denim was used for the signature Bar jacket and skirt. A cocktail dress was made out of tender black leather.
Many of the sculpted jackets and dresses accentuated hips. A knitted suit was tossed into the lineup. Simons also added a black-and-white houndstooth, a classic from the house of Dior. The embroideries were reminiscent of Andy Warhol's sketches. The shoes, unfortunately, were lost in the mix of excitement for the overall look.
The models themselves were kept refreshingly simple. Their hair and makeup was not distracting, signifying that Raf Simons wanted to ensure all eyes were focused on what his models were wearing.
Several celebrities sat in the audience for the Dior runway show, such as Frank Ocean and Marion Cotillard.
Raf Simons should take pride in what he produced for his Paris runway. He delivered a strong show, possibly one of the strongest of the season. Though he took time in former shows to experiment, Simons' clothes this season are ready-to-wear and will undoubtedly secure his title as an esteemed designer.
Click here for the complete lineup and watch the full show below.
Reach Kathy Zerbib here; Follow her on Twitter here.