Film and TV
Lore: An Untold Tale Of A Familiar War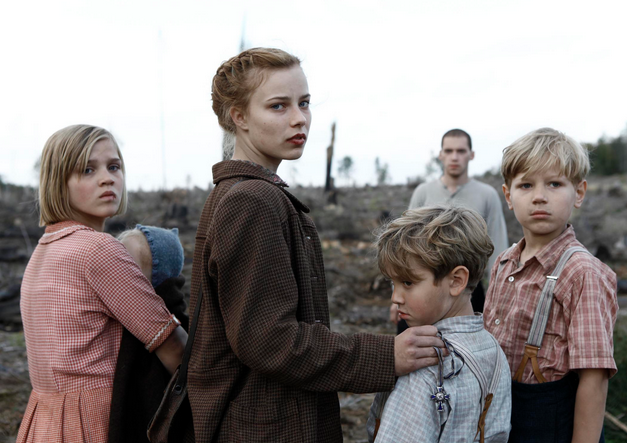 Often emotionally draining for audiences, war films can be challenging and ambitious for filmmakers. Now, almost seventy years after World War II and the Holocaust, the once highly sought-after topics for moviemakers seem to have run out of stories to tell. But "Lore," an Australian/German/British film, is a surprising reminder that there is still plenty of unexplored territory. Director Cate Shortland insightfully retells the aftermath of WWII through new eyes.
It's a beautiful spring in 1945. The Allies have taken over Germany. While many are celebrating the demise of the Reich and the collapse of the German resistance, fourteen-year-old Lore witnesses the arrest of her S.S. Nazi father and the surrender of her Hitler-revering mother. She is instructed to lead her four younger siblings on a journey to their grandmother's house in Hamburg. These five children set foot on a devastated Germany occupied by Allied forces, and poignantly challenge what we know about family, love, and friendship. Superbly filmed in Europe, "Lore" probes deeply into our subjective knowledge of the Holocaust.
An adaptation of Rachel Seiffert's novel The Dark Room, "Lore" is in German and is directed by Australian director Shortland. But it doesn't exactly land in the collection of World War II films that have graphically and verbally documented the well-known atrocities of the infamous war. Instead, "Lore" tells a rare and controversial story, chronicled from the view of a young Nazi teenager, who is offered up as a victim rather than a monster.
Lore and her family, as well as other German civilians, aren't subjected to violent and barbaric anti-Semitic crimes, but instead suffer the confusion, bewilderment, and difficulty of comprehending the end of Hitler's rule and World War II. This unique approach allows the audience to interpret evil in different ways. "Lore" encourages audiences to stray away from choosing sides, and exposes Nazi families as the unsung victims of the aftermath of war. Raw and challenging, this film explores both the coming-of-age of a young girl and the confrontation of death and deprivation by children in a fresh way.
Like most war films, "Lore" leaves one heavy-hearted and riddled with thoughts at the end. This film has a particularly ambiguous ending. Things aren't that bad, but they aren't that good either. As a fan of solid finales but not guessing, this left me frustrated. But because of the spellbinding visuals and the harrowing yet beautiful human interaction, I can say that this film will please many viewers, no matter what kind of endings they prefer.
The prickly issues brought up in the film were impressively handled. "Lore" has an uncensored quality to it, but it still doesn't reveal too much. Emotions aren't verbalized, and they aren't straightforward. The sparse dialogue is powerful but brief. This leaves the actors with most of the responsibility. Promising newcomer Saskia Rosendahl, in the title role, delivers an astoundingly mature performance as Lore. The rest of the talented cast also shines, and do a creditable job of delivering the many underlying messages of the film subtly and artistically.
You will find yourself holding your breath in anticipation as Lore, carrying her baby brother in her arms, attempts to guide and sustain her siblings in the lonely and punishing 500-mile trek to Hamburg. They are joined and aided by Thomas, a mysterious and intriguing nomad with no identity, who makes Lore question and reconsider her prejudices and the nature of guilt and forgiveness.
A peculiar relationship develops between Lore and Thomas as she must learn to trust him to survive. Lore struggles to face the consequences of her parents' actions and their support of Hitler's atrocious war, while enduring the harsh reality of post-war Germany. Through all of that, Lore experiences youthful desires, those that we all understand so well.
"Lore" explores these questions and topics, but it also asks you to explore your own views as well. What happens when the strongest and oldest people give up? Do children really deserve to be subjected to the broken remains of other people's actions? Can prejudices instilled by loving parents be changed? Don't be scared by the implications of a dreary movie. This is a film that you can learn something from.
It's a story about a dark period in history, but not told by a grown-up who was directly affected and involved. It's told by a girl forced to be an adult, who doesn't have a full understanding of herself yet. By the end of the move, "Lore" became less of a war film and more of a perplexing coming-of-age story.
Be ready for new talents, captivating visuals, grim realities, and complex moral questions. "Lore" is ideal for those who enjoy a thought-provoking film that requires viewers to take in a completely different look at history. It has been picked by Music Box Films for distribution in the U.S., and will be released Feb. 8 in select theaters. See here to know where the film will be playing.
Reach Staff Reporter Jennifer Joh here. Follow her on Twitter here.