Film and TV
Most Anticipated Movies Of 2013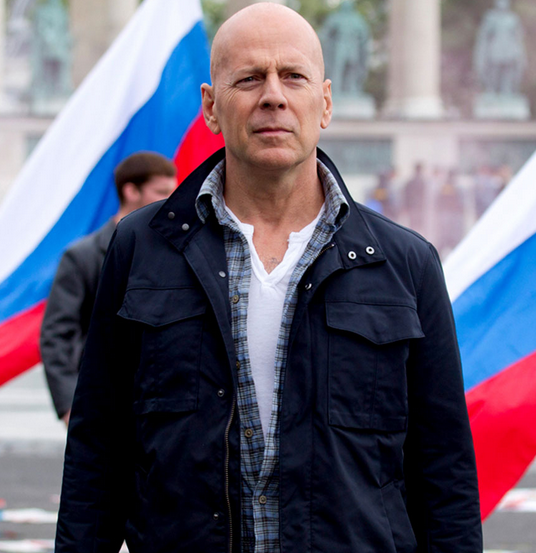 As the ever-eventful Oscar race wraps up this month, Hollywood is already prepping for the slew of movies coming your way in 2013. This year, audiences can anticipate a whole lot of long-awaited sequels, comic book films and various high-profile films that have been in the spotlight since production. Save the dates and don't miss out on what moviegoers will be talking about all year.
1. A Good Day to Die Hard
Release Date: February 14
Cast: Bruce Willis, Cole Hauser, Jai Courtney, Mary Elizabeth Winstead, Patrick Stewart
In the fifth Die Hard movie, Bruce Willis' John McClane and his son, played by Jai Courtney, get entangled in the CIA's plans to seize nuclear weapons. The plot seems pretty standard for the McClanes, with a few classic twists and surprises along the way. Action-lovers, prepare to be entertained.
2. Safe Haven
Release Date: February 14
Cast: Cobie Smulders, Julianne Hough, Josh Duhamel, David Lyons
Should we be worried? Maybe. Tired of the same old story of two beautiful people falling in love in spite of heartbreaking hardships? Most likely. It seems, however, that this will be the movie of choice on Valentine's Day. I say watch it for the sake of entertainment and eye candy, and enjoy snuggling with a date with some non-greasy popcorn, or with a couple of girlfriends to enjoy the shirtless scenes. Or maybe just even by yourself, wondering why the love of your life hasn't appeared to be your safe haven yet. Either way, it's sure to please Sparks fans and those suckers for romantic lines and sexual tension.
3. Spring Breakers
Release Date: March 5
Cast: James Franco, Ashley Benson, Selena Gomez, Vanessa Hudgens, Rachel Korine
Two ex-Disney sweethearts, a star of ABC's Pretty Little Liars, and a young rising actress: put these four together in a movie with James Franco, and what do you get? Spring Breakers. We have been curious as to what we can expect from this movie, especially because production was largely under wraps despite the paparazzi photos. What we can expect so far based on the recently released trailer is something totally different from each main actor and actress, as we follow the story of four college girls who land in jail after a spring break party gets out of hand. Bailed out by a local drug dealer, played by James Franco himself, the girls are taken under his wing and learn that he's not all that he seems to be. The response to this story will largely depend on the performance of this unlikely quintet. We can only wait and see.
4. Oz: The Great and Powerful
Release Date: March 8
Cast: James Franco, Michelle Williams, Rachel Weisz, Mila Kunis
Ever wonder about how cocky ole Oz came about? It's been more than 70 years since Dorothy arrived in the world of Oz. This is a prequel to that story, heavy with effects and A-list actors, thanks to its big budget. James Franco is Oscar Diggs, a con-artist and magician from Kansas who is swept into a magical land in a hot-air balloon. He then discovers that everyone's been waiting for him to defeat an evil sorceress. Along the way, he falls under the spell of a good witch, played by Michelle Williams, and two bad witches, played by Rachel Weisz and Mila Kunis. What will Franco make of this role, which was already turned down by Robert Downey Jr.?
5. G.I. Joe: Retaliation
Release Date: March 29
Cast: Channing Tatum, Dwayne Johnson, Ray Park, Bruce Willis
Some of the world's hottest action stars are packed into one movie. G.I. Joe: Retaliation just happened to be scheduled to come out last year, but was delayed. Dwayne Johnson leads the team of G.I, Joes, with Bruce Willis as the original Joe. The G.I. Joes must fight their moral enemy, Cobra, and they must also contend with threats from the government, which threaten their existence. This means ninjas fighting on the side of a mountain. And all this in 3D. To simplify: lots of good action and male chemistry.
6. Iron Man 3
Release Date: May 3
Cast: Robert Downey Jr., Ben Kingsley, Don Cheadle, Guy Pearce, Gwyneth Paltrow, Jon Favreau, Paul Bettany
Tony Stark is back in action. Shane Black re-partners with Robert Downey Jr. for the exciting finale to a Marvel favorite. Sure to be chock full of witty humor and emotional moments, this film promises a character-centered plot as we follow Tony Stark's return to "the cave." Don't worry too much about the storyline though; Downey Jr. is sure to surprise us with an amazing performance yet again.
7. The Great Gatsby
Release Date: May 10
Cast: Leonardo DiCaprio, Tobey Maguire, Carey Mulligan, Joel Edgerton, Isla Fisher
"Moulin Rouge" director Baz Lurhmann brings back F. Scott Fitzgerald's classic, timeless novel in an attempt to capture the essence of the 20s with a perfect cast and a wild blend of colors and music. Sure to be a hit summer movie, the film is presented in 3D and will hopefully rise above the travesty that was the first "Gatsby" movie.
8. Star Trek Into Darkness
Release Date: May 17
Cast: Anton Yelchin, Benedict Cumberbatch, Chris Pine, John Cho, Karl Urban, Simon Pegg, Zachary Quinto, Zoe Saldana
"Star Trek" fans have had to wait four years for a new film, so there's no doubt that this sequel is one of the most highly anticipated of the year. This sees the return of the crew of the Enterprise, led by Captain Kirk, played by Chris Pine. The mysterious and dangerously compelling antagonist is played by Benedict Cumberbatch, the star of Sherlock.
9. The Hangover Pt. III
Release Date: May 24
Cast: Ed Helms, Bradley Cooper, Zach Galafianakis, Ken Jeong, Heather Graham, Mike Tyson
For those of you who felt that The Hangover Part II was a little too repetitive, director Todd Phillips promises more surprises and even more crazy events in this finale to the trilogy. Don't fear--the whole cast is returning, and they're taking you along for a ride you will definitely remember the next day.
10. Fast and Furious 6
Release Date: May 24
Cast: Dwayne Johnson, Vin Diesel, Tyrese Gibson, Paul Walker, Michelle Rodriguez, Luke Evans, Jordana Brewster, Gina Carano
The sixth installment of this hugely successful franchise is back with a growing cast. In this sequel, we see the mysterious return of Letty and the introduction of a new villain, played by Luke Evans.
11. The Lone Ranger (July 3)
Release Date: July 3
Cast: Johny Depp, Armie Hammer, Tom Wilkinson, William Fichtner
The producer, director, writers, and star of "Pirates of the Caribbean" trilogy reunite to tell the stories of Tonto, a Native American spirit warrior, and the transformation of lawful man John Reid into a legend of justice. Johnny Depp, of course, plays Tonto, who discovers Armie Hammer's character, John Reid. Together they embark on adventures to help the needy. The "Pirates" crew will hopefully bring back their classic mix of action and humor.
12. Man of Steel
Release Date: June 14
Cast: Henry Cavill, Amy Adams, Diane Lane, Kevin Costner, Michael Shannon, Russell Crowe
It seems that that the Marvel/DC Comics rivalry is going as strong as ever. Director Zack Snyder and producer Christopher Nolan bring the return of the Superman franchise with a new take on the original story. We can't wait to see Clark Kent back on the big screen in what will probably be the biggest blockbuster of the year.
13. Monsters University
Release Date: June 21
Cast: Billy Crystal, Frank Oz, Jennifer Tilly, John Goodman, Kelsey Grammar, Steve Buscemi
We've been waiting for ten years for the prequel to Pixar favorite, Monsters, Inc. This film brings back John Goodman and Billy Crystal, who return to voice young Mike and Sulley, students at the University of Fear. We couldn't be more excited to see how this famous friendship began.
14. The Wolverine
Release Date: July 26
Cast: Hugh Jackman, Brian Tee, Will Yun Lee, Svetiana Khodchenkova, Hiroyuki Sanada, Rila Fukushima, Tao Okamoto
Hugh Jackman is in the best shape of his life, and he's back to give us the Logan the Wolverine story we have all been waiting for. This is his fifth go-around, and after an eventful year of singing and winning awards for Les Miserables, we can't wait to see him back in action, and this time in Japan.
15. The Hunger Games: Catching Fire
Release Date: November 22
Cast: Jennifer Lawrence, Josh Hutcherson, Liam Hemsworth, Elizabeth Banks, Lenny Kravitz, Stanley Tucci, Woody Harrelson, Amanda Plummer, Donald Sutherland, Jeffrey Wright, Jena Malone, Lynn Cohen, Phillip Seymour Hoffman, Sam Clafin
The first installment of "The Hunger Games" adaptation became the third highest-grossing film of the year. "Catching Fire," the highly-anticipated sequel, will claim the spot usually taken by the "Twilight" movies, opening in theaters right before Thanksgiving. This sets a high standard for the sequel, which promises more action and excitement as the cast members return to chronicle Katniss and Peeta as they are forced to compete once again.
16. Anchorman: The Legend Continues (Dec 20)
Release Date: December 20
Cast: Will Ferrell, Paul Rudd, Steve Carell, David Koechner, Christina Applegate
It's finally happening. Remember legendary news anchor Ron Burgundy? He's back, along with the entire cast and more. You'll see a number of cameos, some musical numbers, and issues of equality in the workplace in this long-awaited sequel to Anchorman.
Reach Staff Reporter Jennifer Joh here. Follow her on Twitter here.