NBA
2013 NBA Mid-Season Awards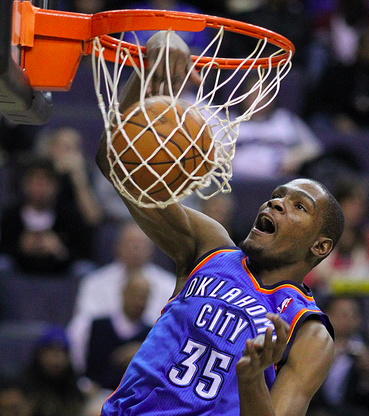 With the NBA All-Star Game rosters out, we have reached the middle of the 2012-13 season. It's a good time to look at the leading candidates for each of the major awards:
MVP - Kevin Durant, Oklahoma City Thunder - Not only is Durant leading the league in scoring, he has also led his team to the best record in the NBA at the season's midway point. At 34-10, the Thunder sit atop the Western Conference and are favorites to reach the NBA Finals again. Durant is averaging 29.5 points per game but is one of the most unselfish players in the league. With a Kobe Bryant mindset, Durant would easily be averaging 35 points per game.
At 6-foot-10 with a jump shot like a shooting guard, Durant is one of the toughest players to cover in the league. He is shooting 91 percent from the free throw line, 52 percent from the field and an astonishing 42 percent from three-point land. If he keeps up these numbers, he will join the 40-50-90 club with greats like Dirk Nowitzki, Reggie Miller and Larry Bird, who all managed to maintain those averages for an entire season. Durant is also averaging 7.5 rebounds per game and 4.4 assists to complete an MVP stat line.
Rookie of the Year - Damian Lillard, Portland Trail Blazers - A favorite for ROY when he was drafted, Lillard is a crafty guard with a complete skill-set, carrying the Blazers to a 22-21 record (9th in the West). Although it was a shortened season, Portland only won 28 games all of last season. Lillard is averaging 18.3 points per game and 6.6 assists per game, both highs for rookies. Lillard is the standout rookie who looks to be an All-Star as his career progresses.
Notable mention: Anthony Davis (Hornets)
Sixth Man - Jamal Crawford, Los Angeles Clippers - Crawford is no stranger to the Sixth Man of the Year award, and he is on pace to win another one. Three seasons ago as a member of the Atlanta Hawks, Crawford picked up his first Sixth Man award. This year he is the second leading scorer for a much improved Clippers team.
Crawford is averaging 16.7 points per game, which ranks in the top 40 in the NBA and is the most of any bench player in the league. Rightfully so, Crawford is the number one scoring option on the Clips when he is in the game, as he shoots 42 percent from the field, 38 percent from three, and 88 percent from the free throw line. Crawford has always been one of the most exciting players to watch in the NBA but fell into a slump last year with the Blazers. Chris Paul has helped revive Crawford's career as he is finally on a winning team. Look for a lot more scoring from Crawford in the second half of the season.
Notable mentions: J.R. Smith (Knicks) and Kevin Martin (Thunder)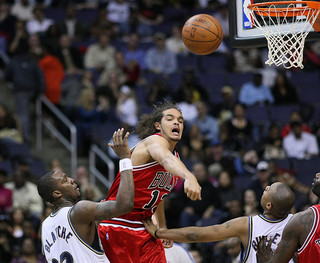 Defensive Player of the Year
-
Joakim Noah, Chicago Bulls
- This may be the hardest award to choose. It is tough to measure a guy's presence on the court as four other teammates help out on defense and stats do not tell the whole story. But Noah is a leading candidate for Defensive Player of the Year, on a Bulls team ranked third in the league in defensive efficiency. They only give up 91.2 points per game, behind only the Memphis Grizzlies and Indiana Pacers, respectively.
The Bulls also hold opposing teams to 32 percent shooting from the three-point line. Noah grabs 7.2 defensive rebounds per game to go along with an average of 2.1 blocks and a steal. If these numbers aren't convincing enough, the Bulls have the third-best record in the NBA without their All-Star point guard, Derrick Rose.
Most Improved - Jrue Holiday, Philadelphia 76ers - Holiday has improved leaps and bounds from last season. Last year's playoffs really allowed Holiday to grow from a game managing point guard to a legitimate threat every time he has the ball. Holiday is averaging 19 points per game this season, an improvement from his 13.5 points per game last season. He has also doubled his assists from 4.5 a game to 9 this season. His rebounds per game have also improved from 3.3 to 4.5. Although the Sixers are not playing well thus far in the season, no blame goes to Holiday. He has picked up his game for a team that lost its best player in Andre Iguodala and still doesn't have All-Star center Andrew Bynum back from injury.
Notable Mention: Stephen Curry. Curry is averaging 20.9 PPG, 6.5 APG, and 4 RPG for the Warriors this season, an improvement in every category from last season (14.7 PPG, 5 RPG, and 4 APG).
Coach of the Year - Mark Jackson, Golden State Warriors - The former All-Star point guard and ESPN analyst has completely turned the culture around in the Bay Area. The Warriors are 26-17 this season, fifth best in the West and second in the Pacific Division, trailing only the red-hot Los Angeles Clippers. The Warriors only won 23 games all of last season and finished 13th in the West, only one game above the Sacramento Kings for last place in the Pacific Division.
Jackson has developed his young players and implemented a system that maximizes each player's strengths. Curry has improved immensely this season, as has Klay Thompson. Jackson has developed this backcourt into one of, if not the best backcourt in the NBA. Rookie Harrison Barnes is also having a great first year. David Lee is averaging a double-double and the Warriors are doing all of this with Festus Ezeli as their starting center. Props to Jackson.
Executive of the Year - Gary Sacks, Los Angeles Clippers - This award is a no-brainer. When a guy gets rid of the bench from the previous year and picks up seven solid bench players, turns around the culture of the franchise, and has people saying that Los Angeles is not a Lakers town anymore, he has to win the award. Gary Sacks of the Clippers did all of that and more. The Clippers picked up two former Sixth Man of the Year winners in Jamal Crawford and Lamar Odom, tough defenders in Ryan Hollins, Ronny Turiaf, and Matt Barnes, a seasoned veteran in Grant Hill, and a solid role player in Willie Green this offseason. The Clippers have the most productive and efficient bench by far in the NBA and are second in the Western Conference, trailing only the defending Western Conference champs, the Oklahoma City Thunder.
Not only did Sacks acquire this All-Star bench, he also re-signed one of the leaders of the team in Chauncey Billups to a one-year deal and franchise player Blake Griffin to a five-year deal. Knowing that Chris Paul's contract ends after this season, Sacks went out and made sure that Paul would re-sign the next year and make the Clippers a force to be reckoned with for years to come.
Notable Mention: Sam Presti, Oklahoma City Thunder. Presti knew that James Harden had to leave, as the Thunder did not have the money to give him what he wanted. After Harden denied the four-year, $52 million offer from the Thunder, Presti shipped him to Houston for a scoring sixth man in Kevin Martin, young talent in Jeremy Lamb, and three draft picks (two 1st-round picks and a 2nd-round pick). The Thunder haven't lost a step this year and may even be better off now that Kevin Durant and Russell Westbrook can take more shots.
RELATED:
Reach Staff Writer Matt Padavick here.