National
Youth And Latino Votes Swing 2012 Election In Obama's Favor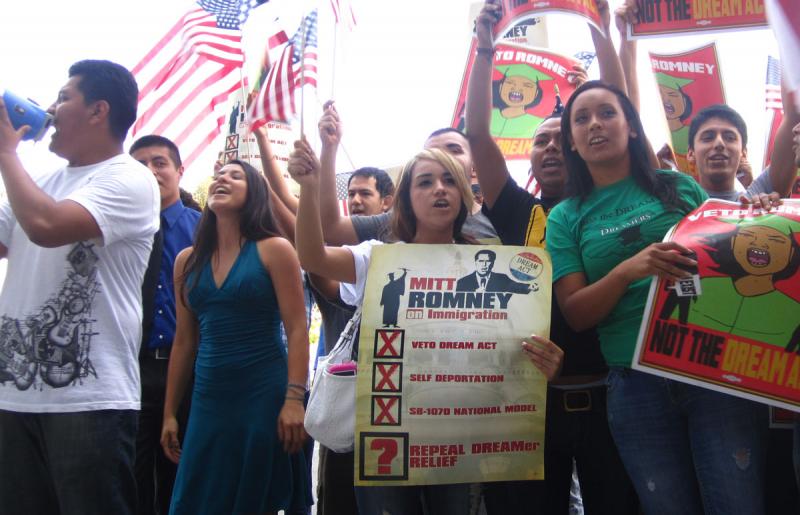 President Barack Obama clinched reelection Tuesday, thanks in large part to two key emerging demographics:
Latino voters
and
young people
.
Much has already been said in recent months about the crucial youth vote, but results from the election did away with any doubts about waning participation since 2008.
Obama easily won the youth vote nationally, 67 percent to 30 percent, with young voters proving the decisive difference in Florida, Virginia, Pennsylvania and Ohio, according to an analysis by the Center for Research and Information on Civic Learning and Engagement at Tufts University.
Obama won at least 61 percent of the youth vote in four of those states, and if Romney had achieved a 50-50 split, he could have flipped those states to his column, the study said.
About half of all eligible people ages 18 to 29 voted in Tuesday's election, roughly the same level as 2008, according to Peter Levine, the center's director. The youth vote's share of the electorate actually increased slightly from 18 percent to 19 percent. In total, 22 million to 23 million young people voted, according to the analysis.
And NBC News analyst Chuck Todd summarized the Latino impact on this election on the Today show with Matt Lauer Wednesday, using Florida as an example of how the shift in demographics is playing out in the electorate. Watch the video here.
During a call with reporters just hours after members of the media anointed Obama the winner, Gary Segura, a professor of American politics and chair of the Chicano studies department at Stanford University, as well as a principal at political research firm Latino Decisions, presented early findings about the Latino vote this cycle.
"Almost as many people came out to support solidarity for their community as they did to support a candidate," Segura said. The firm conducted 11 state-wide polls between Nov. 2-5, eventually reaching all 50 states. During its Election Eve poll Monday, Latino Decisions reached 5,600 Latino voters to find out what would drive them to the polls Tuesday.
In total, about 75 percent Latino voters came out for Obama, compared with 23 percent for Romney, giving the incumbent a 5.4 percent boost since 2008. "This really is the first time in history that Latinos can plausibly claim to be a nationally decisive demographic," Segura said. Had the group split evenly, Obama would have lost the popular vote Tuesday.
READ MORE: Obama And Romney Battle For The Hispanic Vote
According to survey results, their biggest concerns were jobs and the economy, followed by health care, education and immigration reform.
Though the economy has dominated the rhetoric of the campaign trail, Segura said that last factor was significant in determining the final outcome. "Immigration, we believe, has caused the Republican Party to leave votes on the table," he said, before adding that 31 percent of responders said Republicans taking the lead on passing comprehensive reform would make them more likely to vote red.
"Both parties have gotten this wrong — you can't separate immigration from Latino communities" while campaigning, Segura said. According to the firm's data, roughly 60 percent of these high-propensity voters know an undocumented alien. "You're not talking about some abstract immigrant — you're talking about someone the voter knows, someone they care about."
Eliseo Medina, secretary-treasurer of the Service Employees International Union, was among the first major leaders from the Latino community to publicly respond to the election. "The Latino giant is wide awake, cranky, and it's taking names," he said. "We are now part of history and the political future of this country. Latinos understand who stands with us and who stands against us."
That understanding led them to reject Mitt Romney early on. Medina said Romney "really screwed up on the immigration issue" during the primaries, with promises of strict regulation and bizarre notions of "self-deportation," and proceeded during the fall campaign to "rub our faces in it."
According to Latino Decisions polling data, 66 percent of respondents said they thought Obama cared about the Latino community. Just 14 percent said the same about Romney.
Medina said Republican party leaders should consider last night's Democratic victory "a big flashing warning sign" that they are "heading toward a cliff." He urged the party to "get right with Latinos" and bring about a major shift in both tone and policy.
But Medina also had a message for President Obama as he gears up for this second term: "We expect action and leadership on comprehensive immigration reform in 2013. This is the beginning of no more excuses, no more obstruction or gridlocks. 2013 will be the test for who we reward and punish in the 2014 (midterm) elections."
Clarissa Martinez, director of civic engagement and immigration at the National Council of La Raza, said it became clear Tuesday that Latino voters do respond when candidates actively engage them. "Last night, Latinos confirmed unequivocally that the road to the White House goes through Hispanic neighborhoods," she said. "This is a sign of things to come. We're going to be a permanent fixture.
She pointed to projections that between now until 2028, some 15 million Latinos will become new potential voters, a massive pool in the electorate demanding attention from future candidates. "We believe that the Latino voters are strong allies and are moving the country forward together."
That element of new Latino voters introduces another key demographic going forward: youth in America.
SEE ALSO: Youth Vote Unaffected By Social Media, Survey Results Suggest
During a separate call with reporters the morning after Obama nailed the electoral and popular vote, Heather Smith, president of Rock the Vote, said that while data on the Latino youth vote is not out yet, her organization was considering coverage of Latino participation to be stories on young voters as well.
"This generation is incredibly diverse," Smith said, "and Hispanic voters are overwhelmingly young. That will play a major role in shaping a lot in this century in terms of the electorate."
In Tuesday's election, Obama took 60 percent of the youth vote overall, compared with Romney's 37 percent.
And despite concerns that millenials wouldn't turn out at their polling locations, numbers in 2012 are right in line with those of 2008, considered a significant year in youth enthusiasm regarding the political process.
"They're really fighting back against the idea that this generation is plagued by apathy," Smith said. "They're different from their older brothers and sisters." She said this was a clear indication of how the country has changed as a result of the generation's size, diversity and engagement.
Further, she said, "We see this generation caring and understanding the power and responsibility they have in guiding the country." During the 2012 election, younger generations made up an increased share of the electorate, which Smith said was different than turnout but important none the less. "It means more of them are young," she said, pointing to the 80 electoral votes in Florida, Ohio, Pennsylvania and Virginia that Rock the Vote says were sealed for Obama by the youth vote.
"Young people are savvy," she said. "They're committed to this idea that their participation is how they take back power in this country."
It's in the best interest of politicians, then, to actively engage that population as early as possible. According to Smith, "This time, young people were left out of the (GOP) primaries. They weren't participating in the summer, and it wasn't until the fall that they were engaged. We were essentially starting from ground zero in early September to engage and turn out as many young people as we had in 2008."
With another 17 million having turned 18 since Obama's first win, it was something of an "uphill battle," but, Smith said, "I give them all the credit."
Reach Executive Producer Catherine Green here. Follow her on Twitter here.
Read more of Neon Tommy's election coverage:
The Republican Party Believes In A Make-Believe America
Measure B In Los Angeles Jumps To Early Lead
Measure B Poised To Seal The Deal; Porn Makers Say 'Goodbye, L.A.'