International
Obama Supports Israel's Right To Defend Itself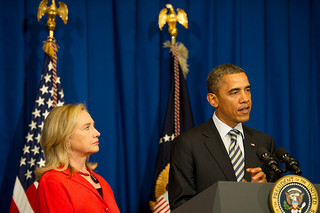 President Barack Obama said Sunday that he supports Israel's right to defend itself, following Israel's airstrikes on the Gaza Strip that have demolished Palestinian homes and killed top Hamas operatives.
"Israel has every right to expect that it does not have missiles fired into its territory," Obama said as he started a three-nation tour in Asia, according to the Boston Globe.
While Israel continues to muster ground troops, Obama urged the country to restore peace with as little military action as possible. "It's not just preferable for the people of Gaza," he said. "It's also preferable for Israelis, because if Israeli troops are in Gaza, they're much more at risk of incurring fatalities or being wounded."
(MORE: Ten Palestinians Killed In Israeli Air Strike On House)
On his Asia tour, Obama will become the first serving president to visit Myanmar, otherwise known as Burma. He faced criticism for doing so because of the reported human rights infractions of the country's government that have occurred as it moves toward democracy.
"I'm not somebody who thinks that the United States should stand on the sidelines and not want to get its hands dirty when there's an opportunity for us to encourage the better impulses inside a country," Obama said, according to Reuters.
Read the whole stories here and here.
Read more of Neon Tommy's coverage of the Gaza Strip here.
Reach Executive Producer Michael Juliani here.