Politics
Congress: Little Change Is Expected In The House Of Representatives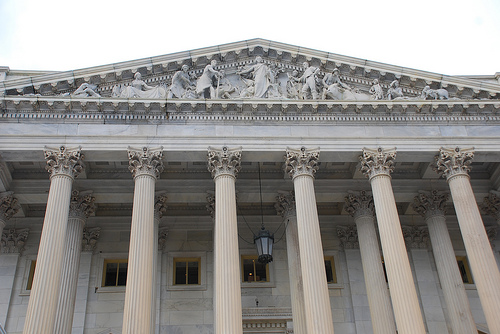 While it is still uncertain who will win the presidency today, little change in the House of Representatives is expected according to
Reuters
.
In the last three elections the House experienced a so-called "wave" where more than 20 seats changed.
In 2010, the peak of the shift and with a big push from the Tea Party, 63 previously Democratic seats went to Republicans.
According to a Gallup Poll, in the past two years national approval of Congress has hit a historical low, but still little change is expected.
Cook Political Report is predicting that the Democrats will most likely gain five seats—20 seats short of what they need to take control of the House.
SEE ALSO: Virginia Senate Race in "Statistical Dead Heat"
In 2010 Republicans swept the House due to the active Tea Party movement and a general shift in national sentiment. This year redistricting lines produced by data from the 2010 U.S. Census threatens to be the catalyst for any change that might happen.
Minnesota's infamous Tea Party-backed Michelle Bachmann, who has held her seat in the House since 2007, is being challenged by businessman Jim Graves.
Mary Bono Mack, the only female Republican representative from California, faces opposition from Paul Ruiz, the son of framers and a graduate of Harvard Medical School. Currently, Mack represents an area with a large Latino population, which may point to a possible victory for Ruiz.
Another Tea Party-backed candidate may be in trouble today. Alan West from Florida is being challenged by the Democratic candidate and former Army lieutenant colonel, Patrick Murphy. West has accused 81 Congress Democrats of being Communists.
In Utah, Democrat Jim Matheson faces major competition from Mia Love, who if she wins will be the first African-American female Republican in the House. Love gained national notoriety as a featured speaker at the Republican National Convention in late August.
SEE ALSO: Top Three Senate Races For Tonight