California
Gov. Jerry Brown Launches Final Push For Prop. 30 Before Election Day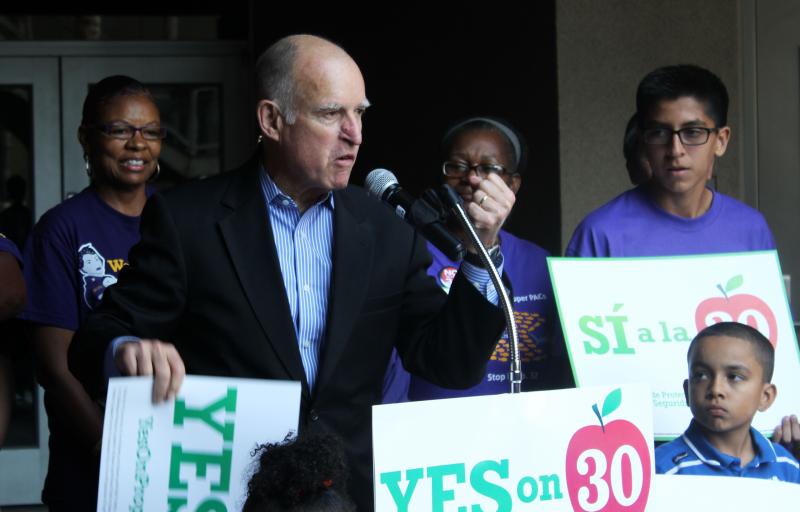 About 200 community leaders, parents and children rallied for
Prop. 30
, joined by
Gov. Jerry Brown
, the state controller and school district officials at the Accelerated School Saturday morning.
"Yes on 30! No on 32!" chanted members from
SEIU Local 99
, a union of about 45,000 education workers in California. "Ain't no power like the power of the people cuz the power of the people don't stop."
Gov. Brown showed up at 2pm, a little later than he was expected, to get more people to vote for his ballot initiative, Prop. 30.
The crowd rose to their feet, cheered and whistled as Gov. Brown walked to the podium. This effort was his final push for "Yes on 30" before the
Election Day
.
Prop. 30
would help balance state budget and fund schools. It could stop $6 billion in cuts to schools, early education, child care programs, colleges and public safety. It would also raise personal income taxes on individuals making more than $250,000 per year for the next seven years and increase sales taxes by a quarter cent for four years.
"You're so powerful and so important. We're up against secret money coming across the border from Arizona, from where we don't know," said Brown.
While Brown campaigned for Prop. 30, he also urged people to vote No on Prop. 32.
"You're also fighting 32 because the same people who don't want to put money on our schools don't want you to have the collective political power to communicate your voice," he said.
Prop. 32 bans unions from using payroll deductions for political purposes, and prohibits union and corporate contributions to candidates and their committees.
"Yes on 30! Yes on 30!" Brown chanted with the crowd.
"On Tuesday we're going to wake up and find out the majority won," Brown said.
Speakers from SEIU Local 99, the school district, state officials and students took to the stage and urged support for Prop. 30 before Brown arrived in the afternoon.
"We need to put schools back on the right financial track," said
John Chiang
, California state controller.
LAUSD has had more than $2.8 billion deficits since 2008-2009, according to its
website
. Nearly 5,000 employees in the school district were laid off in the 2012- 2013 school year.
John Deasy
, superintendent of the school district
LAUSD
, said there are far too few SEIU workers for the needs of students in the schools.
"Nothing happens in LAUSD, absolutely nothing, without SEIU (sic)," said Deasy."No one answers the phone, no one guides the kids to the nurse's office, no one goes and sits in the classroom to learn well…without SEIU."
Jake Duarte, an eighth grader at Belvedere Middle School, showed up with his mother to support Prop. 30.
"California would be on a downfall if we don't have good education," said Duarte.
Duarte is upset that his favorite advanced science teacher and art teacher were laid off last year.
"I had to get a new teacher at the end of the year…(they) didn't really know how to teach," he said. "I had to learn the subject at the end by myself."
Sandy Sampson, a stay-at-home mom, came to the event because she is worried about the future of her kids, a three-year-old and a five-year-old, if Prop.30 fails.
"They're barely beginning. I don't want them to start with so many struggles already," she said.
Sampson, who went to a community college and had financial aid in the 1990s, said life was easier back then. She wants her children to have the same opportunities she did.
Gloria Lua has been working at the cafeteria of South Gate Middle School for 20 years. Her job is to prepare food, serve meals to children, to wash dishes and clean the kitchen.
She said about 15 people at the cafeteria were laid off in the past three years. Right now, 800 to 1,000 children are served meals at the cafeteria.
"Because of the cuts and the staffing cuts, the lunch lines are very long," she said. "The children who get to line early are able to get their meals and have enough time to eat, but the children who get there later sometimes don't get a meal or have to rush through their meals."
Her grandchildren go to public schools and she said she has personally felt the impact of budget cuts.
Members of SEIU Local 99 were divided into ten teams after the morning rally. They had a quick training session before heading to neighborhoods in Inglewood to knock on doors and talk to 2,000 voters.
For those who didn't open the doors, the workers hung a flyer written in English and Spanish that briefly explained Prop. 30 and Prop. 32. A sticker at the bottom had the address of the closet ballot location.
SEIU will continue the
precinct walking
in Los Angeles, San Fernando Valley and Gardena through the end of Election Day to get as many votes as possible on Prop. 30.
Read more on Prop. 30
here
.
Reach Senior Staff Reporter Gracie Zheng here.