NFL
The NFL's Backup Quarterbacks Team-By-Team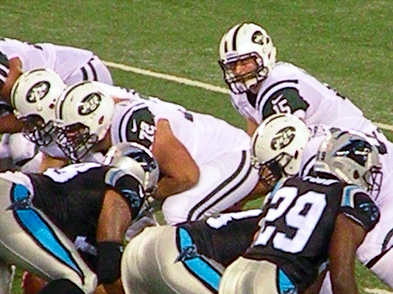 Some of you may have seen
my post last week
about young quarterbacks in the NFL... only to see one of them win (Washington Redskins rookie QB Robert Griffin III) and the lede of that piece, Seattle Seahawks QB Russell Wilson, turn the ball over three times in a loss to the St. Louis Rams.
Some more of you may have seen Thursday Night Football this week, and the disaster bomb that was the Arizona Cardinals' offensive line, as it allowed nine sacks and countless more hits and hurries of embattled QB Kevin Kolb in a loss to the Rams. It was a performance that made you think about the Cardinals' backup QB in case of injury or strategic mercy.
Except for one thing. Kolb is the backup QB in Arizona. He became the first backup to take a starting position this season when starting QB John Skelton (who unconvincingly beat out Kolb for the top job this preseason) sprained his ankle against the Seahawks in Week 1.
Kolb helped the Cardinals get off to a 4-0 start, but after taking 17 sacks in the last two weeks, it's not a given that Kolb keeps the job all season. With Skelton healthy, the Cardinals may not have a starter they are comfortable with, but at least they know they have a backup.
Then the question for all of the teams after a month of the NFL season is this: Who is the backup quarterback? Who is the vice president of the team, if you will? And where do these guys come from?
Generally speaking, there are three types of backup QBs in the NFL. The first is the Young Project (Y) - a player who is a rookie, second-year, or third-year player. This player may not have much experience at all, but has enough talent worth developing over time.
The second is what I like to call the Coach's Backup (O) - a player who has some experience, but above all else, has enough experience in the offensive scheme the team is running to go out and at least manage a game from week to week if necessary.
The third is the Experienced Starter (X) - a player who was once a starter in the NFL, but for now is a backup. Sometimes these guys know the offense well, but their primary value comes in their experience as a former first-stringer.
AFC East
Ryan Mallett (Y), New England Patriots (2-2): A 2011 third-round pick, Mallett gets to watch Tom Brady until he's too old to watch Tom Brady.
Tim Tebow (Y), New York Jets (2-2): This article is proof that you can talk about backup QBs and wait until after 500 words to discuss Tim Tebow. Don't look now, but the 2010 first-round pick of the Denver Broncos may be a Monday Night Football Jets disaster away from turning Mark Sanchez into this year's Kyle Orton.
Tyler Thigpen (O), Buffalo Bills (2-2): Thigpen lost 10 of 11 starts in 2008 while he was in his second year in the league with the Kansas City Chiefs, but at least he had an 18:12 TD-INT ratio. The offensive coordinator of the Chiefs then was current Bills head coach Chan Gailey. We should also mention here that the Bills don't exactly know how this whole QB thing works.
Matt Moore (X), Miami Dolphins (1-3): Moore was the Dolphins' starter last year, but he lost the job this year to a first-round rookie.
AFC North
Tyrod Taylor (Y), Baltimore Ravens (3-1): Taylor was the Ravens' sixth-round pick in 2011. The Ravens like him, but I bet they like the fact that their starter has never missed a start more.
Bruce Gradkowski (O), Cincinnati Bengals (3-1): Gradkowski was drafted by the Buccaneers in 2006 when Jon Gruden was the coach and Jay Gruden was on the staff. When Jay Gruden was hired by the Bengals to be the offensive coordinator in 2011, Gradkowski was signed and Andy Dalton had to beat him out in training camp.
Byron Leftwich (X), Pittsburgh Steelers (1-2): Leftwich was a 2003 first-round pick of the Jacksonville Jaguars, but he hasn't won a start since he was cut in 2007 (0-5 with Falcons and Buccaneers).
Colt McCoy (Y), Cleveland Browns (0-4): McCoy was (reluctantly) drafted by the Browns in the third round in 2010, entered his rookie year as a third-stringer, earned the right to start when Pat Shurmur was hired as head coach in 2011, and is now backing up a first-round pick who happens to be four years older than him. It's like he has already had a full career.
AFC South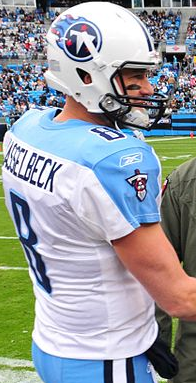 T.J. Yates (Y), Houston Texans (4-0): The Texans won a playoff game after injuries forced the 2011 fifth-round pick into action last year. Yes, this means he has more playoff wins than the guy he is backing up!
Drew Stanton (Y), Indianapolis Colts (1-2): Stanton was supposed to be the backup QB in New York (Jets), but he demanded a trade after some other guy named Tebow was traded there. Pretty good leverage for a guy who has never thrown more than one TD in a game but has three multi-interception games.
Chad Henne (X), Jacksonville Jaguars (1-3): Henne was a slightly below-average starter in Miami, but he represents the panic plan in case Blaine Gabbert remains clearly below-average in Jacksonville.
Matt Hasselbeck (X), Tennessee Titans (1-3): Hasselbeck was the starter last year while Jake Locker waited in the wings. But now that Locker is injured, Hasselbeck, a former conference champion in Seattle, will hold the starting job down.
AFC West
Charlie Whitehurst (O), San Diego Chargers (3-1): Whitehurst was drafted by the Chargers back in 2006, was sent to sabotage the Seahawks for two years, then bought back to San Diego for 2012. All the while, Chargers starter Philip Rivers has started every game for San Diego since Whitehurst was drafted.
Brock Osweiler (Y), Denver Broncos (2-2): Osweiler, a second-round draft pick out of Arizona State, is the highest-drafted rookie backup QB this season. He's also the tallest, at 6 feet, 7 inches.
Matt Leinart (O), Oakland Raiders (1-3): Leinart flunked out of Arizona in 2010 due to his poor relationship with head coach Ken Whisenhunt, but he spent two years with the Houston Texans, where current Raiders offensive coordinator Greg Knapp was the quarterbacks coach. Leinart also backed up Raiders starting QB Carson Palmer at USC.
Brady Quinn (O), Kansas City Chiefs (1-3): Quinn and offensive coordinator Brian Daboll were all together in the same roles for the 2009 Cleveland Browns. After that season, the Browns were 29th in scoring offense and Quinn hasn't played in a game since. Current Chiefs head coach Romeo Crennel was also present when Quinn was drafted. Now you know why Matt Cassel is still starting.
NFC East
Nick Foles (Y), Philadelphia Eagles (3-1): Foles is a third-round rookie out of Arizona. Michael Vick has only made it through one season starting all 16 games and has already drawn the ire of hotseat head coach Andy Reid, so the city of Philadelphia will see Foles at some point this year and hope he doesn't remind anyone of Bobby Hoying, the last third-round pick to start at QB for the Eagles.
Kyle Orton (X), Dallas Cowboys (2-2): Orton has been a starter for the Bears, Broncos, and Chiefs, winning games he wasn't supposed to. He's simply not the dynamic playmaker Tony Romo is. Orton (69 career starts) has less multi-interception games (13) than Romo (81 career starts) does (16). But Orton has only 25 multi-TD games, whereas Romo has 49.
Kirk Cousins (Y), Washington Redskins (2-2): The Redskins didn't draft rookie QB Kirk Cousins in the fourth round to challenge RGIII. They drafted him because they thought he would be better than Rex Grossman.
David Carr (X), New York Giants (2-2): Carr, the first pick of the 2002 draft by the expansion Houston Texans, is the highest-drafted backup QB in the league. He has a 22-53 record as a starter in Houston, and hasn't started a game since the 2007 season in Carolina. And it is at this time where we mention that Eli Manning, also a first overall draft pick, hasn't missed a start since his rookie year in 2004.
NFC North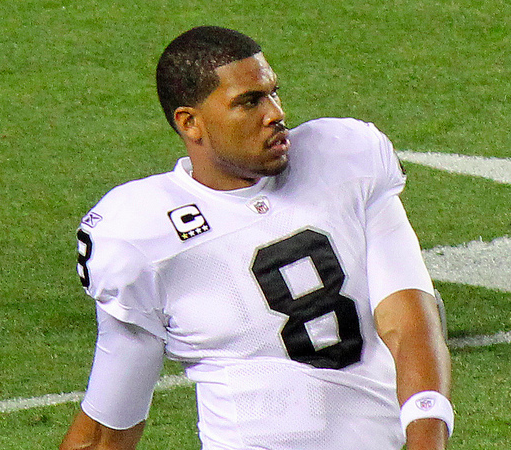 Joe Webb (Y), Minnesota Vikings (3-1): Webb was a sixth-round pick of the Vikings in 2010. He was drafted as a wide receiver, but was used exclusively at QB instead.
Jason Campbell (X), Chicago Bears (3-1): Campbell was a starter for the Redskins and Raiders. One might be able to argue that Campbell might be the Bears' second-best QB of the last quarter century, behind Jay Cutler. Cutler's last two season-ending injuries (and the backup related disasters that unfolded) are why the Bears moved on Campbell this year.
Graham Harrell (O), Green Bay Packers (2-2): After starting off his career in the Canadian Football League, Harrell has been on and off the Packers' practice squad the last two seasons. He is now Aaron Rodgers' primary backup, though his only NFL play (a lost fumble in scoring range) doesn't inspire confidence.
Shaun Hill (O), Detroit Lions (1-3): Hill has been with the Lions since 2010. He has 41 career TDs and only 24 career INTs in 33 games (13-13 as a starter).
NFC South
Luke McCown (O), Atlanta Falcons (4-0): The Falcons hired former Jacksonville Jaguars offensive coordinator Dirk Koetter to replace Mike Mularkey, who became the Jaguars' head coach. Luke McCown was a Jaguars QB the previous two years, and he joined the Falcons this season based on his familiarity with Koetter.
Dan Orlovsky, Tampa Bay Buccaneers (1-3): If Dan Orlovsky is starting for your team, run for the exits. That assessment is necessarily because Orlovsky is bad (14 TDs, 12 INTs), but the teams around him certainly have been (2-10 record as a starter).
Derek Anderson (O), Carolina Panthers (1-3): Current Panthers offensive coordinator Rob Chudzinski was the Cleveland Browns' offensive coordinator in 2007 when Anderson had a Pro Bowl season (29 TDs, 3,787 yards passing, 10-5 record). Of course, Anderson went on to throw 19 TDs and 28 INTs between 2008 and 2010 before re-joining Chudzinski in Carolina in 2011.
Chase Daniel (O), New Orleans Saints (0-4): Like Drew Brees, Daniel is a 6-foot-tall QB from Texas. And it is at this time where we mention that Brees has only missed one game since joining the Saints in 2006, and that missed start was completely voluntary.
NFC West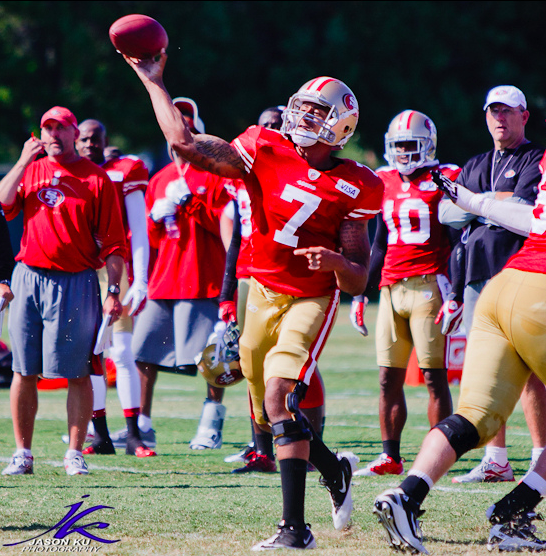 John Skelton (Y), Arizona Cardinals (4-1): Skelton was the Cardinals' fifth-round pick in 2010, and he entered his rookie season expecting to be a third-stringer. He entered his second season as Kevin Kolb's backup, and then he opened his third season as the starter, only to lose his job to injury... at least for now.
Colin Kaepernick (Y), San Francisco 49ers (3-1): Kaepernick was a second-round pick of the 49ers last year. As raw as he might be, heis 6-foot-5, 235 pounds, and as the Jets found out, can be like Cam Newton running the football.
Kellen Clemens (O), St. Louis Rams (3-2): As I explained here, I knew Clemens would be back in St. Louis to serve as Sam Bradford's backup. New Rams offensive coordinator Brian Schottenheimer was with the New York Jets when Clemens was drafted in 2006.
Matt Flynn (O), Seattle Seahawks (2-2): Flynn was signed to start for the Seahawks, but he lost out to rookie QB Russell Wilson to start the season. The Seahawks are last in the league in passing offense though, and Flynn is familiar with the Seahawks' West Coast scheme after spending his first four seasons in Green Bay.
Reach Staff Writer Lawrence Murray via email or follow him on Twitter.