Entertainment News
8 Reasons To Watch The Emmys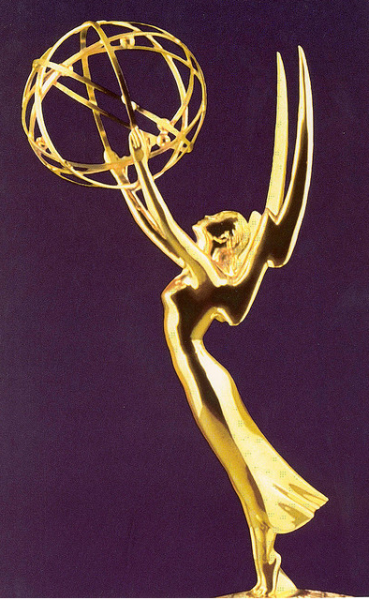 1. Prank at the Emmys? According to the 64th Emmy Awards host, Jimmy Kimmel, the 'biggest prank ever pulled' is promised and involves everybody watching. Kimmel tells Entertainment Weekly, "I am gonna do something very weird during the show. I think it could possibly be the biggest prank ever pulled, as far as number of people involved," he says. "The audience will be a participant in this. So it's important that you watch because you're either going to be in on it or not." This has been a well-kept secret. There isn't even a clue as to what the prank involves. "I hope it will be funny. That will be a nice surprise for everyone, I think, if it is," he joked modestly. We wouldn't expect anything less than humorous from the Emmy Award winning late-night comedian, anyways.
2. Could Mad Men make history this year? The show seems to have the greatest predictions for winning the Best Drama series... AGAIN. However, their competition has become more of a, well, competition this year. Breaking Bad and Downton Abbey have been heating up, and could very well prevent Mad Men from cluttering their trophy case. The Daily Beast says that "Downton Abbey shouldn't be overlooked, as Emmy voters have often gone for shows that blend critically acclaimed with popular acceptance." And as far as Breaking Bad is concerned, experts claim the show will topple the longtime champ's chance at making history, after this shows most-buzzed-about season.
3. A Comedy Series Upset? Another show hogging all the trophies is Modern Family for Outstanding Comedy Series. Are there any strong contenders that might spice up the winning moment? It seems the most celebrated comedy continues to have experts' knowledge in their favor. Curb Your Enthusiasm, 30 Rock, Veep, Girls and Big Bang Theory may all bebrilliant comedies and deserve the nomination, but their hype is incomparable. This makes it difficult to convince experts to curb their predictions.
4. Is It Time For Variety? It's clear that the Emmys has a history of continuous yearly winners, and this could possibly be the year that breaks many (or them all.) What about The Daily Show with Jon Stewart? Could this be the year they are possibly taken off their nine-year streak for Outstanding Variety Series? Or could this award go to the Emmy's host himself? Kimmel doesn't seem too confident, as he told The Hollywood Reporter: "We're not going to win, so I have no plans whatsoever. But if we do, I will cry like a baby and soil myself." Is he saying The Daily Show will take home the trophy, yet again, for the tenth time? It seems the show headlines the contenders, and has experts predicting another win. However, avid award-show viewers will be crossing their fingers in hopes that Real Time with Bill Maher may finally win the Emmy.
5. Finally a Win For Bill Maher? Mr. Bill Maher has been proclaimed "Emmy's biggest loser." 27 nominations as a writer, performer and producer, and 0 wins. For this year's Emmys, Maher's show Real Time with Bill Maher has two nominations. And though the odds are not in his favor to win Outstanding Variety Series, experts claim it's feasible the show may win Outstanding Writing for a Variety Series. Whether Maher wins or loses, it will be interesting to see his reaction.
6. A New Queen of Comedy? Julia Louis-Dreyfus is tied with Lucille Ball for most performance nominations. Could Louis-Dreyfus also catch up with Lucille Ball's wins? It could be possible if she wins this year. I'm sure her speech would be a blend of funny, quirky and emotional.
7. Bye-Bye, Big Four. In other big news, this is the first time in Emmy Awards history that none of the four major American broadcasting TV networks were nominated for three of the Drama Series categories: Outstanding Drama Series, Outstanding Lead Actor in a Drama Series, and Outstanding Supporting Actor in a Drama Series. This will make things interesting for HBO, PBS and AMC voters and audience members, guaranteeing their shows a trophy.
8. IT'S THE EMMY'S! Yeah, I think it's safe to embrace the obvious. Aside from networks, industry people and television shows making or breaking history, this awards show always honors the best in TV, and may introduce you to your next favorite show.
Reach staff reporter Raquelle Ross here.