International
Olympics Hit With Several Controversies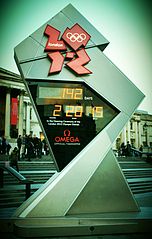 Several controversies, many involving Twitter, have been part of the London Olympics already.
Eight female badminton players have been kicked out of the London Olympics over charges of "not using one's best efforts to win a match" and "conducting oneself in a manner that is clearly abusive or detrimental to the sport," according to the Los Angeles Times.
Television images showed the players appearing to play halfheartedly and sabotaging points to be able to lose and play easier teams later on in the tournament.
They served into the net and didn't pretend to try to play well.
The crowd booed the players, and some demanded refunds for their seats. The referee warned the players about their play, threatening disqualification, according to the L.A. Times.
The players were: Wang Xiaoli and Yu Yang of China; Greysia Polii and Meiliana Jauhari of Indonesia; Jung Kyung Eun and Kim Ha Na of South Korea; and Ha Jung Eun and Kim Min Jung of South Korea.
Wang Xiaoli and Yu Yang of China are the reigning world champions.
The L.A. Times said: "We applaud the federation for having taken swift and decisive action," International Olympic Committee spokesman Mark Adams told the Associated Press. "Such behavior is incompatible with the Olympic values." The badminton federation said South Korea had appealed the decision.

At a Wednesday morning briefing, the chairman of the London Organizing Committee of the Olympic and Paralympic Games, Sebastian Coe, looked annoyed when referring to the mess, saying, "It is unacceptable."
The badminton players join a couple other Olympic athletes who were kicked out the games.
In what was termed to be the "Twitter Olympics," according to CNN, a Greek athlete and a Swiss athlete were ousted for posting offensive messages on their Twitter accounts.
Greek triple jumper Voula Papachristou was expelled from the Olympics after a racist tweet.
"With so many Africans in Greece," Papachristou said, "the mosquitos from the West Nile will at least be eating some homemade food."
Swiss soccer player Michel Morganella was kicked out of the games for a tweet following his team's loss to South Korea. He called the South Koreans a "bunch of mongoloids," and that they "can go burn."
American soccer player Hope Solo used Twitter to blast former player-turned-analyst Brandi Chastain, "telling NBC to employ a soccer commentator who 'knows more about the game,'"said CNN.
Many Olympians have also used Twitter to speak against International Olympic Committee Rule 40, which says that athletes can't use social media to promote companies other than Olympic sponsors.
CNN said: That kind of political dissent is new, said Mark McClusky, a senior projects editor at Wired who is covering the Games.

"Athletes are taking to Twitter to voice frustrations with the way that the sports system is currently constructed and oriented," he said by phone from London. "That's something we really haven't seen before -- or not in such a coordinated way, having a couple dozen really prominent Olympians starting to really talk about those issues. Beyond that I think it's just so much more part of how these athletes interact with the world than ever before, certainly. We saw some people tweeting at Beijing and a few more at Vancouver -- and now it's just part of the oxygen."
Police also reportedly arrested a 17-year-old after he sent British diver Tom Daley a Twitter message telling the diver that he had disappointed his recently deceased father by placing fourth in a Monday event.
There was also significant controversy following Twitter's decision to suspend the account of a journalist who posted the email address of one of NBC's executives in hopes of protesting the networks decision to run the Olympics on a delay on American television.
Read more of Neon Tommy's Olympic coverage here.
Reach Executive Producer Michael Juliani here; follow him on Twitter here.