Sports
U.S. Olympic Swim Trials Saturday: Rebecca Soni Wins 200-Meter Breaststroke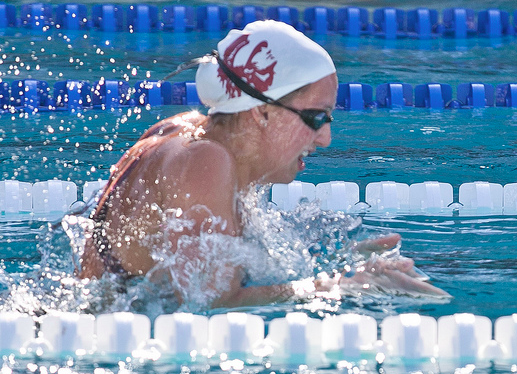 Rebecca Soni could relax Saturday night at the U.S. Olympic Trials in Omaha.
She had already qualified for the 2012 London Olympics by finishing second in the 100-meter breaststroke Wednesday night. But Soni, the USC alum, added another event to her London Schedule by winning the 200-meter breaststroke with a time of 2:21.13.
Soni, 25, won her first Olympic Gold four years ago with her victory in the 200-meter event. Her time of 2:20.22 set a world record. Soni's time Saturday night was the fastest in the world this year, and she will be joined at the Olympics in the 200 meters by U.S. teammate Micah Lawrence, who finished two seconds behind Soni.
But the race of the evening was between brewing American rivals Ryan Lochte and Michael Phelps (on his 27th birthday) in the 200-meter individual medley. The two swimmers thrilled the thousands at CenturyLink Center by shooting out to the front of the pack quickly, then Phelps pulled ahead with his breaststroke, then held on with the final 50-meter freestyle to top Lochte by nine-hundredths of a second.
Phelps (1:54.84) and Lochte (1:54.93) swam the two fastest 200 IM times of any swimmer in 2012. Phelps won Olympic Gold in 2008 (one of eight) in the event, but with Lochte as the current world record holder with a 1:54 flat last year in Shanghai, the event should be exciting in London. Lochte also qualified for the 200-meter backstroke, for which he won Gold in Beijing, joined by Tyler Clary.
Back on the women's side, the 100-meter freestyle found six American women qualifying for the Olympics, including a bid for eleven-time Olympic medalist Natalie Coughlin. The event was won by Jessica Hardy, who qualified for the 2008 Games but was suspended after testing positive for clenbuterol, with a time of 53.96 seconds.
Second place belonged to 17-year-old Missy Franklin, who previously qualified for the Olympics in the 200-meter freestyle and 100-meter backstroke. She will go for her fourth individual spot Sunday in the 200-meter backstroke as the top-seeded American swimmer. She finished her 200 back semifinal with a time of 2:07.91. Last year, she won Gold at the World Championships in the event, where she set a new American record.
It has been an impressive week of swimming in Omaha, so check out the full results here.
--------------------------------------------
Reach James by email or follow him on Twitter, @JamesSantelli.