National
Jerry Sandusky's Son Recounts Being Abused By His Father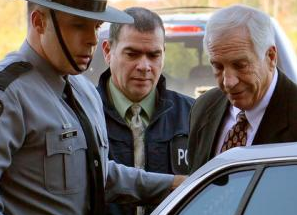 Jerry Sandusky's adopted son, Matt, revealed to authorities that his father had abused him starting when he was 8 years.
In an excerpt of his interview obtained by NBC and played on NBC's "Today," 33-year-old Matt Sandusky said he was currently in therapy and that he's starting to recall the memories of abuse. He also had said he would testify against his father.
Had Jerry Sandusky taken the stand, prosecutors told the defense they would have Matt Sandusky testify. According to the San Francisco Chronicle:
[Rominger] said that Matt Sandusky, on the tape, makes "allegations that directly contradicts [Jerry Sandusky's] sworn testimony .... directly contradicts police statements he'd given previously, directly contradicts public statements and absolutely contradicts everything his family knows."
One day after Matt's interview was released, Jerry Sandusky was convicted on 45 out of 48 criminal counts for abusing 10 boys from his at-risk youth charity, The Second Mile. He is currently on suicide watch.
According to Rominger, Jerry Sandusky continues to claim that he is innocent.
Read more at The San Francisco Chronicle.
See more Neon Tommy coverage about the Sandusky case here.
Reach Executive Producer Paige Brettingen here.