National
Sandusky Found Guilty On 45 Counts In Penn State Abuse Trial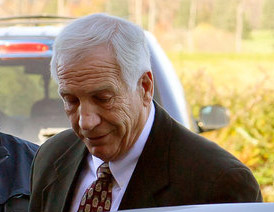 Former Penn State football defensive coordinator Jerry Sandusky was found guilty Friday of sexually assaulting 10 boys over 15 years.
Sandusky, who was once considered an heir apparent to legendary Nittany Lions head coach Joe Paterno, was convicted on 45 of 48 counts. After more than 20 hours of deliberation, the jury in Centre County Court concluded that the 68-year-old used his access to the storied Penn State football program to befriend and repeatedly violate the 10 boys, all of whom came from disadvantaged homes, The New York Times reported.
The accusations tarnished the image of Penn State football and eventually led to Paterno's firing. The 68-year-old Sandusky showed little emotion as the verdict was read, according to CNN. His wife, Dottie, blinked back tears.
The judge ordered him to the county jail where he will be sentenced in about three months and could face up to 442 years in prison, according to ESPN:
As he was placed in the car, someone yelled at him to "rot in hell." Others hurled insults and he shook his head no in response.

Almost immediately after the judge adjourned, loud cheers could be heard from at least a couple hundred people gathered outside the courthouse as word quickly spread that Sandusky had been convicted. The group included victim advocates and local residents with their kids. Many held up their smartphones to take pictures as people filtered out of the building.
Pennsylvania Attorney General Linda Kelly thanked the victims for coming forward to testify years after they were abused.
"It was incredibly difficult for some of them to unearth long buried memories of (what) they had suffered," Kelly said, according to CNN. "This trial was not something that they sought, but rather something that forced them to face the demons of their past."
Eight men testified during the trial and provided graphic accounts of Sandusky's actions. The men told the jury that Sandusky gave them gifts, invited them to his home, showered with them at the university's football facilities and slept with them in hotel rooms, according to The Times.
One victim spoke of forced oral sex and experiences of rape in the basement of Sandusky's home, according to ESPN. Another victim said Sandusky warned him he would never see his family again if he told anyone about the incident.
Sandusky's arrest last November led to the dismissal of longtime university president Graham B. Spanier. Paterno, who spent 45 years as Penn State's head coach, died two months after his firing. Two administrators, athletic director Tim Curley and retired vice president Gary Schultz, are facing criminal charges for failing to report suspected child abuse and perjury.
Defense lawyers tried to prove their client's innocence by challenging the accusers' timetable and calling in character witnesses to defend Sandusky's reputation, but they conceded that it was a difficult challenge from the start.
Defense attorney Joe Amendola told Yahoo, "It was the expected outcome because of the overwhelming amount of evidence against Jerry Sandusky."
For more of Neon Tommy's coverage of the Sandusky trial, click here.