MLB
The Seattle Mariners Don't Need A Roof: Rain Totals For All 28 MLB Cities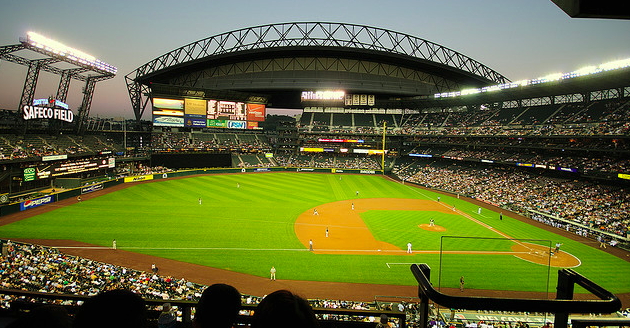 There are about 1.93 million people in King County, Washington, with Seattle as its largest city. A new ballpark that opened in 1999 for the Seattle Mariners, Safeco Field, required
a public commitment of $372 million
from increased taxes.
The stadium includes a $70-million retractable roof, ostensibly to keep Mariners fans from experiencing rainouts in rainy Seattle, right?
One problem: Seattle gets the 7th-least amount of "baseball season" rain, out of the 28 Major League Baseball cities. Each King County resident is paying $36 for a roof to protect a rather-dry city from rainouts, whether they care about baseball or not.
I pulled the rain data for each Major League city from Wikipedia, which sources its climate data to the National Oceanic and Atmospheric Administration. The results are inches of precipitation from April through September. You know, baseball season. Teams with roofs are in bold. Here are the results: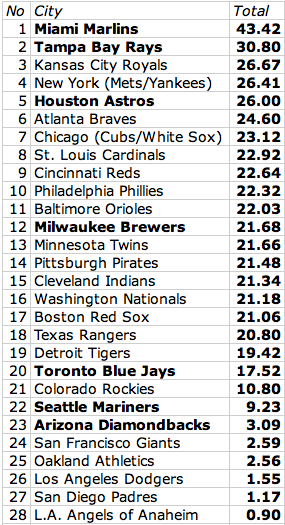 Someone on Twitter pointed out to me regarding Seattle, "the only thing is, we don't get buckets of rain, we just have a constant drizzle. That's more annoying."
That may be, but Seattle still only averages 53 days of precipitation from April through September. That is a lot fewer than say, Pittsburgh, which averages 70 days of rain in the baseball months.
[Extra Note: As people have pointed out to me on Twitter or the comments at the bottom of the story, Safeco Field and Miller Park are already built, so what's the big deal? It's a valid point, but no baseball stadium lasts forever. The next time an owner of an MLB franchise wants the public to pay for a new stadium with a retractable roof, the voters should look at the rainfall totals before making any decision.]
We can learn some other things from the data:
1. Maybe the Mets or Yankees should have built a roof. Both teams considered a retractable roof for their privately-financed new ballparks (the only subsidy was infrastructure improvements), which opened in 2009. They each considered a retractable roof, but were put off by the cost and the "airplane hangar" look of such stadiums. But Wimbledon looks pretty good with its smaller fabric-covered roof. And with the 4th-most baseball season rain of any MLB city, it could make the New York fans happy, and possibly increase attendance from fans weary of rainy forecasts.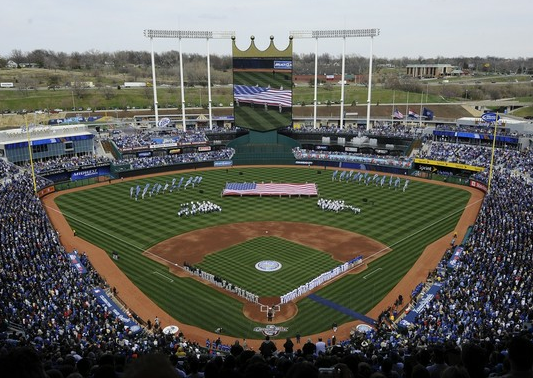 2. Kansas City could have used one too, with the most April-through-September rain of any non-Florida city. When Jackson County voters decided on renovations to the Royals' Kauffman Stadium and the Chiefs' Arrowhead Stadium, which sit in the same complex. They approved $850 million in total renovations to the complex, but narrowly rejected a unique $170-million rolling roof. Good on those Jackson County voters. It's their money. But perhaps the Royals should have coughed up the cost for a roof of their own.
3. No wonder the Marlins wanted a new, retractable-roof ballpark. Miami gets more rain than Milwaukee and Toronto combined (two cities with retractable roofs). And the Marlins are certainly drawing to their brand-new ballpark, whether it is just "shiny new toy" syndrome or not. The team has drawn over 28,000 per game this season, compared to an announced 19,000 average at Sun Life Stadium last year. Though really, does this look like 19,000 to you?
4. California doesn't get rain in the summertime. The Padres have only had one rainout in the last decade. If you want some rain, come back in the winter months. Believe me, it happens.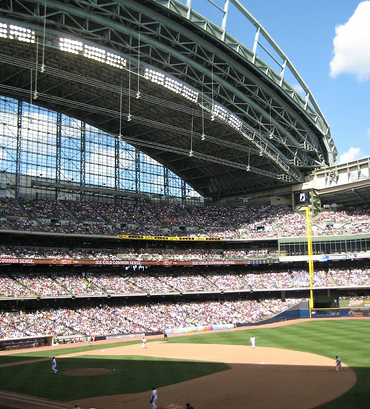 5. Milwaukee also didn't really need a roof. Again, Miller Park needed $290 in public funds to be built at the end of the last century, including an expensive retractable roof. And even though Milwaukee gets a decent amount of rain, it's no more than division rivals St. Louis or Cincinnati, or nearby Chicago on Lake Michigan. The all-climate Miller Park cost $392 million to build, and opened in 2001. The same week, $216-million PNC Park opened in Pittsburgh, with some calling it the best in baseball.
6. The Astros are getting a good return on its climate control. Not only is Houston one of the hottest major cities in the country, it also gets a good amount of rain. It came in at No. 5 on the list, perhaps surprisingly so, getting a good bit more rain than other non-Florida cities. Only hurricanes can stop baseball from being played at Minute Maid Park.
7. The Red Sox have had the most rainouts in baseball over the last decade, according to the great Maury Brown. A close third were the Pittsburgh Pirates, despite being in the middle of the pack for baseball season rain. But I shouldn't be too surprised. Today is the first day of the Three Rivers Arts Festival in Pittsburgh, a day which inevitably brings rain, for reasons known only to Zeus and the sky gods.
But it's okay. The Pirates are in Milwaukee.
-------------------------------
Reach James by email or follow him on Twitter, @JamesSantelli.