Sports
2012 NBA Playoffs: Lakers Lead Nuggets 2-0, Series Shifts To Denver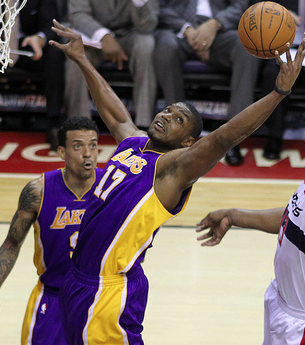 The Lakers seem to be playing at ease despite the absence of World Peace (pun intended). Reserve small forwards Matt Barnes and Devin Ebanks have filled in nicely for the suspended MWP, and of course, the Lakers are dominating inside thanks to their twin towers, Andrew Bynum and Pau Gasol. Game 2, however, was considerably closer than Game 1. Does Denver have any fight left?
Rey Moralde and Bryan Douglass were kind enough to fit us into their busy schedules. Moralde covers all-things-Lakers at The No Look Pass, while Douglass serves as the content manager at the social networking website Wayin.
Aaron Fischman: It's no surprise that Andrew Bynum has been dominant inside through the first two games. As the Nuggets return home, what, if anything, can they do to mitigate his inside dominance?
Rey Moralde: Bynum's just big and strong. Koufos and Mozgov are no match. McGee is a pogo stick and nothing else. One-on-one, you cannot beat Bynum.
But over the course of the season, Bynum has had trouble with double teams. Sometimes, he gets selfish by forcing his way through. Sometimes, he has trouble passing out of double teams. Basically, he doesn't make a quick decision when the double team comes. Granted, he's gotten better but I think it's wise for Denver to give him different looks whether it's double-teaming him before the catch or providing a late double-team where someone hedges towards him. They can even afford to gamble once in a while, as the Lakers don't have the greatest outside shooters.
Moralde: Do you feel a little bit more confident in the Nuggets right now since they lost a close game Tuesday? Basically, is this a moral victory or do you still expect the Lakers to run all over the Nuggets?
Bryan Douglass: I'm hoping the Nuggets pull out at least one at home. I'd say "no" to moral victory, and I have no belief victory in seven is possible either... but I'm still calling it a "win" for this franchise. It's a step forward. Yes, they make the playoffs and are out in the first round every year. That's fair... but this is the first team I can remember in a LONG time that I expect to return with minimal attrition next season.
The kids Denver cheers for today will likely be the same kids they cheer for next season. If Karl can last a few, this crew might have all the potential needed to be one of the best in franchise history.
Fischman: JaVale McGee does not look comfortable offensively. To what extent can the Nuggets expect any significant offensive contribution from McGee? On the other hand, Kenneth Faried has been extremely productive, especially for a rookie. Please talk about his strengths as a player and how he's made use of them this round, as well as where he's fallen short.
Douglass: JaVale...huge fan, and you are correct. He's quick to pick up fouls and seems to be struggling in working his own game into Bynum's post. I'd suggest Bynum is a big part of that, but like most events, it's the product of a collective influence. JaVale hasn't been with the organization that long and I have to believe there is SOME effort on Karl's part to change some habits/tendencies picked up in Washington (that's been Karl's job all season long with a roster full of kids, parts added in a lockout-shortened preseason and a myriad of injuries during the season).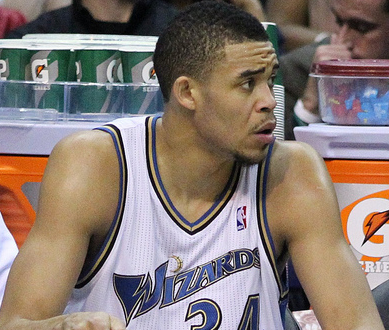 Mix that and other factors - Bynum's rise, the fact he has ANOTHER 7-footer in Pau out there, the consistent mix of minutes sharing the position with Koufos and Mozgov, Denver's offensive preference to run, and the scheme we've seen from the Lakers in this series - and it's not only easy to understand why JaVale doesn't look comfortable... it's easy to understand why he (and the entire team) isn't winning.

Faried... wonderful season and a tenacious player, but I'd suggest the shortcomings we've seen in these first two games might support Karl's historical preference to AVOID rookies. He's also struggling to play his typical game in this series and seems to be letting it show worse on defense. The Lakers bring two of the best bigs in the game and Faried hasn't put too much disruption into either thus far. He's young, he's playing with a rotation at center (all struggling), and it's obvious that the Lakers have taken advantage down low.

In the past, "Manimal" has been great at cleaning glass and being a force in transitional offense. The Nuggets have been limited by the Lakers in getting either of those accomplished, and as such Faried's strengths haven't been on display thru two.

Moving forward, it will be a great lesson for Faried. If the Nuggets actually keep this crew together, the same could be said for all of 'em.

Fischman: Please discuss what you've seen from small forwards Devin Ebanks and Matt Barnes, guys who have been forced into bigger roles due to the suspension of Metta World Peace.

Moralde: Both Ebanks and Barnes are scrappy. They're not going to give you as much offense as Ron would (yes, I still call him Ron) but anytime they score (particularly Ebanks), it's a bonus. They do the little things, which is what the Lakers need from them. Tuesday, Ebanks had eight rebounds. In Game 1, he had 12 first-half points. Barnes had four assists tonight. In Game 1, he had six rebounds and four steals. You don't have to worry about creating shots for them and you don't have to worry about them being black holes. So right now, their roles are perfectly fine. They already have the Big Three and Sessions to carry the load of the scoring anyway.

Fischman: Jordan Hill has been a rebounding machine off the bench. How helpful has he been for the Lakers through the first two games?

Douglass: Listen... it's all about Kobe for most Laker fans, but for anyone playing them, it's the two bigs and what they force teams to do that REALLY drives this team to its full potential. When Bynum and Gasol can force the opposition to the perimeter and force the vast majority of shots to come further from the basket, it's a huge advantage.

Now you add another presence in the lane to that mix? Please... the only team left in the fight with the size to match is Miami, and they apparently aren't as deep as LA with it.

For me, it's been all about pace. The Lakers have done a great job of slowing it down, letting their bigs settle in, and working the offense low.

Douglass: Will the Lakers sweep, & if so, do you like their chances in the West MORE if they do?

Moralde: Will the Lakers sweep? No. The Lakers tend to get lazy, which is a really bad habit for the squad. The Nuggets are a really bad match-up for the Lakers and they will beat them with effort and perseverance. And if the Lakers DO sweep, I suppose in terms of confidence, it'd be better for the Lakers but for the most part, I don't think it changes anything. I don't think Oklahoma City or Dallas and the rest of the league suddenly becomes "easier" because of a sweep.

More series updates: Thunder vs. Mavericks, Spurs vs. Jazz and Grizzlies vs. Clippers.