NFL
5 Bold NFL Draft Predictions
After having a lot of fun writing my
MLB Bold Predictions article
, I decided to give it another go with the
NFL Draft
. A couple of these predictions will take years before they can justified as right or wrong, but I still have other ones that will be relevant after tonight.
1. Luke Kuechly Will Be A Bust
Kuechly is consistently being called one of the safest prospects in the draft, in part because he was the all-time leading tackler in Boston College and Atlantic Coast Conference history. Despite Kuechly's great instincts, he just isn't a very physical linebacker, and he doesn't make enough plays that result in a loss of yards because he doesn't line up near the line of scrimmage. However, the biggest reason why I wouldn't draft Kuechly is because of the production by recent first-round-selected linebackers. Not including hybrid defensive end/linebacker prospects (like Terrell Suggs and Vernon Gholston), there were 21 linebackers selected in the first round between 2002 and 2010. Out of those 21, only eight were Pro Bowlers. And out of those eight, only four were in more than one Pro Bowl. If a team is spending a first round pick on a player, they are expecting more production than one Pro Bowl. Other so-called "safe" linebackers such as Aaron Curry and Rolando McClain have done minimal damage in the NFL, and Curry was just traded this past season for a seventh-round draft pick. Drafting linebackers is a much bigger crapshoot than other positions, and with a lot of talent at other positions in the top half of the draft, I would look somewhere else than Kuechly.
2. Two Teams With Top-7 Draft Picks Will Trade Down
Andrew Luck going first to the Colts and Robert Griffin III going second to the Redskins are locks. After that is when the draft will start to get really interesting. There's only been one NFL Draft with multiple teams trading out of the top seven in the past eight years, but I think there will be one this year. At No. 3, the Vikings really like offensive tackle Matt Kalil and cornerback Morris Claiborne. But they are also very interested in trading down. Their general manager Rick Speilman said that the trade talk has been heating up and that there is definitely potential for a trade. The Dolphins might be especially interested in this pick so they can attempt to save their miserable offseason by securing quarterback Ryan Tannehill (more on him later). The Browns are another team looking to trade down, as they have many holes to address. The Rams at No. 6 are also thinking about trading down, especially if Justin Blackmon is selected before their pick, unless they go for a surprise pick (see later bold prediction). Sitting at No. 7 are the Jaguars, who have been open in their desire to trade this pick -- this could be another prime spot to draft Tannehill if there isn't a trade beforehand since the Dolphins are picking right after. With multiple teams in the Tannehill sweepstakes -- along with several teams looking to trade up to grab one of the top-six prospects in general -- there will be multiple deals struck near the top of this year's draft.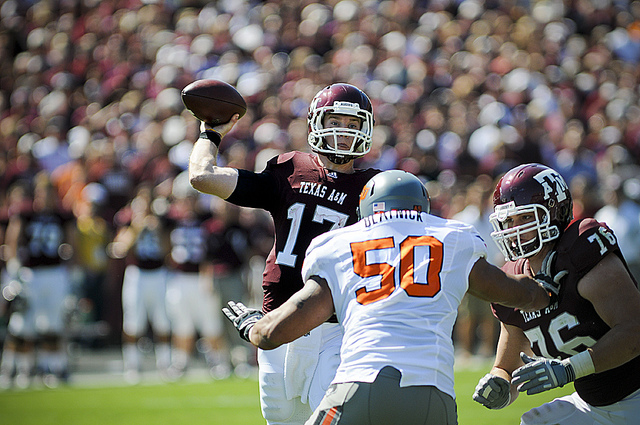 3. Brandon Weeden Will Be A Better NFL QB Than Ryan Tannehill
Several teams have fallen in love with Tannehill over the offseason; however, they should be paying more attention to Weeden. If it weren't for Weeden's age (28), he would be not only the third-highest quarterback prospect, but the third player drafted in this year's NFL Draft. The Oklahoma State quarterback impressively beat Luck, Griffin III, and Tannehill last season. Weeden was also much more consistent than Tannehill. He completed at least 70 percent of his passes in six games against teams that play in a BCS conference last season compared to Tannehill's two. Weeden also had a passer rating of over 140 nine times against BCS conference foes, whereas Tannehill only had two such games. Also, Tannehill did not win Texas A&M's quarterback battle at the start of the 2008 season, and he only got the starting quarterback gig midway through the 2010 season because of injury-filled and subpar-quarterback play by their starter, Jerrod Johnson. If Tannehill can't win a quarterback position battle in college, what makes you think that he can win one in the NFL? Weeden is just the more consistent and better quarterback prospect out of the two and will be another NFL quarterback who will have successful seasons in his mid-thirties.
4. The New England Patriots Will Not Trade Down From Either Of Their First Round Draft Picks
The Patriots have traded down from at least one of their first round draft selections for five consecutive years. The Patriots were looked upon as draft day geniuses by stockpiling on mid-round draft picks and trading for additional first round draft picks for the following offseason's NFL Draft. However, what the Patriots and NFL analysts slowly realized is that very few of their draft picks over the years have panned out simply because they've traded away the possibility of drafting players with the most talent. And after losing another Super Bowl to the Giants -- after several years of playoff disappointment -- this will finally be the year that the Patriots will utilize their first-round draft picks. With the Patriots needing help with their front seven, and several promising young defensive lineman and linebackers expected to be available in the late first round, expect the Pats to pounce on two of them.
5. Fletcher Cox Will Be the First Surprise Pick of the Draft, Going Inside The Top-6
I'll save the most shocking prediction for last, even though with the way Cox has risen across draft boards it won't be as much of a shock to me. Cox was on the All-SEC team last year for the Georgia Bulldogs, and his stock has increased tremendously with his pre-draft workouts. Cox can also play defensive end and defensive tackle along with having a lot of natural athleticism and pass-rush potential. Several teams think that Cox is the best defensive lineman in the draft, and now there could be a battle brewing over him. The St. Louis Rams at No. 6 are deeply considering taking Cox and helping defensive end Chris Long out by drafting another potential impact guy on the defensive line. However, there are several other teams interested in Cox that are willing to trade up ahead of the Rams to select Cox. With the Vikings, Browns and Buccaneers all willing to trade down, expect a team with a first round pick in the nine-to-16 range to trade up with one of those three and grab Cox for the first surprise in the draft.
If any of you NFL Draft fanatics disagree with my bold predictions, or have a bold prediction of your own, post your opinions below.
Reach Max by email, or follow him on Twitter.