NFL
2012 NFL Mock Draft: Part One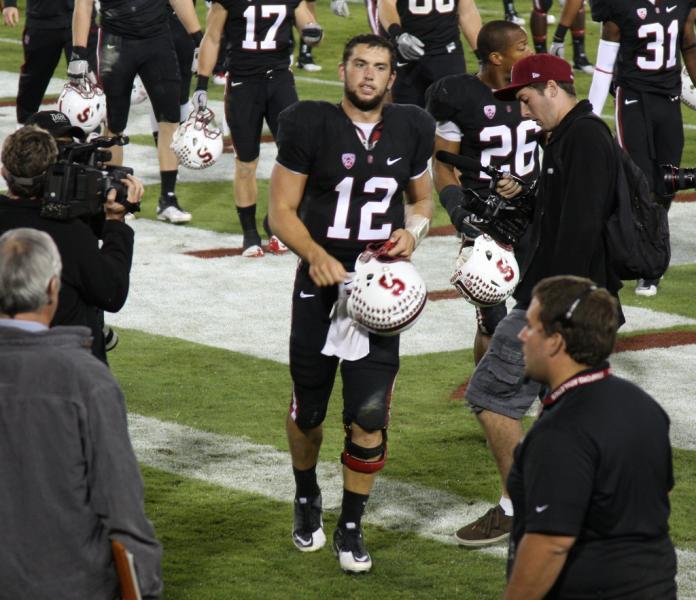 Welcome to Neon Tommy's 2012 NFL Mock Draft! We pooled together eight of our crack writers to craft the definitive mock draft. Each writer developed draft boards for each team and the draft was conducted thusly. No trades were conducted or hypothesized. Here are picks 1-16.
1. Indianapolis Colts: Andrew Luck -- QB -- Stanford
Will Robinson: Since the accomplished Luck finished his 2010 season, he was anointed as a surefire No. 1 overall pick in the 2011 NFL Draft. Well, he didn't declare that year. Now, the yearlong charade is over. Luck will step in and have to toss around some very big horseshoes left by Peyton Manning and should be the face of the Colts for the next 15 years or so. There is a zero-percent chance that anyone else will be selected here (i.e. Robert Griffin III). Indianapolis is quite lucky to have had Manning, arguably the greatest quarterback prospect of his generation and replace him with Luck, the greatest quarterback prospect of this generation. I mean, look at this classic highlight from Luck's redshirt-sophomore campaign.
2. Washington Redskins: Robert Griffin III -- QB -- Baylor
Andie Hagemann: The 2011 Heisman-Trophy winner, Robert Griffin III, is the perfect remedy for the Washington Redskins. During the 2011 season, Griffin was 291 of 402 (72.4%) for 4,293 yards, 37 touchdowns and six interceptions. In his career at Baylor, Griffin racked up 10,366 yards and 78 touchdowns. The Redskins need another quarterback in its arsenal to counterpart the inconsistencies of quarterback Rex Grossman. Griffin's body of work is impressive and he will help the Redskins improve from its 5-11, 2011 season.
3. Minnesota Vikings: Matt Kalil -- OT -- USC
Jacob Freedman: A need is a need. Franchise left tackles are cut from a rare cloth, and while the Vikings secondary desperately needs a cornerback like Morris Claiborne, the team needs to make protecting Christian Ponder its first priority. Kalil had the second-fastest 40 time at the draft combine with 4.99 seconds, and will utilize this speed as well as his ability to slide out in order to better protect the run-happy Ponder. Additionally, his ability to hammer linemen downfield will open up gaps for the Vikings' superstar running back Adrian Peterson. A scout for the Panthers, where Kalil's three-time Pro-Bowler brother Ryan plays, even said that Matt will be the superior player. If that's not high praise, what is?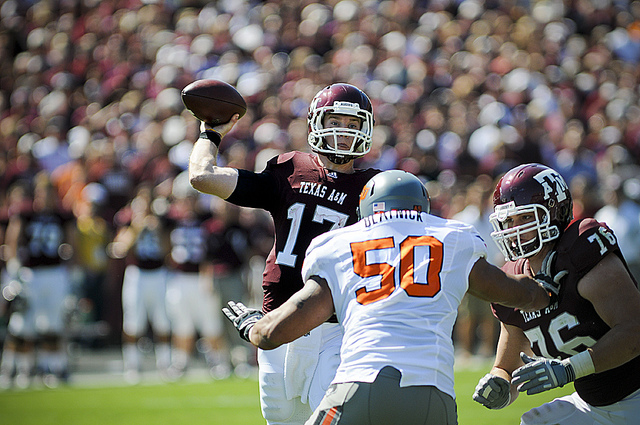 4. Cleveland Browns: Ryan Tannehill -- QB -- Texas A&M
Scott Enyeart: The Browns have a handful of needs, foremost of which is the quarterback position. Many doubt Colt McCoy's ability to be a "franchise QB," and the opportunity to finally get one may be too hard to pass up with the fourth pick. Tannehill's value is largely based on his potential, not his demonstrated ability, so there is some risk involved with the pick. But the Browns seem willing to roll the dice on the Texas A&M product.
5. Tampa Bay Buccaneers: Morris Claiborne -- CB -- LSU
Daniel Carr-Crawford: It's becoming more and more likely that the Bucs will take Claiborne at 5 in this draft. While the team has numerous issues -- including a run defense that finished worst in the league in yards per game -- the Bucs will feel the need to invest in a high-quality corner, particularly with Aqib Talib's off-field issues. Also, keep in mind that the Bucs are in the pass-heavy NFC South and play against star quarterbacks Drew Brees, Matt Ryan and Cam Newton six times a year. Pass defense is at a premium for this team.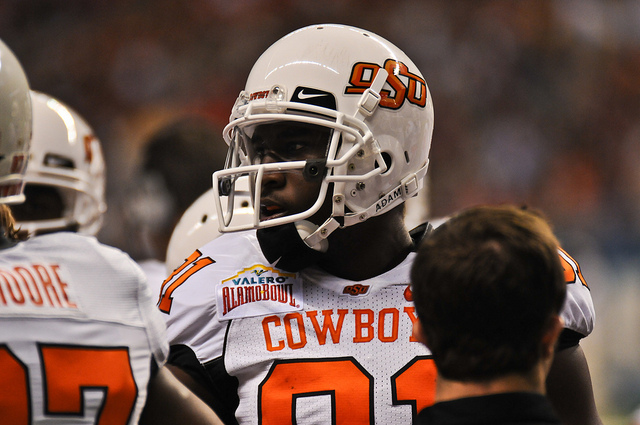 6. St. Louis Rams: Justin Blackmon -- WR -- Oklahoma State
Johnie Freatman: In a dream scenario for the Rams, they trade down from the second pick and still get the best player at a position of big-time need. Sam Bradford's progress has slowed down due to an utter dearth of help on offense. Blackmon may not have elite speed but his excellent hands and route running will enable him to contribute from the get-go. Whether or not he's an All-Pro, he should be a very solid starter. The only thing realistically derailing this pick is if Matt Kalil is somehow available.
7. Jacksonville Jaguars: Michael Floyd -- WR -- Notre Dame
Max Meyer: The Jaguars need to help quarterback of the future Blaine Gabbert by giving him more help at wide receiver. While signing Laurent Robinson and Lee Evans will help a bit, Floyd is a guy that can immediately give Gabbert a big-time threat. Floyd put up monstrous numbers at Notre Dame, and many scouts feel that he has closed the gap between the other top wideout-prospect Justin Blackmon. While Jacksonville does have a bigger hole at cornerback, general manager Gene Smith likes to take the best talent available which is why Floyd makes more sense than reaching for a cornerback.
8. Miami Dolphins: Quinton Coples -- DE -- North Carolina
James Santelli: Hmm, the top three quarterbacks are off the board. As are the top two wide receivers. Tough break for the Dolphins, as they need plenty of help in the passing game. But Coples brings an imposing talent on the other side of the football. The 6-foot-5 Coples has the size, strength and athleticism to play end in either a 4-3 or 3-4 scheme, depending on what the Dolphins staff goes for. With Jason Taylor gone, the Fins could use a complement for Cameron Wake, and Coples can answer the call.
9. Carolina Panthers: Fletcher Cox -- DT -- Mississippi State
Robinson: Carolina's 2011 campaign was highlighted by Cam Newton's phenomenal rookie season, but their run defense was incredibly suspect. Like, arguably the worst defense last year, particularly the Panthers' run D. Enter Fletcher Cox, one of the highest climbers up this year's draft board. Cox racked up five sacks and was the Bulldogs' sole representative on the All-SEC team. Going defense at this point in the draft would be a wise move for Ron Rivera's squad. Another playmaker for Newton would be nice, but picking from No. 9, no one worth picking would be present. Fix the interior of the defensive line with Cox.
10. Buffalo Bills: Chandler Jones -- DE -- Syracuse
Hagemann: The Syracuse defensive end is one of the most underrated defensive ends in the 2012 draft. Though Jones only had ten sacks in 33 career games, he is still a solid candidate for the Buffalo Bills. The 6-foot-5 defensive end hails from athletic roots. One of his brothers, Arthur, was selected as a fifth-round pick by the Ravens and the other, Jon, is a UFC fighter (in which Chandler is also trained in).
11. Kansas City Chiefs: Luke Kuechly -- ILB -- Boston College
Freedman: Sometimes, the shoe just fits. Kuechly has a seemingly innate ability to get tackles, as he had 191 of them last year. A near-finished product, Kuechly will give the Chiefs a hard-working and high-character guy who will team with Derrick Johnson to help create one of the league's most fundamentally sound and consistent linebacking corps. Kuechly has the speed to let the Chiefs' third starting linebacker Justin Houston focus more on the pass rush. The Chiefs have been rumored to be interested in Memphis defensive tackle Dontari Poe, but taking huge defensive line prospects has not worked out lately (here's looking at you Glenn Dorsey and Tyson Jackson). General manager Scott Pioli need not shoot for the stars, but instead add consistent talent to a young, burgeoning roster.
12. Seattle Seahawks: Courtney Upshaw -- OLB/DE -- Alabama
Enyeart: The Seahawks have been candid about their desire to improve their pass rush. This draft is loaded with players who can meet that need, but none fit quite like Courtney Upshaw. The Alabama linebacker is an aggressive, versatile player with great instincts. While a handful of the players still on the board would make sense for Seattle, Upshaw's experience in the 3-4 defense would allow him to transition smoothly to an Elephant role in the Seahawks' 4-3.
13. Arizona Cardinals: Dontari Poe -- DT -- Memphis
Carr-Crawford: While Arizona has a solid defense anchored by veteran Darnell Dockett and rising star Patrick Peterson, the team wouldn't hurt itself by drafting Poe here. That is, if Poe pans out and becomes the star he's supposed to be. While he posted incredible numbers at the NFL Combine for a guy his size, his college resume isn't particularly impressive (read: five sacks in three years). However, his upside is enormous and if the Cardinals are willing to put some time into developing Poe, they could see serious dividends in a few years.
14. Dallas Cowboys: Mark Barron -- S -- Alabama
Freatman: After picking up cornerback Brandon Carr in free agency, the Cowboys continue to shore up a leaky secondary. Cowboys' owner Jerry Jones is reportedly in love with Barron, and it's easy to see why: The safety from Alabama is the complete package. He has great instincts and ball skills yet is big and physical enough to stop the run. Stephon Gilmore or David DeCastro may have seemed tempting before but assuming Barron's still on the board, this one should be a lock.
15. Philadelphia Eagles: Riley Reiff -- OT -- Iowa
Meyer: With Pro Bowl offensive lineman Jason Peters out for the season -- in addition to the fact that the mobile Michael Vick needs serious pocket protection to avoid injuries -- the Eagles are desperate for offensive line help. With the second-best offensive lineman prospect falling to them at fifteen, this is easily the best scenario they could have envisioned with their first round draft pick. Reiff was a warrior in the trenches at Iowa, a school that keeps churning out great offensive line talent to the NFL. Reiff will be able to start immediately and plug some of the holes in the Eagles' leaky offensive line.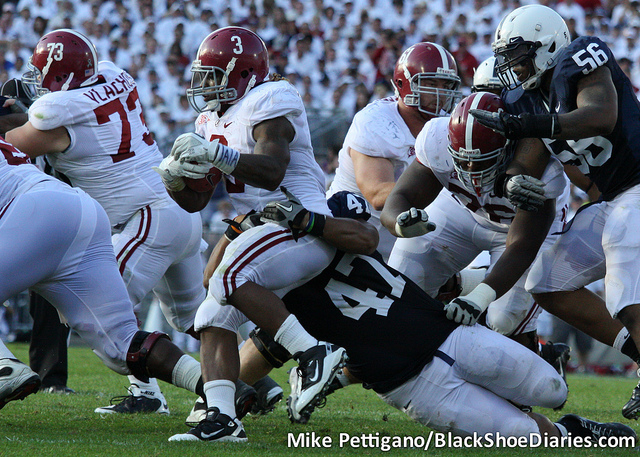 16. New York Jets: Trent Richardson -- RB – Alabama
Santelli: No idea how Richardson, who is ranked as high as No. 3 on some draft boards, fell all the way to the middle of the first round. But those other teams' loss is the Jets' gain. New York was 29th in the league with just 3.8 yards per carry last season. Enter Richardson, the unanimous first-team All-American whose size and ability to break tackles will provide the Jets with a workhorse back for years to come. His NFL-readiness would also allow him to spell Shonn Greene in the short-term.
Check out Part Two.