NFL
2012 NFL Mock Draft: Part Two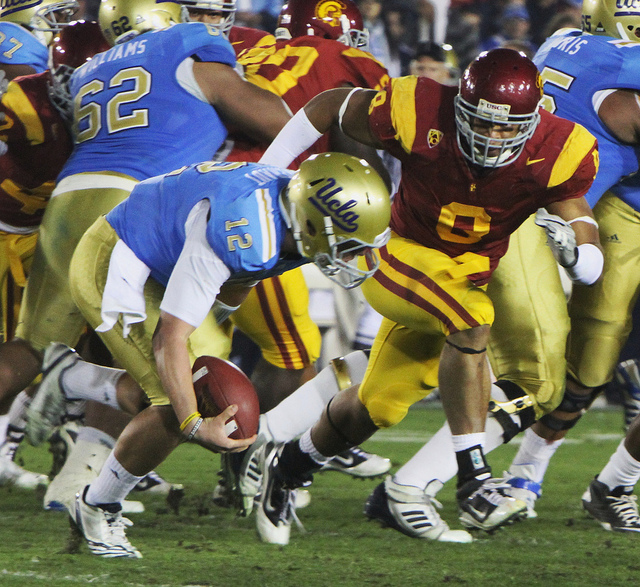 Check out
Part One
of NT's 2012 Mock Draft before reading on to Part Two.
17. Cincinnati Bengals: David DeCastro -- G -- Stanford
Robinson: A Cincinnati team deprived of excellent blocking snatches Luck's first offensive comrade up in the second half of the first round. More often than not, it appeared DeCastro straight-up abused opposing defenders. He's a physical player who can pave the way for running backs and hold up the middle of a pocket. The Bengals' run game has become relatively ineffective since Cedric Benson's first season on the roster. They need someone to invigorate the ground-and-pound game. Since Trent Richardson was just picked, the next best improvement to their offense would be picking up DeCastro. Andy Dalton and A.J. Green would greatly appreciate it.
18. San Diego Chargers: Nick Perry -- DE -- USC
Hagemann: Following their anti-climactic 8-8, 2011 season, the Chargers have "cleaned house" on the defensive front. In order to bring the Chargers back to its AFC dominance, San Diego should draft USC defensive end Nick Perry. Sure, some may argue that the Chargers should select a receiver or tight end in the first round; it would be in San Diego's best interest to stack the defense. In the 2011 season, Perry led the Pac-12 in sacks (9.5) and was selected to the All-Pac-12 first team. Perry recorded 54 tackles, leading USC defensive lineman. Having Perry in the Chargers' front three would aid in crucial game-deciding situations.
19. Chicago Bears: Dre Kirkpatrick -- CB -- Alabama
Freedman: The Bears would have loved Michael Floyd to fall to them, but he's long gone. In a division with All-Pro Aaron Rodgers, rising star Matthew Stafford and the green but strong-armed Christian Ponder, cornerback needs to be addressed sooner rather than later. At 6-foot-2, Kirkpatrick has the size to match up physically with the new brand of mammoth wide receivers, a la Calvin Johnson and Greg Jennings, as well as pass-focused tight ends hitting the league. The Bears have a Pro-Bowl cornerback in Charles Tillman but lack upside outside of him. Kirkpatrick can be a dynamic corner with not only the skills but the attitude to keep the Bears defense intimidating even as the sun sets on star linebacker Brian Urlacher's career.
20. Tennessee Titans: Stephon Gilmore -- CB -- South Carolina
Enyeart: The South Carolina cornerback's stock has skyrocketed since he clock a 4.40 40-yard dash at February's combine. But don't be fooled: He isn't just a product of hype. Gilmore is experienced (started all of the Gamecocks' 40 games over the last three years), intelligent and athletic -- a desirable combination, especially for a player who will need to step in a play right away. With the departure of Cortland Finnegan, Gilmore and the Titans become a match made in draft heaven.
21. Cincinnati Bengals: Stephen Hill -- WR -- Georgia Tech
Carr-Crawford: The Bengals are gearing themselves up to have an explosive offense for years to come if they choose to take Hill. Rising star quarterback Andy Dalton can use all of the weapons that he can get, and a receiver like Hill paired up with A.J. Green will give AFC North defensive coordinators headaches. There is some risk associated with Hill; he played in a college offense that was focused on the run, and was thus often wide open due to defensive backs keyed on stopping the option. However, with his size (6-foot-5, 215 lbs) and speed (a sub-4.4 40 time), he would be a great addition to this young Bengals team.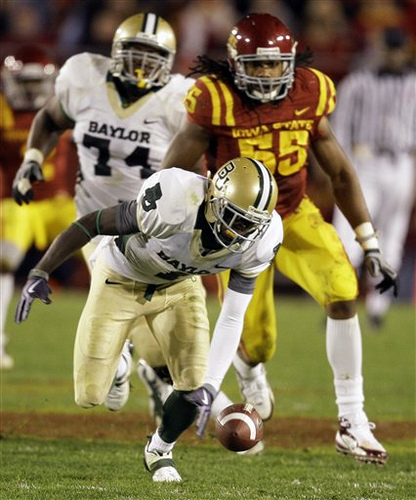 22. Cleveland Browns: Kendall Wright -- WR -- Baylor
Freatman: Colt McCoy may have played poorly last year, but he had virtually no help. No matter who the Browns' QB is come September, they need a vastly improved offensive arsenal. Greg Little is a nice receiver, but he's not number-one caliber. Wright is a playmaker who can add a dimension to the Browns offense that has been lacking. If Cleveland gets Trent Richardson with the fourth pick or drafts a running back later to pair with Wright, then they'll be in a position to really know if McCoy can be the starter.
23. Detroit Lions: Jonathan Martin -- OT -- Stanford
Meyer: The Lions have a lot of young talent led by franchise quarterback Matt Stafford. However, the Lions need Stafford to stay healthy because they will only go as far as Stafford will take them. In steps Martin, who was a huge reason why Andrew Luck was able to have so much time in the pocket and often make good throws. Martin will also be able to learn the ropes from veteran offensive lineman Jeff Backus. The Lions can finally breathe a sigh of relief since they have found Stafford's blindside protector for the future.
24. Pittsburgh Steelers: Melvin Ingram -- OLB -- South Carolina
Santelli: Steelers general manager Kevin Colbert is all about finding front-seven talent in the early rounds of the draft, and Ingram certainly qualifies. The explosive Ingram had a breakout senior season, finishing second in the SEC with ten sacks. Pittsburgh has bigger needs at corner and offensive line, but Ingram is too talented pass up as a future Blitzburgh 3-4 outside linebacker, especially with James Harrison turning 34 this season.
25. Denver Broncos: Michael Brockers -- DT -- LSU
Robinson: Despite Denver's Tebow-ful season, the team had many holes. Namely, the defensive line. More specifically, defensive tackle. Broderick Bunkley was above-average-to-good last season, but he's gone. And the Broncos have nobody. They would love to pick someone of Brockers' caliber here, someone who starred on the killer LSU defense last season. One year of production should make teams wary and may make the redshirt sophomore slip. But a team like Denver, which clearly needs to bolster its defense in the middle to help Von Miller and Elvis Dumervil off the edge, Brockers is a legitimate pick. A trade-down move would be likely if Elway and company are not fond of anyone who remains after 24 selections.
26. Houston Texans: Coby Fleener -- TE -- Stanford
Hagemann: Stanford tight end Coby Fleener would be an asset to the Texans offense. Though Fleener is not projected to be selected until the second or third round, based his 2011 stats, Fleener could sneak into the first round. Fleener, a former high school basketball star, played almost every receiver position at Stanford. In 2011, Fleener recorded 34 catches for 667 yards and ten touchdowns. Standing at 6-foot-6, Fleener is a reliable tight end that would greatly benefit the Texan roster. Check out some highlights for the first tight end off the board:
27. New England Patriots: Shea McClellin -- DE/LB -- Boise State
Freedman: We all know how much Pats head honcho Bill Belichick loves versatility, and McClellin offers a plethora of options to whomever drafts him. The Patriots lost their top two pass rushers this offseason, and McClellin could be coached into a dynamic-end rusher. He could use a little more strength, but his speed and agility would haunt opposing quarterbacks on every play from either defensive end or linebacker. Rather than rising up draft boards because of empty combine results, McClellin has himself on the cusp of the first round because of his farm-instilled work ethic and untapped potential to fill in all across a defense's front seven.
28. Green Bay Packers: Whitney Mercilus -- DE -- Illinois
Enyeart: The Packers didn't have a lot of success getting to the QB in 2011, so it is no surprise they will look to address the issue early in the draft. Sitting there for the taking will be Illinois defensive end Whitney Mercilus. Mercilus led the nation with 16 sacks in his final season with the Illini, and would be a great addition to Green Bay's 3-4 scheme.
29. Baltimore Ravens: Peter Konz -- C -- Wisconsin
Carr-Crawford: The Ravens, while aging, are set across the board at defense. Offense could use a little help, though. Baltimore lost standout left guard Ben Grubbs to New Orleans in the offseason and need to find the eventual replacement for center Matt Birk. They can do that with Konz, who has the versatility to play either center or left guard. While this may not be a "sexy" pick, it will ensure that the Ravens will continue to open holes for running back Ray Rice and keep Joe Flacco from getting beaten up by his AFC North rivals.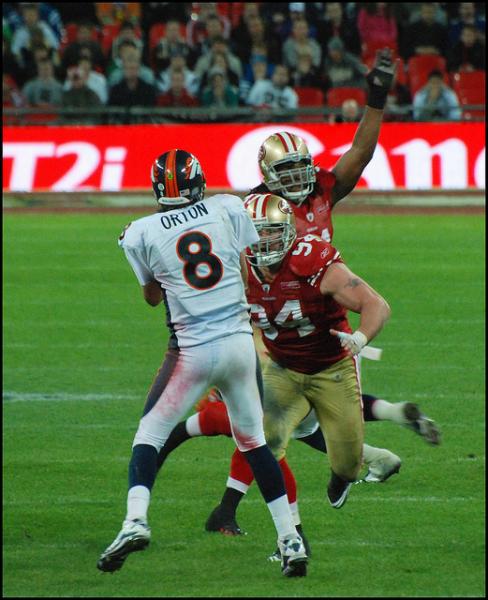 30. San Francisco 49ers: Kendall Reyes -- DT -- Connecticut
Freatman: The 49ers have the luxury of being a team without any real needs, especially after their offseason wide receiver acquisitions. As one of the better players on the board at this point, Reyes is a good fit for them. He is an extremely versatile player who can play multiple positions along the line as well as special teams. As is, he would be a part of their defensive tackle rotation as a backup. However, given the very high level Justin Smith played at last season and his huge importance to the 49ers, Reyes is also a great insurance policy should Smith get injured.
31. New England Patriots: Jerel Worthy -- DT -- Michigan State
Meyer: While you know the Patriots are always looking to trade out of their first round pick for later and future draft picks, they do have holes in the defense they need to address. After drafting Shea McClellin to shore up the linebacking corps, the Patriots also need to inject some young talent into their defensive line. Worthy is a quick and explosive defensive lineman, and he would fit in perfectly with the Patriots' flexible defensive scheme. While Worthy's motor isn't the highest, playing under Bill Belichick can get players to put forth maximum effort. Just ask Randy Moss.
32. New York Giants: Cordy Glenn -- OT – Georgia
Santelli: The loss of right tackle Kareem McKenzie in free agency opens up a hole on Big Blue's O-Line. Glenn moved to tackle in his senior season and proved to many scouts at the Senior Bowl that he has the size and agility to stay there. Questions about his technique mean that Glenn likely won't start right away, but it would be quite a coup for the Giants to pick up a potentially dominant outside force at the end of the first round.