Entertainment News
"The Real Housewives Of Atlanta" Marlo Vs. Sheree In Africa
The ladies arrived in South Africa!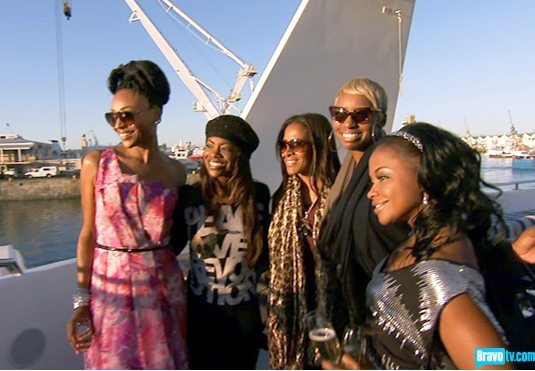 Of course they arrived in style with stilettos and tons of luggage. Though they are only staying 10 days, "The Real Housewives of Atlanta" bring enough luggage to last an entire season.
Phaedra said between Nene and Marlo they had at least 20 pieces of Christian Louboutin luggage.
They stayed in luxury penthouse digs, and the first thing they did was board a yacht to see Cape Town from a boat with champagne.
It looked at lot different to Cynthia who was in South Africa over 20 years ago for modeling. The place was more modernized and luxurious than she remembered.
Kandi was the only one that mentioned South African history. She asked Phaedra if the apartheid happened here. Phaedra confirmed that Nelson Mandela was imprisoned in South Africa for 27 years. But let's be the real the ladies didn't come to South Africa for a history lesson (fighting is much more fun overseas).
The women were not forgiving that Marlo crashed the vacation. On the yacht the claws start to come out. Arguments blew up about who speaks to who. Marlo had issues with Kandi not speaking to her. This was not resolved, but the Kandi said she had no real problems with Marlo. Nene brought up the fact that she thought Phaedra and her had issues and she doesn't know why. Phaedra said she had no issues. Marlo tried to reconcile issues between Nene and Sheree but to no avail. At this point it seemed the ladies have cleared the air.
For someone who was not invited on the trip Marlo with her baritone voice had a lot to say. Marlo had been reading an etiquette book and kept sharing advice. Everything form how to cross your legs, to how to eat break, Marlo advised the ladies on her new knowledge despite most of the women being not interested. Kandi thought Marlo was simply trying to erase her past mistakes by being overly polite.
At brunch, Phaedra gave all the ladies a token to remember their trip. She inscribed the date and 'Love Phaedra' on personalized silver mirrors. Everyone receives one except for Marlo. Of course Marlo makes it known that she was upset she didn't receive one. Phaedra explained everyone knows that it gets awkward when you casually add a plus one on an international vacation. Phaedra promised Marlo she would send one to her, but time will tell if that actually happen.
Are there " booty lickers" amongst the group? Phaedra seemed to think so. Some people just seemed to kiss Nene behind--ahem Cynthia and Marlo.
The drama kicked off to a heighten level when Sheree was invited to a dinner party with her friend Kevin from Atlanta. Sheree only invited Phaedra, Kandi, and Cynthia. Sheree only invited Cynthia because she said Cynthia was not joined to Nene 's hip anymore.
Cynthia ran to tell her Bff that Sheree purposely did not invite Marlo or Nene. The real adult in this situation was Nene, as she was not surprised or phased at the snuff from Sheree.
It was Marlo ran off to confront Sheree first hand. The argument between Sheree versus Marlo began with a yelling match and ended in award sounds that were not in the English language. Phaedra said it was Mayweather versus Pacquiao ,and Sheree was Mayweather. The argument quickly went from party invites to insults. Marlo hones in on Sheree alleged money problems. Sheree disses Marlo for her old white sugar daddy loving ways.
It was actually Nene who tried to keep the peace between to two. Nene actually asked if this was how she looked in an argument , because they looked stupid. Yes, Nene that is exactly how you look in every argument-ridiculous.
Cynthia claimed if she had know it was gong to turn into a confrontation, she would have never said anything. Too late now.
Kim was missing in action from the argument. She was busy playing mommy back in Atlanta with her new baby boy. She was missing her husband who is off at NFL camp. Her parents were in town, and her dad told her how happy he was that she was with Troy. Is there a wedding in the future? Kim's youngest daughter said she talked with Kroy about putting a diamond on her mommy's finger. Who would have thought Kim would be the Atlanta Housewife in the most stable relationship?
Meanwhile, the drama in Africa is just beginning.
Reach writer Tallie Johnson here
RELATED CONTENT: Read last week's Atlanta Housewives recap here.