Los Angeles
Occupy LA Overwhelmed By LAPD During Wednesday Morning Raid
The LAPD takeover of the Occupy L.A. camp on the south lawn of City Hall Wednesday was more like a well choreographed ballet than the cracking of skulls Angelenos have grown to expect from their police force.
Before the assault, LAPD Commander Andrew Smith gave protesters a 10-minute warning to evacuate the park. When time was up, he said, everyone was fair game.
And then it happened, the fireworks everyone was waiting for -- 1,400 riot police rolled in on 30 metro buses.
A brigade riot police billowed out of the south entrance of City Hall like hordes of invading Greeks from a Trojan horse. Squadrons of officers flanked the occupiers from the east and west sides of City Hall. There were even police dressed in white jumpsuits, charged with dismantling each and every tent still standing in the park.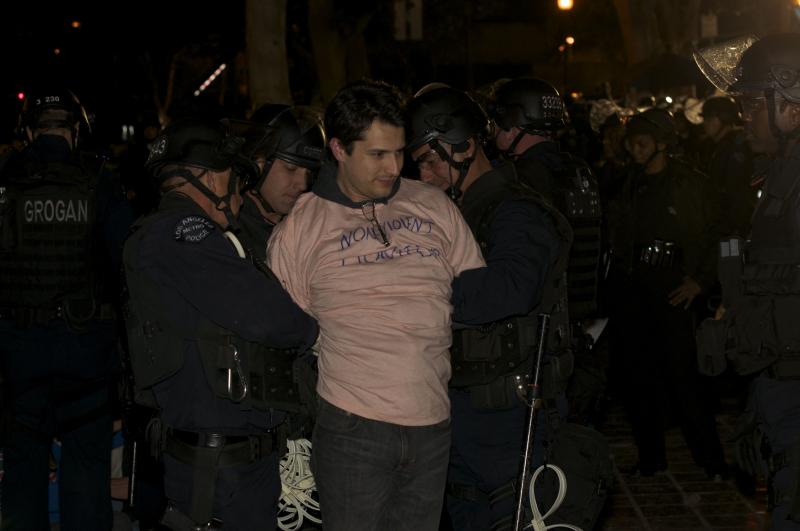 "It's easy when you outnumber them 4 to 1," said LAPD Commander Bill Bratton, in refernce to the raid.
There was pandemonium. And then, order.
A total of 292 people were arrested during the raid.
All the while, the LAPD's commanders maintained their composure, their sense of humor and their patience with an over eager press that was desperate for a slip-up.
It wouldn't have taken much. The crowd seemed to have an insatiable hunger for a showdown before riot police completely overwhelmed the camp.
The LAPD, however, have come a long way from the days of Chief Bernard Parks and the now-infamous Rampart Division. Learning from the mistakes of the past -- as well as those from other Occupy Wall Street-like crackdowns -- the LAPD raid on Occupy LA was, from a strategic standpoint, a huge success.
To see more of our coverage from Wednesday's raid, click here.
---
To reach Benjamin Gottlieb, click here.
Follow him on Twitter @benjamin_max.
Best way to find more great content from Neon Tommy?
Or join our email list below to enjoy Neon Tommy News Alerts.