Sports
USC Football: ASU Preview and Analysis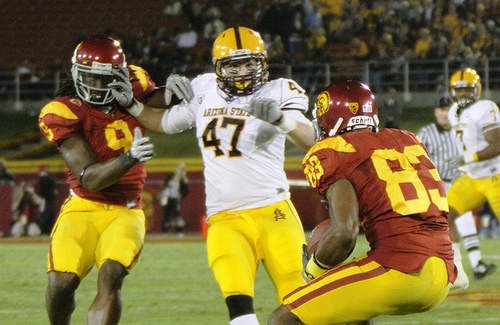 Playing at the Coliseum is one thing, but going on the road is a whole new animal.
Head coach Lane Kiffin said as much this week, as USC (3-0) goes on the road for the first time this season to Tempe, to take on Pac-12 rival Arizona St. (2-1) at Sun Devil Stadium.
It may have taken longer than most fans had hoped, but the Trojans finally flexed their muscles against Syracuse, taking down the Orange 38-17 last weekend at the Coliseum.
Coming off their biggest win in years against Missouri, the Sun Devils blew their chance to start 3-0 with a sloppy performance against Illinois, falling 17-14 despite outgaining the Fighting Illini by over 100 yards.
What to watch for:
The Trojans have won their last 11 matchups with the Sun Devils, their longest active streak against any Pac-12 opponent. It's a figure that surely has Trojan fans gloating and Sun Devil fans seething.
This is the first true test for the Trojans this season, and the outcome will more than likely be a great indication of the direction the team is going to take for the rest of the season. Past USC teams have had trouble with early season conference road games, so a change from that trend would be a great sign.
Arizona State has a lot on the line too. Head coach Dennis Erickson came into this season firmly on the hot seat, and last week's loss was a reminder of his tenuous situation. A loss to USC won't seal his fate, but it won't make his life any easier.
In preparation for ASU's rough style of play, Kiffin mandated late hits on the first team during practice this week, hoping this would help his players keep their composure during the real game. The Sun Devils play with an edge, but don't expect USC to play nice either. Just ask Matt Kalil.
If you follow high school football in California, you're going to see a lot of familiar names on the Sun Devil sideline. ASU has over 50 players on its roster from the Golden State, and it seems like most of them are from Corona Centennial. Beating USC would just make this more common in the future.
USC hasn't raided Arizona to this extent, but a few players, including Devon Kennard, made the move out to California. And the Trojans would love a win to help impress mega recruit Andrus Peat, a Tempe native and one of the country's best offensive line recruits.
When USC is on offense: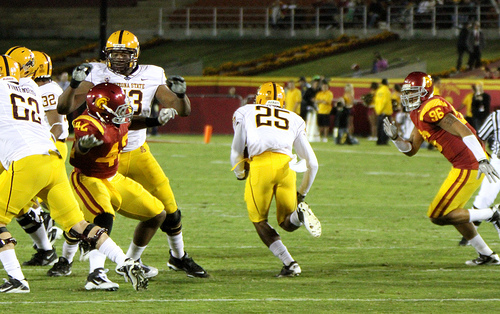 Matt Barkley lit up the scoreboard again this past weekend, tossing five touchdowns without giving up an interception. He's currently sitting at eighth in the nation in touchdowns and 10th in passing yards. And he definitely wants to make up for his last game in Tempe, which he calls the worst of his career.
While it doesn't appear that ASU is very vulnerable against the pass, the numbers are a bit misleading. UC Davis was a clearly inferior opponent, while Illinois hardly throws the ball in the first place. Missouri's James Franklin was able to throw all over the Sun Devils, and he is no Matt Barkley.
Furthermore, ASU was blindsided by yet another injury last week when standout defensive end Junior Onyeali tore his meniscus. With the Devils' best pass rusher M.I.A., Barkley should have more time to operate.
However, with Onyeali sidelined, defensive coordinator Craig Bray may simply unleash MLB Vontaze Burfict on the quarterback more often. The Corona native already has four sacks on the year, and is generally regarded as one of the most feared players in the country.
He may also be the most hated player in the Pac-12, especially in Los Angeles. Let's just say the former USC commit doesn't have too many fans left in the area.
Barkley's greatness aside, the Trojans may have to rely on the passing game simply because running the ball has been so inconsistent. Most of USC's yards on the ground last week came in garbage time. While the line has pretty much settled in on its starting combination, there will be a RB-by-committee approach yet again.
Linebacker Colin Parker and safety Eddie Elder have been solid contributors in run defense for Arizona St.
Last week provided a glimpse into the incredibly bright future of USC's passing game, as dynamo Robert Woods was joined in the action by freshmen Marquis Lee, Randall Telfer and Xavier Grimble, who each caught a touchdown pass. ASU will have a hard time covering them all with all-star Omar Bolden still sidelined by an offseason ACL tear.
When ASU is on offense:
Coming into the season, quarterback was a question mark for the Sun Devils. But Brock Osweiler has proven all the doubters wrong in the early going. The 6-foot-8 bomber has a huge arm, throwing for nearly 300 yards a game, but it's his scrambling ability that should have Trojan fans worried.
He's had a lot of success getting the ball to WR Aaron Pflugrad. The former Oregon transfer has given ASU a reliable deep threat. WR Gerell Robinson is another solid option on the outside. Since the Sun Devils operate mostly out of four-wide receiver sets, there will be plenty of other options for Osweiler out there.
ASU looked much improved on the line until last week, as Illinois racked up six sacks of Osweiler and forced him into two picks. If the Illini had this much success against the Sun Devils, the Trojans should be camping out in ASU's backfield all game long. Kennard should have a good game back home in front of his friends and family.
But that can only happen if the secondary can cover long enough for the pass rushers to get to the quarterback. While the pass defense has improved from last season, it's not quite there yet.
In particular, the lack of big plays from safety T.J. McDonald and CB Nickell Robey is disappointing. Those two need to step it up big time to avoid getting lit up through the air.
Running back Cameron Marshall gives ASU a decent option on the ground, but nothing more. USC's main challenge in stopping Marshall will be figuring out the ever-puzzling spread which the Sun Devils run from.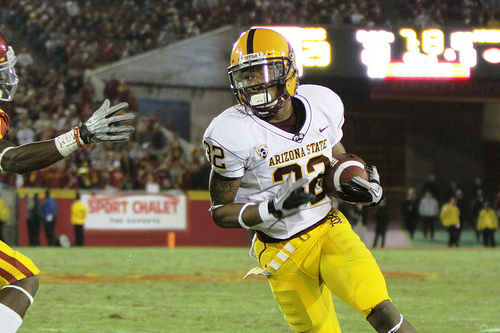 This responsibility largely falls on linebackers Dion Bailey, Chris Galippo and Hayes Pullard. Their play so far has shown the most dramatic improvement from last season, and a big reason why the defense has gone from atrocious to respectable.
Prediction:
This will not be as easy for the Trojans as last week. While all the players have said the right things about playing in front of a hostile crowd, it will take a little adjustment for all the new guys to play away from the Coliseum for the first time.
Having said that, when the rest of the matchup looks fairly equal, a good general rule of thumb is to always go with the better quarterback. Barkley trumps Osweiler, despite all the strides Osweiler has made in the past year.
USC will narrowly edge Arizona St. 21-17 on the strength of Barkley's decision making and the pass rush that will make Osweiler's night miserable. As long as the Trojans take care of the ball, they have more difference makers than the Sun Devils can handle.
___________________________
Reach Andrew by email, or follow him on Twitter.
Best way to find more great content from Neon Tommy?
Or join our email list below to enjoy the weekly Neon Tommy News Highlights.