National
Hurricane Irene Makes Landfall With The East Coast Prepared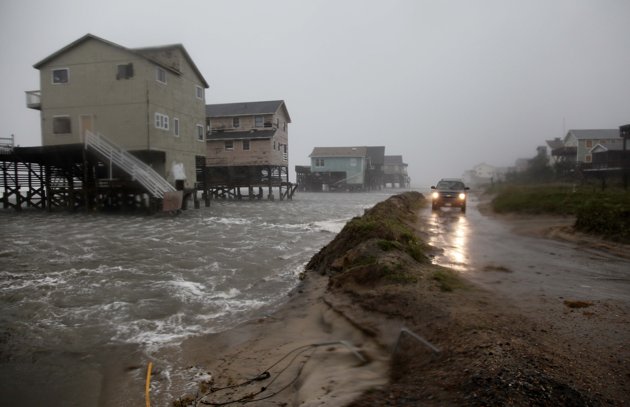 Hurricane Irene has officially landed on the east coast.
Slamming into North Carolina Saturday morning, the storm is bringing along plenty of rain and winds up to 90 MPH.
The storm made landfall near Cape Lookout at 7:30 AM EST. Already 200,000 people are without power as the Governor warns residents to "please stay inside," according to USA Today. Already one person has lost his life to the storm. A North Carolina man was killed outside his home this morning by a tree limb that blew down.
EVACUATIONS
Even though the Hurricane has been downgraded to a Category 1 storm, evacuation orders have been placed on more than 2.3 million people up and down the east coast. 1 million of them are residents in New Jersey.
In New York, Mayor Michael Bloomberg told residents Saturday morning, "This is going to be a very serious storm no matter what the track is. Staying behind is dangerous, staying behind is foolish and it's against the law." About 370,000 residents in New York were told to evacuate according to the New York Times.
BUSINESS AND TRANSPORTATION CLOSURES
Due to the unpredictable weather, New York announced it would be shutting down all its subways Saturday afternoon in anticipation for the Hurricane. Thousands of buses and commuter trains will also stop operating this weekend.
Broadway shows have been cancelled in New York City and major retailers have decided to close its doors including Apple. Even though supermarkets and hardware stores saw booming business the days before Hurricane Irene, many stores are expected to lose thousands of dollars in business, especially those near the beach that rely on summer weekend income.
Airports were trying their best to prepare for the weekend. With heavy summer vacation travel, however, many flights that were completely full now have to be rescheduled. At least five thousand flights have been cancelled according to the Los Angeles Times. At the Philadelphia airport Saturday morning, lines were longer than average as many customers wanted to book new flights. Though they may not have been worried about Irene causing harm to Philadelphia, many were irritated that there would be little to no available flights, leaving them stranded for possibly several hours.
PATH OF THE STORM
According to this interactive map provided by The Charlotte Observer, Hurricane Irene will be in Delaware around 2 AM EST Sunday. In Connecticut, heavy rain will arrive by 2 PM EST Sunday. For complete weather coverage and updates, turn to The Weather Channel's website here.
Reach writer Mike Vulpo here
Best way to find more great content from Neon Tommy?
Or join our email list below to enjoy the weekly Neon Tommy News Highlights.