International
Five Options For U.S. Intervention In Libya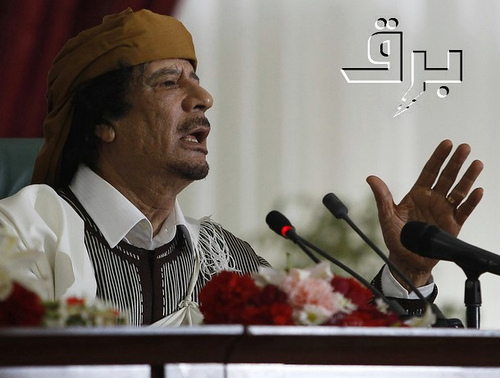 A few days away from the one month anniversary of the first airstrikes in Libya, not much has changed on the ground.
Libyan rebels remain loyal to their cause but have not made significant advancements in taking control of their country from its dictator. On Friday, President Barack Obama even admitted that the situation could be called a stalemate.
What should the U.S. do now?
• Qaddafi and his family should go into political exile in Turkey, according to P. Edward Haley, Chair of International Strategic Studies at Claremont McKenna College. Though this would quickly solve the issues in Libya, it is unlikely. So solving the problem diplomatically could be out of the U.S.' thinking. The U.S. is still searching for future home for Gaddafi, perhaps in Africa.
Saif al-Islam Qaddafi, the dictator's second son, declined any suggestions that his family would leave.
"Its our country you want us to leave - to where? The Maldives, to the Caribbean? We are Libyans," he said.
Saif also explained in The Telegraph that persistent requests that his father step down will not help he situation, "The role of my father will be similar if you keep saying step down, step down he will not do it. You will get nothing."
• The U.S. should begin planning for post-Qaddafi Libya. If Qaddafi does step down, chaos would occur quickly because of the splintered Libyan loyalties and the Qaddafi's success in preventing political alternatives from emerging. This one's more of a commandment than an option. Whichever other choices the country makes, U.S. diplomats are certainly planning for the post-war plan.
"If Bosnia is the model, a long-term political, economic, and military presence will be needed composed of experts, police, and soldiers," Haley said, "[and] the latter two at least should be Muslim. Would that be a multinational group from Turkey and the Arab world? Could Indonesia join them? The hand and the footprint would need to be light but in the beginning potent."
• The U.S. should limit its involvement to support of the European powers. Many experts agree that Europe has much more justification for its presence in Libya.
"The Secretary of Defense (Hillary Clinton) has specifically stated there are no vital American interests in Libya," said James J. Coyle, director of global education at Chapman University. "Europe has a number of vital interests including access to Libyan energy supplies and preventing a wave of Libyan refugees from reaching its shores. The United States should therefore limit its involvement to support of its European powers. The first step, however, remains to be taken: defining why we are there in the first place."
• The U.S. should increase its forces if it plans on toppling Qaddafi. This could be more important than ever with news reports saying that NATO and the European powers are running out weapons and ammunition and refusing to provide more.
"Right now all we are doing with the mode of intervention that we have pursued is create conditions for prolonged civil war. Our force will not persuade Qadaffi to leave power," said Robert Kaufman, professor of public policy at Pepperdine University. "What you see now is what you will see for a long time. If you were going to intervene, you need to do it sooner, more decisively, with a clear goal of knocking down Qadaffi, and plan for afterward."
• The U.S. should reconsider all involvement. The rebels say they have secured weapons from an "outside source," an important step in them be able to fight their own fight. This idea would also scare NATO and Europe really quick.
"Helping Libya may prove more difficult and frustrating than Iraq or Afghanistan because European governments will never give the resources needed to finish the job, and the U.S. has no leeway to increase its involvement," Haley said.
"It is ironic that he [Obama] criticizes [our involvement in] Iraq based on humanitarian concerns, strategic interest, clarity of goals. We had a much more compelling case for Iraq than Libya," Kaufman said. "This is the wrong way to apply force in the wrong situation at wrong time."
Coyle offered, "In the end, the question should always be: what is the national security interest of the United States of being in this conflict?"
Reach reporter Charlotte Spangler here.