USC Sports
Suspension of O'Neill Was Justified, USC Fortunate to Have Haden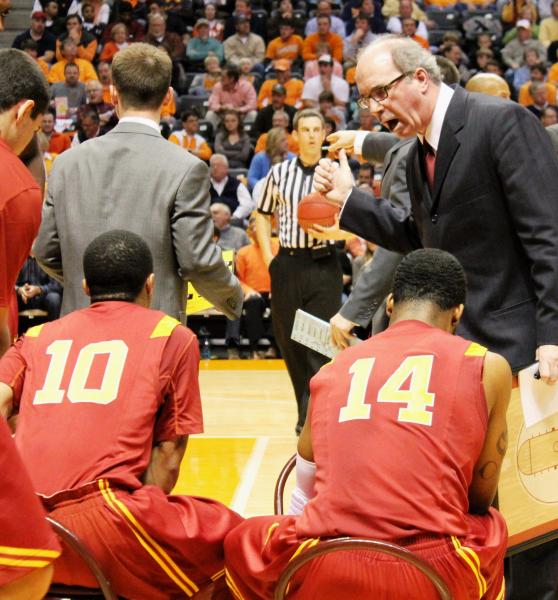 This may come as a surprise, but the best thing USC fans can do as they anxiously await Selection Sunday is to take a sigh of relief.
As uncertain as the basketball team's immediate future is, the school's athletic department is perhaps the most stable it's ever been.
Athletic Director Pat Haden's decision to suspend Kevin O'Neill for the Pac-10 tournament is the latest example of his determination to keep the program's image from becoming subordinate to wins and losses.
Though details of the altercation that led to O'Neill's suspension are murky at best, the following is indisputable: O'Neill had been drinking that night (bar photos of him with Arizona fans show that to be the case) and he got into an altercation with a University of Arizona booster that required security intervention.
Many Trojans fans are outraged at the extent of Haden's punishment, pointing out that there was no arrest and no criminal charges had been made. While this may be true, O'Neill's conduct was reckless and he deserved to be punished for it.
Haden has stressed to his coaches the idea that no moment is truly private. Like the CEO of a Fortune 500 company, a coach's every move is scrutinized. Therefore they must be held to a higher standard.
Not only did O'Neill suffer a severe lapse in judgment, he did so at the most critical juncture of his USC coaching career. His team had just come off a convincing win over a pesky Cal team and was arguably a win away from earning an NCAA Tournament bid. The timing makes this incident even more egregious, especially after the resolve O'Neill's team had shown during the latter part of the season to get themselves into position for a Tourney bid.
There is no question that O'Neill's absence affected USC against Arizona. There's also no telling what the game's outcome would have been had O'Neill coached. That is beside the point, though. As Haden said upon accepting the position of athletic director, "Winning any way other than the right way is not winning at all."
This statement sums up the approach Haden has brought to USC. Though he's only been on the job for eight months, Haden has already changed the culture of Trojan athletics. Under his watch, no longer will the program's success be marked solely by wins and losses. No longer will there be the perception that USC believes it is above the law.
Haden's tangible changes to the program are coming at a pivotal time. Less than a year ago, the Trojans' football program was rocked by major sanctions. Instead of admitting fault and promising change, Haden's predecessor, Mike Garrett, spoke of his perception that jealousy fueled the sanctions.
No matter how ridiculous some of its decisions may appear, an amicable relationship with the NCAA is paramount. It can be argued that USC's sanctions were so draconian because of Garrett's defiance.
Haden has done a great job of mending this relationship, including his offer to host an "agent summit" at USC last month, which was met with rave reviews by the NCAA. Though it hasn't issued a statement on the O'Neill suspension, the NCAA's sentiments are likely similar to those of Pac-10 Commissioner Larry Scott, who, when referring to the situation, said, "We commend USC for its actions."
In theory, Haden's transformation of the athletic department can't be applied to the university's sanctions appeal, but USC's fate will be decided by a committee and it's difficult to envision Haden's efforts not having at least a subconscious effect.
No matter the result of the appeal, USC no longer dominates the sports news for the wrong reasons. In a year where programs like Ohio State and Auburn have come under fire for seemingly insufficient penalties, USC is slowly regaining respect.
Even if the Trojans don't have an NCAA bid Sunday night, their fans should celebrate who they have: Pat Haden.
_______________
To reach Johnie Freatman, click here.
Sign up for Neon Tommy's weekly e-mail newsletter.