International
Japan's Nikkei Index Falls, Loses Wednesday Gains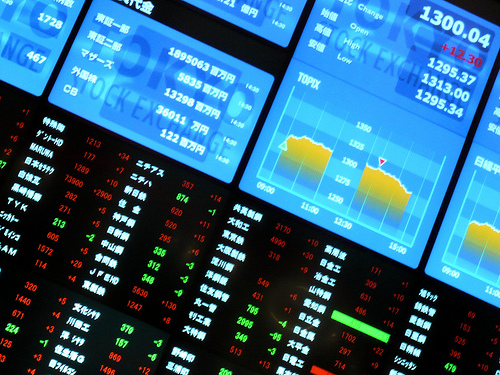 After a steep upturn of Asian market indexes Wednesday, Japanese stocks fell on Thursday morning as fears of a nuclear crisis mounted across the globe.
Japan's Nikkei index was down more than 2% after a morning of trading, losing most of the gains it made Wednesday. Some financial analysts contributed the loss to the lack of selling on the Japanese trading floor.
Reuters reported:
The Nikkei share average was down 2.1 percent at 8,903.86 points , recovering slightly from intraday low of 8,639.56 as the yen weakened from its highs. The low from Tuesday when hedge funds led a selloff in the futures market was 8,227.63.
By the midday break, 1.8 billion shares changed hands on the Tokyo Stock Exchange's first section, suggesting that the day's tally would likely come well below Wednesday's 4.9 billion shares. Wednesday's volume was the second highest on record after Tuesday's all-time high of 5.8 billion shares.
Concerns over the sliding value of the yen also had investors worried. The value of the yen versus the US dollar hit an all-time high since 1995 on Wednesday and continued to yo-yo throughout trading on Thursday morning.
From CNNMoney:
In the currency market, the yen has surged against the U.S. dollar on demand for safe-haven assets and speculation that more cash will flow back into Japan as it rebuilds. The dollar fell as low as 76.54 against the yen in late trading Wednesday, dipping under the previous all-time low of 79.75 set in April 1995.
A stronger yen could be a serious problem for Japan's export-driven economy, since it would undercut profits for companies that do business overseas. As a result, analysts expect the Bank of Japan to intervene in the currency market by selling yen if the currency does not fall back on its own.
"We think yen intervention is likely to be imminent with a high probability of occurring in the Tokyo session on Thursday," analysts at Japanese investment bank Nomura Securities wrote in a research report.