International
Bahrain Imposes Curfew And Arrests After 6 Killed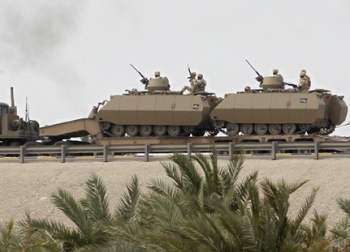 After four protesters and two security officers were killed and hundreds injured in a massive crackdown on pro-democracy demonstrators, the royal government in Bahrain has
clamped down a 4.pm. to 4 a.m. military curfew
in several designated zones and banned all gatherings anywhere in the country. Several
key opposition leaders have also been arrested
in a coodinated sweep.
The move comes as part of a concerted government effort to put a definitive end to month-long protests challenging absolutist rule.
The casualties occurred early Wednesday when a wall of tanks and troops backed by armed helicopters swarmed and attacked the gathering points of the protesters, including the now iconic Pearl roundabout.
Military and police forces also "besieged" a local hospital treating the wounded, according to Al Jazeera.
The crackdown drew international criticism, with Hillary Clinton, the US secretary of state, warning that Bahrain and its Gulf Co-operation Council (GCC) allies were "on the wrong track." Both Bahrain and Saudi Arabia, which has sent soldiers to Bahrain to support the government, are key US allies in the region.
In spite of Clinton's statement, the Obama administration is treading lightly in condemining the oil-rich monarchies who are key American allies. Says The Washington Post:
But U.S. officials pointedly have not condemned a decision by Saudi Arabia and other neighbors to send tanks and troops into Bahrain, or Bahrain's subsequent declaration of a state of emergency. In television interviews with CNN and CBS, Clinton said the intervening countries were merely "on the wrong track" and urged Bahrain's rulers and the demonstrators to resume negotiations — a prospect that seemed highly remote as the crisis escalated.
The disparate reactions underscore the Obama administration's reluctance to take a hard line with the Gulf monarchies, historically among the United States' most steadfast allies in the Arab world. While the administration ultimately decided that the Washington-friendly presidents who ruled Egypt and Tunisia were expendable, analysts say, it appears to have concluded that it needs the kings to stay on their thrones, even if that means the silencing of those seeking freedom.
Iran and Iraq also condemned the violence.
The attack came barely a day after more than a thousand troops from Saudi Arbaia crossed into Bahrain to support the embattled monarchy.
Bahrain's Shia majority has been calling for democratic reform since protests broke out on February 17. They claim to be under-represented in the Bahraini government and barred from the same economic opportunities bestowed to Sunnis.