International
Bahrain Protesters Under Attack, Hundreds Injured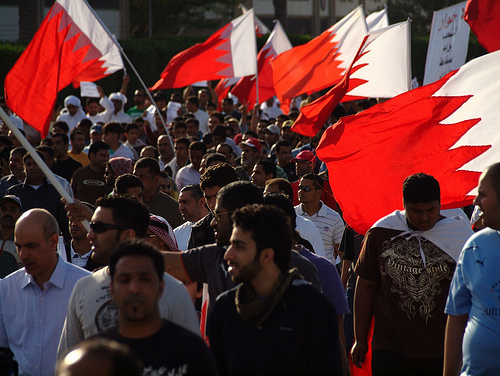 One day after a state of emergency was declared and
more than 1000 Saudi and Gulf Emirate troops moved in to bolster the embattled monarchy
, the government of Bahrain launched an early Wednesday morning attack on pro-democracy protesters in the capital of Manama.
Tanks and heavily armed troops swarmed the Pearl roundabout in the capital and pushed out demonstrators that had once again gathered in the central area. Tear gas was fired and several loud explosions were heard as smoke rose from the scene, according to Al Jazeera.
Eywitness eports say that "hundreds" of protesters were injured as security forces attacked from all sides.
In an earlier televised statement Tuesday, King Hamad bin Isa al-Khalifa "authorized the commander of Bahrain's defense forces to take all necessary measures to protect the safety of the country and its citizens,:
The declaration came a day after more than 1,000 Saudi troops and 500 police officers from the United Arab Emirates were dispatched to Bahrain via request from the king. Flying under the banner of the Gulf Cooperation Council, the troops intervened after weeks of pro-democracy demonstrations turned larger and more violent in the last few days.
Although Al-Khalifa utilized the collective security agreement of the six-nation GCC, it remains unclear whether other members of the council - Kuwait, Oman and Qatar - will contribute forces.
The reinvigorated Bahraini protesters have split recently, as many are now calling for the royal family to step down while others are simply seeking governmental reform.
In the Bahraini capital city of Manama, the financial district was deserted Tuesday, as many stores closed and major highways blocked by police with barricades. As a result, business activity in Manama, a regional banking hub, has stopped completely.
Bahrain's Shia majority has been calling for democratic reform since protests broke out on February 17. They claim to be under-represented in the Bahraini government and barred from the same economic opportunities bestowed to Sunnis
The US, which counts both Bahrain and Saudi Arabia among its allies, has called for restraint, but has refrained from saying whether it supports the move to deploy troops.
Hillary Clinton, the US secretary of state, who was speaking in Egypt, said Bahrainis must "take steps now" towards a political resolution of the crisis.
Iran, meanwhile, has warned against "foreign interferences."