Entertainment News
9 Of 2015's Best Celebrity Feuds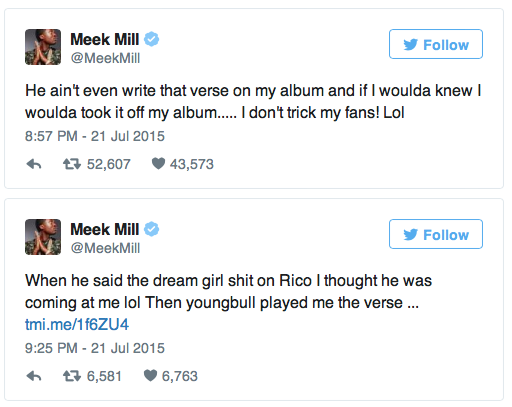 This year was arguably the year of the celebrity beef. Whether these stars took their frustrations out on Twitter, through interviews or on live television, we appreciate the live entertainment they provided.
Here's nine of the best celeb feuds of 2015.
9. Iggy Azalea vs. Britney Spears
Hot weather makes for hot tempers. The battle of these two blondes turned ugly this summer. After releasing their collaboration track "Pretty Girls," Azalea took to Twitter and called out Spears. She claimed the pop princess was not promoting the track enough. It seems everyone on Twitter gave their two cents on the argument.
8. Lil Wayne vs. Birdman and Young Thug
Rap is a style of music born from "dissing" one another, so it is no surprise there is an abundance of beef in the rap community. Back in January of this year, Weezy (Lil Wayne) filed a law suit against Birdman's record label, Cash Money, for withholding payment. Then, in April, Lil Wayne's tour bus was bombarded with bullets. The shooter allegedly made contact with Birdman and Young Thug the day of the attack. Though the relationship surely has a strain on it, it is on the mend. Young Thug featured Lil Wayne in one track on his September mixtape.
7. Cara Delevigne vs. "Good Day Sacramento" anchors
In what was probably the least-expected feud of 2015, Delevigne faced some news anchors who clearly woke up on the wrong side of the bed and felt like giving her a hard time. Delevigne quickly learned promoting "Paper Towns" was not all glitz and glam in what turned out to be the most awkward interview pretty much ever. The interview turned out to be more of a cringe-worthy questionnaire and was captured for the world to see.
6. Donald Trump vs. Rosie O' Donnell
The feud between these two big television personalities has spanned about a decade now, and there are no signs of it stopping any time soon. Of course with Trump in the spotlight during the Presidential race, matters have only gotten worse. During the August GOP debate, the moderator asked Trump about his numerous derogatory names used toward women. Trump responded, "only Rosie O'Donnell." O'Donnell fired back, saying Trump's campaign is a "nightmare."
5. Pharrell and Robin Thicke vs. Marvin Gaye's family
This was the law suit of the century, in which many claimed the outcome could change the music industry forever. After a tireless law suit, Pharrell and Thicke were ordered by the judge to pay $7.3 million to the Gaye family in March for "ripping off one of Gaye's hits." The family had claimed the pair's song "Blurred Lines" copied Gaye's 1977 hit "Got to Give It Up." Though the public clearly sided with "Blurred Lines," as the song was still a mega hit, I am going to have to say the Gaye family – in accordance with the law – actually won this one.
4. Caitlyn Jenner vs. Kris Jenner
What is springtime in Los Angeles without a drama-filled Kardashian feud? With Caitlyn's debut photos in Vanity Fair came her hurtful words toward Kris. The article was a takedown of the super-star mother, in which Caitlyn claimed Kris "mistreated her." The couple battled it out with each other on their respective shows. In one episode of "Keeping Up with the Kardashians," Kris exploded, saying "He can go f*** himself. I honestly wish I never met this man. I mean, f*** you, Bruce."
3. Miley Cyrus vs. Nicki Minaj
We cannot forget this public showdown at the 2015 VMAs. As the date of the event approached, Cyrus remarked Minaj's tweets about Cyrus's few nominations were "not very polite" and "not too kind." After Minaj accepted her moon man for Best Hip-Hop Video, MInaj turned to Cyrus and said, "this bitch had a lot to say about me the other day in the press…Miley, what's good?" Publicity stunt or not, the moment was unforgettably catty.
2. Taylor Swift vs. Katy Perry
Come 2015, we all know these two "queens of pop" did not get along. The feud began in 2014 when Perry compared T-swift and her "Bad Blood" crew to "Mean Girls," crowning Swift Regina George. This year, the battle took to Twitter after Swift handled some VMA nomination rumors. She tweeted at Nicki Minaj, "I've done nothing but love & support you. It's unlike you to pit women against each other. Maybe one of the men took your slot…" Perry immediately fired back: "finding it ironic to parade the pit women against other women argument about as one unmeasurably capitalizes on the take down of a woman..." assuring us this juicy feud isn't coming to an end anytime soon.
1. Drake vs. Meek Mill
The biggest feud of 2015 had the best outcome of 2015. Following the release of his July album, "Dreams Worth More Than Money," Meek Mill tweeted "stop comparing Drake to me too…He don't write his own raps!" Shots fired. This jab at Drake sparked war in the rap world, prompting collaborators and friends to choose sides, as well as the release of diss tracks from both sides. The ultimate rap battle culminated with Drake's September album release, "What a Time to Be Alive," Drake's mixtape with Future that topped the charts for weeks. Drake proved to be the king of rap, and Meek Mill certainly won't be dissing him anytime soon.
Reach Staff Reporter Casey Tamkin here.