Entertainment News
11 Quotes From Shonda Rhimes' Ideas Exchange With The L.A. Times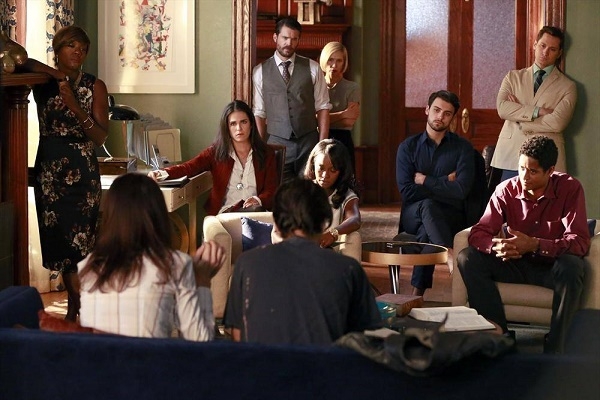 The showrunner behind "Grey's Anatomy," "Scandal" and "How To Get Away With Murder," Shonda Rhimes is among the most impactful people in television.
Last night, Rhimes sat down with Los Angeles Times reporter Sasha Frere-Jones for an Ideas Exchange at the University of Southern California's Bovard Auditorium.
Here are some of the night's takeaways:
1. On having a life outside of work: "I literally was the person who went to work, came home and that was it... The bigger my characters' lives were, the smaller mine got."
2. On living life to the fullest: "When you're not making the most of your life, whatever your life is, it's not a life."
3. On being eternally in her own head: "It's a little bit dangerous in that world."
4. On having close-knit friends: "It's the tribe... the people you call when you need to bury a body."
5. On being close to her characters: "If you binge-watch a show, you've had a wild, torrid affair with these characters - I write them."
6. On accepting compliments: "I had to learn very hard to take a compliment."
7. On her version of rebellion as a child, when her parents would tell her to get some air: "I would take a book and stick it down the back of my pants... and go read in a tree."
8. On her crippling awkwardness: "I'm the person who splits their pants and doesn't notice the breeze for a really long time… I'm not a graceful person."
9. On the power of saying yes: "You start to feel slightly invincible... a lot more in-control of your life."
10. On making small talk: "I was terrible at small talk... let's discuss Catholicism deeply."
11. On personal fears: "I'm terrified of Alzheimer's. I always think I have it... Because we know it's possible, it becomes probable."
12. On the payoff of having difficult conversations with difficult people: "You know who they are now."
13. On saying yes to every opportunity: "I'm not a person who really believes in regrets."
Reach Staff Reporter Rennie Svirnovskiy here.