Film and TV
Film Review: 'Crimson Peak'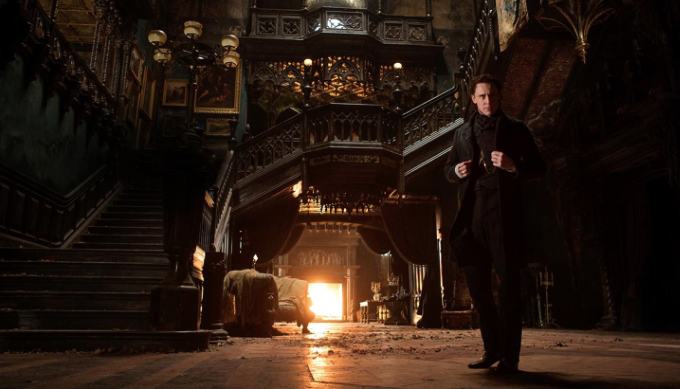 Crimson Peak—the ghost horror starring
Tom Hiddleston
,
Mia Wasikowska
and
Jessica Chastain
—may not exactly be what you're expecting.
In the film, Edith (Wasikowska) ,  an aspiring writer, has been haunted by ghosts all her life. When she meets Thomas Sharpe, (Hiddleston) she immediately feels a connection, even though her father doesn't approve. Thomas is part of a disintegrated Sharpe name, and all he has left in the family is his house he shared with his sister, Lucille (Chastain). They have come to America from England to try to get money for Thomas' clay mining machine. When this is unsuccessful, things go south. Because of certain circumstances, Thomas and Lucille are forced to return home, but not before Thomas courts and marries Edith. In love, she goes home with Sharpe, where the snowy grounds bleed the red clay.
Immediately, Edith starts to experience odd things around the house, and it just gets stranger and more mysterious the longer she stays. "Crimson Peak" is gory, as expected by a film by del Toro. If you're not comfortable with gore, and are expecting a ghost story, this isn't the movie for you. What's expected is more jump scares than violent injuries, but even the ghosts in "Crimson Peak" were bloodier and more skeletal than transparent. Viewers, beware.
There's quite a lot going on. The film, as the cast members have described, is more of a gothic romance with ghosts in it rather than a full on ghost story, which makes it disappointing for audiences expecting more scares. The film is more of a murder mystery with some freaky family dynamics. Some of the plot fit together perfectly, but a lot of it was just excess fat that could have been cleaved off with that butcher knife sticking out of the ghost's head.
Tom Hiddleston, though, is always a joy to watch. With an idea of who the cast is and what they've played before, it is something admirable to see them play people who are neither wholly good nor wholly evil. Mia Wasikowska also had an American accent, straying away from her typical British accent (though she is Australian) while American Jessica Chastain pulled off a British accent. Mia played witty and strong, even if that meant unrealistically hunting down skeleton ghosts that would have scared the pants—or in this case, dress—off of any other girl.
The really remarkable things about this film, however, didn't even have to do with the story line. The score for "Crimson Peak" is distractingly beautiful, and it captures you from the very opening credits. It perfectly illustrates the mood and the time period, and it's incredible to listen to. Another success for "Crimson Peak" was their amazing costuming: absolutely beautiful dresses and suits that were perfectly period and will make every re-enactor green with envy.
If you're looking to be entertained for an October night, like period movies and don't mind some blood,  see the film and enjoy. The actors are amazing enough to keep you entertained throughout.
Reach Staff Reporter Amanda Suarez here.
Reach TV Editor Tanya Mardirossian here. Follow her on Twitter.