Film and TV
'Big Brother': Latest Winner, Cast And Alumni React To Season 17's Final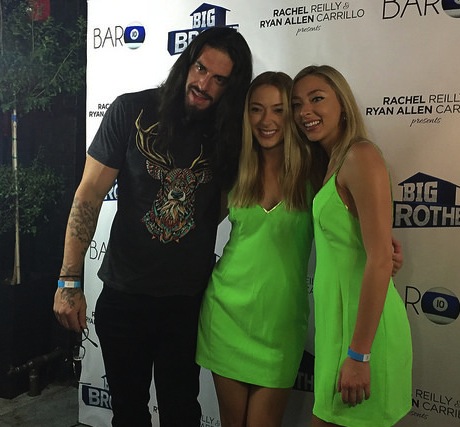 The seventeenth season of the CBS reality hit "Big Brother" has come to end after a record 98-day long season. In the finale, which aired on Wednesday, Sept. 23, Steve Moses defeated Liz Nolan, and shockingly outplayed front-runner Vanessa Rousso.
Steve revealed his thoughts on the season's outcome at the Big Brother 17 Wrap Party in West Hollywood on Thursday, Sept. 24. The other BB17 houseguests and some past houseguests, including a former "Big Brother" winner, also discussed their opinions on season 17 and its winner.
Steve has one strong supporter in Julie Chen, long-time host of "Big Brother." Chen says that "Steve ranks near the top" of all "Big Brother" winners. But not every houseguest agrees.
Da'Vonne Rogers thinks that Steve's win was great "in a David and Goliath sense," but "other than that, no, not so much."
Audrey Middleton played coy, saying, "I think he's one of the top youngest winners. How's that?" Something tells me she's not with the Chenbot on this one.
READ MORE: 'Big Brother' Past, Present Houseguests Reflect On Season 16
Jason Roy showed some support for Steve, stating, "I certainly wouldn't put him in the top three, but I would definitely put him in the top ten."
One of Steve's closest allies, John "Johnny Mac" McGuire, shared Jason's sentiments. "He's pretty good… He's in the top half, I would say."
Austin Matelson respects Steve's strategy. "I think he's amazing….he was awesome to work with, and he helped get rid of me, and I'm not mad at him. He did a really good job."
Perhaps Steve's biggest supporter is Shelli Poole. Shelli advocates for Steve's game, saying, "He never stopped thinking about the game. He won [competitions] when it mattered, he stayed on the sidelines when it mattered. He just knew who to align with, who he could trust to talk game with, and who not to. I just think he played and awesome game. I think he deserved it."
Frankie Grande, season 16 houseguest and Ariana Grande's brother, said with no hesitation that "would have never made it far" on season 16. "We were getting rid of the crazies in the beginning, and he might have been considered a 'crazy' on my season."
Nevertheless, Frankie showed some support for Steve, claiming that "[Steve] made a really big move at the exact right time, and I think that's gonna catapult him into legendary status." Still, Frankie doesn't think Steve was the strongest competitor on BB17. "I don't think he played the best game. Vanessa played the best game," says Frankie.
Frankie's opinion is far from unpopular. On realizing that Vanessa had been evicted, Da'Vonne says, "I was crushed, 'cause I was rooting for her. I wanted her to win, like that was my pick.
Jason agrees, saying "It was sort of bittersweet and sad. I wanted Vanessa to win because she played such a good game."
READ MORE: 'Big Brother' Host Julie Chen Gives Advice To USC Students
Winner of "Big Brother 13" and two-time finalist on "The Amazing Race," Rachel Reilly, empathized with Vanessa but also appreciated Steve for making the decision to evict Vanessa. "When I found out Vanessa was evicted, I was really in shock. As a Big Brother houseguest and a winner, I know how that feels. It's really tough. But as a fan of the show, I thought it was kinda epic… that's a huge move. As a fan, I had to respect the big game move."
Audrey feels similarly to Rachel, stating, "[Vanessa's eviction] made the end way more dramatic and climactic, though. Good for Steve. And he didn't flinch, he didn't almost throw up, you know. He just did it."
Austin had a lot to say about Vanessa's eviction, as Vanessa blindsided and evicted him weeks before the finale. "I felt totally vindicated. Like, me being called bitter? Well, I was right. She couldn't win without me there 'cause she was third place. Everything she did was for nothing!"
Steve, himself, unabashedly admits that he feels his game was inadequate to Vanessa's. "Vanessa outplayed me. I know it. She played a phenomenal game, top to bottom. She could talk her way out of a paper bag… I don't have that skill. She's incredible."
READ MORE: Reality TV Star Brendon Villegas Chats About Love, Life And Loving Life
That being said, Steve did not praise Vanessa for her decision to vote for Liz to win the $500,000 grand prize. "I was gonna vote for her if she burned me! She had my vote a million percent, so I thought she'd reciprocate it because she's a gamer, but apparently not."
The houseguests also shared their thoughts on the winner and runners-up of the America's Favorite prize. James Huling won the $25,000 prize, with Johnny Mac and Jason close behind.
When asked about why he thinks America liked him, Jason responded, "This is still a good question, 'cause I'm still trying to figure it out. All I do is talk trash, and sit around, and make fun of people, so that should be all the things that America does not like, but… I guess if you do it well, America likes it. I was just myself, so I couldn't do anything less or more."
Austin says that he is happy with James winning America's votes. "I was hoping James would win it. He was hysterical in the house. [He and his allies] were the underdogs. [The twins and I] dominated most of the game. I loved it. I was playing this Judas character that was hated, I hope. I was trying to be hated. I was trying to be controversial and funny."
Then, the houseguests began to think beyond the most recent season of "Big Brother." Each houseguest named other houseguests he or she thinks deserves a second chance to play Big Brother, and who he or she would like to work with in an All-Star season.
Da'Vonne, Jason, and Audrey all expressed mutual admiration for one another, as they all named each other as players deserving of a second chance and as players to work with in an All-Star season. Steve also believes that Jason deserves another shot at the $500,000. "I think he's someone who would really appreciate it… I think he made some mistakes, but he could easily learn from his mistakes and do a lot better next time."
READ MORE: Reality Television Stars Get Real With USC Students
Frankie and Rachel are both certain that of all the BB17 players, Vanessa most deserves a second chance. Rachel named some BB17 players she'd align with. "For sure Vanessa, for sure Shelli, and maybe James or Johnny Mac, 'cause they're fun!"
Johnny Mac also says he would like to work with Vanessa in a future season of "Big Brother." "I'd try Vanessa again! I would! She did a good job the weeks we worked together. You just gotta know when to get rid of her."
Steve's response to a hypothetical All-Stars scenario proved that Steve is extremely intelligent and that he earned his win. "It has to be someone people wouldn't expect, and if I do [return], I don't want to spoil it because then it's going to be all over the media!"
Reach Staff Reporter Dustin Sloane here.