Los Angeles
Black Lives Matter Runs On Girl Power
Jasmine Richards finally let herself cry on a trip to Ferguson, Missouri in the aftermath of Michael Brown's shooting in August 2014.
"Where I come from, crying is not the normal and you don't do it whatsoever," she said, having grown up gangbanging in the streets of Pasadena.
But Richards began to leave her past behind when another woman in her midst, scholar activist Melina Abdullah, encouraged her catharsis.
"Melina walked up to me and held me and said it was okay to cry," Richards said. "So I just heaved like a little kid and after we were done, we meditated. First time I ever had clarity. Ever since then, we've been rocking hard. She's like the reason why I do this. She's the reason I get through."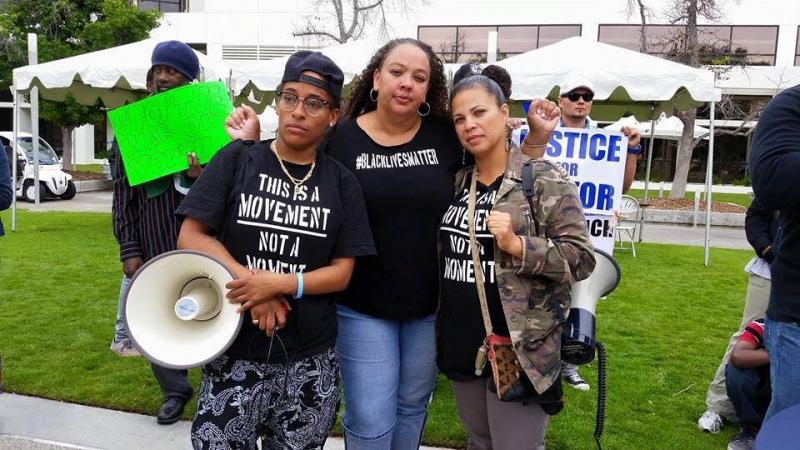 Since then, Abdullah, who chairs the Pan-African studies department at Cal State LA, has guided Richards in their efforts as Black Lives Matter activists, based in LA County.
"Through meeting Melina, I started learning about how to redirect my energy," Richards said, turning her anger and self-hate into conviction for a cause.
"I was trying to escape being black," she said. "I'm a lesbian, I never dated black women. I never really liked to partake in anything that was black." Richards says such attitudes create toxicity within her community. She's been shot in the head and her best friend was murdered.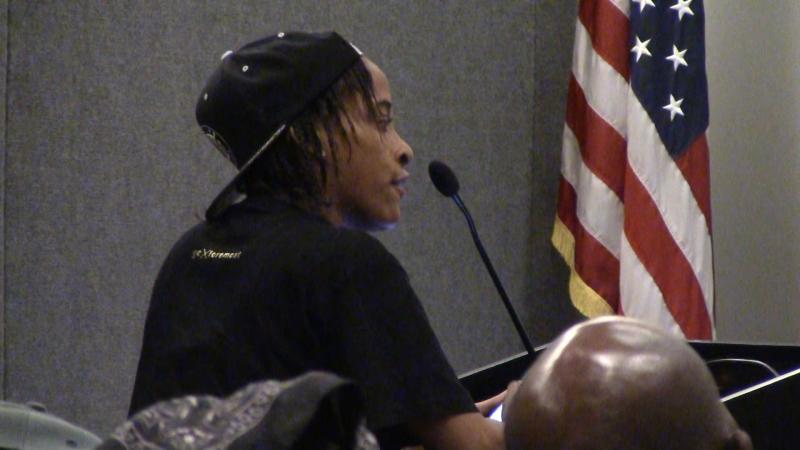 "The reason why we're out here killing each other is because we don't see each other as beautiful," she said. "Black Lives Matter has helped me see myself as powerful and beautiful. That's what I'm trying to show everyone else."
Richards channels that newfound sense of power as leader of Black Lives Matter Pasadena, working closely with the Los Angeles chapter spearheaded by Abdullah and several other women to attack the system they say discriminates against black people.
That involves putting "an end to state-sanctioned violence," Abdullah said. "We understand it most explicitly carried out through the police assaults on black people."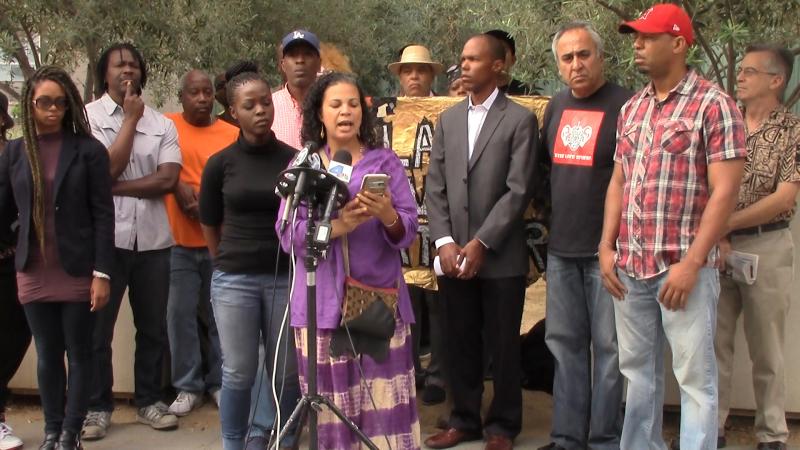 The latest high profile cases to rile up activists include the police killings of 12-year-old Tamir Rice in Cleveland, Ohio in November 2014 and 17-year-old Laquan McDonald, who was shot 16 times while walking away from an officer in Chicago in October 2014. The officer who killed Rice as he played with a toy pellet gun at a park will not be charged and was determined to have acted within reason. The officer who shot McDonald 16 times has pleaded not guilty to charges of first degree murder.
In late December, demonstrators interrupted business as usual in the middle of a Los Angeles freeway, at a San Francisco airport, at a Minneapolis mall, and a commercial district in Chicago — marking what they called #BlackXmas.
In Los Angeles, the struggle with police often plays out on LAPD turf. During weekly police commission meetings at LAPD headquarters, protesters interject liberally and jeer at commissioners, often bringing the meeting to an early recess while some protesters are permanently removed.
At a meeting in September, LAPD officers Hernandez and Fukui rolled their eyes at the protesters as they worked the front desk in the lobby.
"They think they're a movement," Hernandez said, adding, "all lives matter."
Fukui echoed the sentiment, questioning a focus on black lives when people of all colors are killed and often not at the hands of police.
Bare Beginnings
A spotlight on saving black lives swung into focus, manifesting in the slogan "black lives matter" after the July 2013 acquittal of George Zimmerman in the shooting death of black teenager Trayvon Martin.
The verdict brought Justice for Trayvon Martin activists to a convening at Leimert Park in South LA, as they commenced their evolution into Black Lives Matter.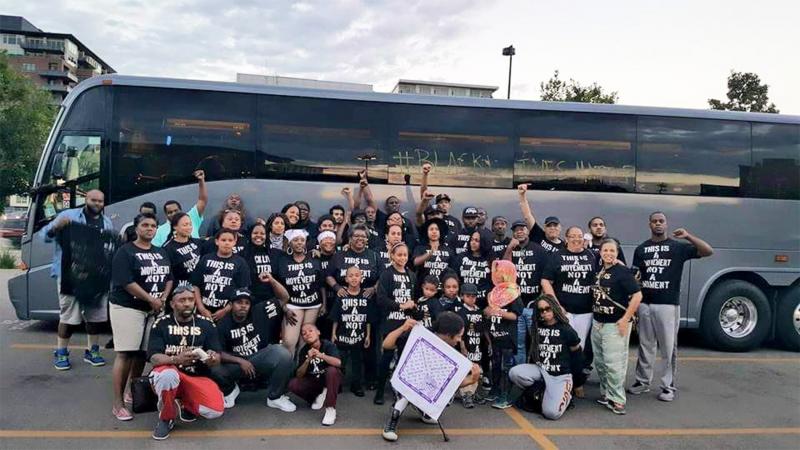 "After anything happens we all go to Leimert Park," said Shamell Bell, calling the space a "hotbed of art and politics for black people." Bell is a founder of Black Lives Matter LA.
She added, "[We] got an underground message, Melina calls it, from Patrisse [Cullors]. And it was just like 'meet here.' I love the way Melina describes it. She was like, 'it sounded like a whisper.'"
Cullors, along with Alicia Garza and Opal Timeti started the trending hashtag #BlackLivesMatter, around which the movement then coalesced.
"I got on the phone as soon as the [Zimmerman] verdict came back and I called Melina crying," Bell said, reaching out to a mother figure and mentor.
Abdullah has long been Bell's guiding light, first as her professor back in 2008.
"We've had this relationship that spanned before we were even thinking about having to say that black lives matter," Bell said.
Bell's career path veered in a new direction after taking a course on blacks and the political system taught by Abdullah, then a visiting professor at USC.
She abandoned her law school plans, receiving her master's degree in ethnic studies and following in Abdullah's footsteps as a scholar-activist. Bell is now working toward her doctorate in culture and performance, with a focus on street dance activism.
Likewise, many Black Lives Matter activists have had some form of ethnic studies education. "A lot of us have what I call activist impulses that were set afire in these classes," Bell said.
But motherhood also compelled her to get out in the streets and organize. Trayvon lost his life at 17, causing Bell to think of her now 4-year-old son Seijani.
"Just to feel that connection to a mother's pain is something that's unique to black women being in this movement," Bell said, adding "I'm doing it for my son."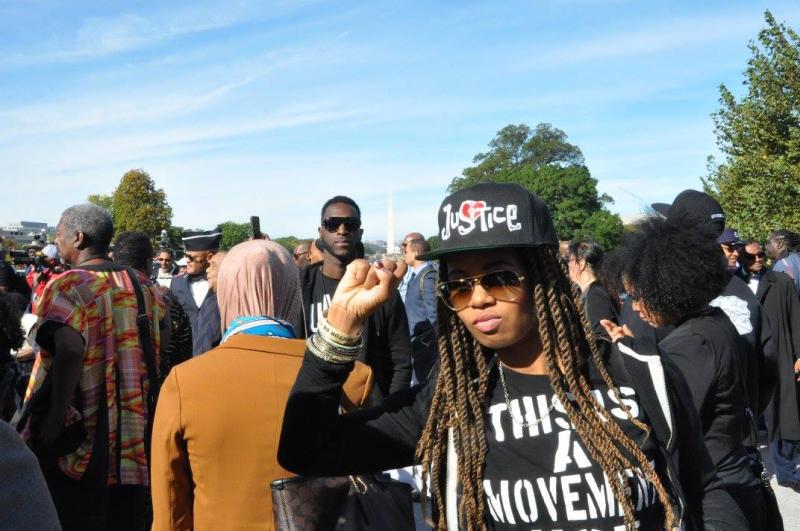 But a sense of communal nurturing and protectiveness rallied other women as well — such as Patrisse Cullors, Povi-Tamu Bryant, and Tanya Bernard — in co-founding Black Lives Matter in Los Angeles. The friendship between Cullors, Bryant and Bernard spans over a decade.
"Some may not identify as mothers, but just the sense of being in this African centered mothering that's happening, and its not a feeling of mothering, it's a feeling of nurturing," Bell said.
It Takes an African Village
Abdullah, a single mother-of-three, says the movement rejects strict adherence to the nuclear family structure, instead subscribing to the notion that it takes an African village to raise a child.
"I have a middle child who's extremely creative, she said. "She's an artist. I am not an artist. I'm a scholar. So if I were to try to rear her and do a good job of it, I'd neglect that artistic part of her. So what we believe and what we are grounded in is this African centeredness, this idea that it does take all of us."
The village-oriented mothering comes in handy during activist efforts. "Sometimes we're arrested," Abdullah said, adding that gatherings can become unsafe for children, whom often join in on Black Lives Matter events.
"And so we have to trust each other to care for the children, to say, 'well one person can care for the five or six children and the others can participate in the action.'"
The children can often be found on the frontlines. "Even our very first demonstration when we shut down Beverly Hills a couple days after Zimmerman was acquitted, Shamell and I were there with our children," Abdullah said.
Dawn Modkins is a mother-of-three and leads the Long Beach chapter of Black Lives Matter, which works closely with the LA chapter.
"My oldest son, he helps me with Twitter because I don't tweet," she said. "My youngest son — he's out at protests, he's carrying his signs. He's helping video record our dance activism. He's playing the drums and engaging with artists on the front line."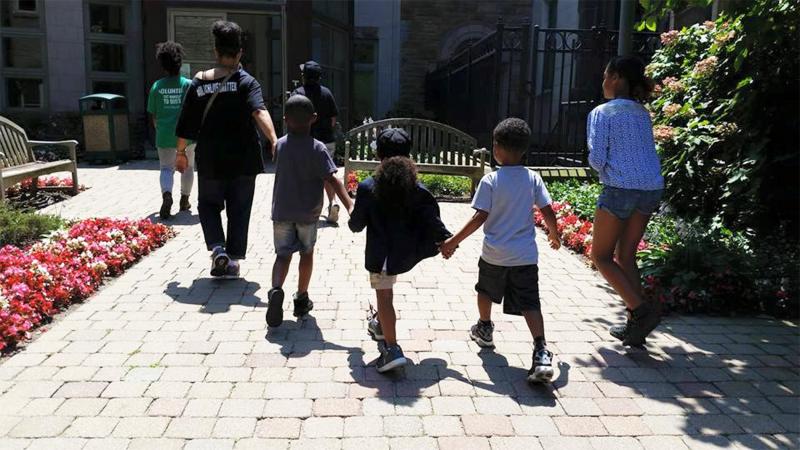 "It helps them to understand who they are as agents of change," Abdullah said. "We don't want our children as black children really kind of adopting this frame that they're just oppressed people without agency and power of their own."
"My son is highly radicalized and very assured of what it means to be a black child," Bell said. "My son will ask before playing outside, 'are we going to a protest?' He's like, 'mommy when's the next protest? I want to go to a protest.' Because he likes to hear himself asserting that black lives matter."
Strategizing to Success
Abdullah's two daughters — 8 and 11 — observe her in action at monthly strategizing meetings at Chuco's Justice Center in Inglewood.
At the colorful and eclectic space, Abdullah welcomes attendees, many first-timers — with a warm, attentive and commanding presence. She ensures crystal clarity about the meeting agenda and rules.
Fellow leaders flank her on each side. While often seen taking charge, the women insist they are a community led effort, frequently emphasizing that they are "leaderfull."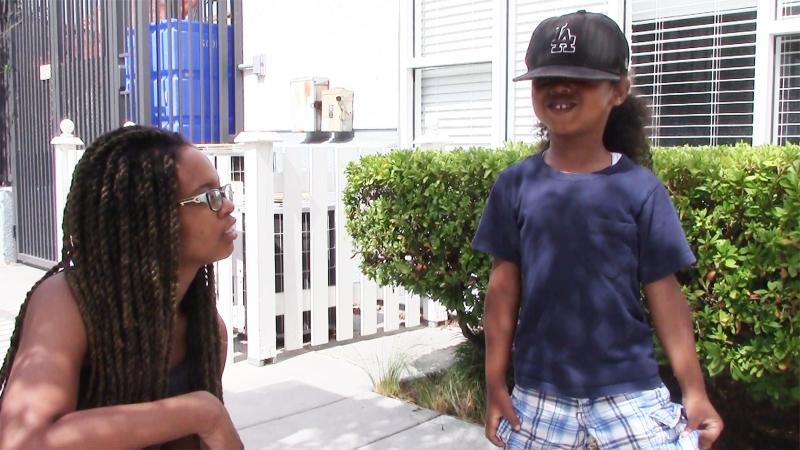 "They even ask everyone if anyone is opposed to posting a certain thing on social media," Bell said. "You don't have a leader like Martin Luther King saying this is what we're going to do."
Black Lives Matter is broken down into 26 chapters spread across the United States, including two in Toronto and Ghana.
Abdullah says the movement's decentralized structure is in alignment with their womanist leadership strategy. "That's one of the tenets of womanist centered leadership — is group centered leadership," she said.
A term coined in 1983 by Alice Walker, Pulitzer Prize-winning author of The Color Purple, womanism sprang from the frustrations of black women who felt the experiences of middle-class white women defined the feminist movement.
Womanist ideology holds itself distinct from traditional feminism in its concern for the relationship between women and men and the community as a whole as opposed to they say, framing women in opposition to men.
Richards acknowledges the LA County movement's strong female leaders and advocates for using that power to further uplift black men.
"We do uplift women and that's an awesome thing because in the black community, women are often torn down, but I also feel like we should lift up women and men," she said. "In this society right now, they look at a black woman better than they look at a black man."
Black Lives Matter in LA invites community participation at their monthly general meetings by advertising on social media, with black participants convening in one room to discuss strategy while allies meet separately to share their interest in the movement.
At one meeting, a few expressed discomfort with the separation by race. Bell says the division allows black people to find their own solutions rather than resorting to white allies as their saviors.
Everybody hands over their cellphones until the meeting is adjourned, as precaution against intelligence gathering. Bell says many of their phones have been tapped.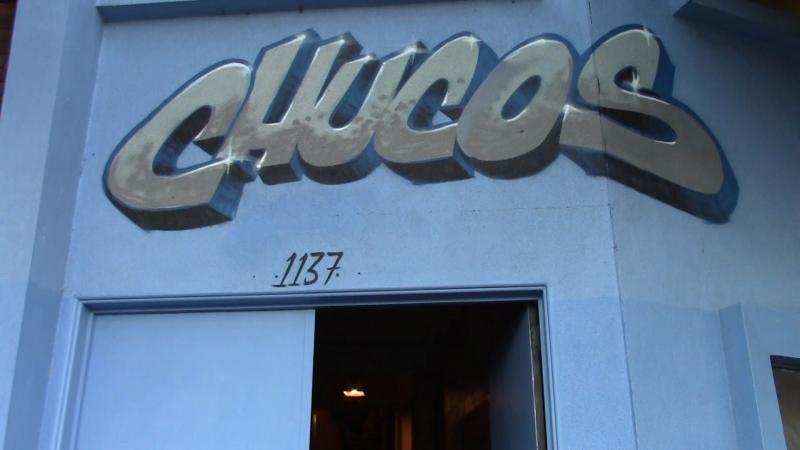 "There's constant paranoia about whose infiltrating, if there's a provocateur, if you're being surveillanced, if you're being provoked, if you're being targeted," she said.
Richards was arrested on August 29, in what her fellow activists believe was a targeted maneuver — prompting the LA and Pasadena chapters to slow down on their actions to focus on strategizing and community building. Richards allegedly grabbed a woman from police custody during a confrontation between Black Lives Matter protesters and police at a Pasadena park. Richards was charged with felony lynching, and pleaded not guilty.
Richards was also arrested on March 24 in connection to a Black Lives Matter demonstration held in Pasadena. She pleaded not guilty to a series of misdemeanor charges including terrorist threats, assault, trespassing, failure to comply with orders of peace officers, disturbing the peace, not having a permit for amplified sound and petty theft.
Her cases are still pending.
"Right now I'm fighting back tears because I'm so scared," Richards said while discussing her legal battles. "Dealing with this is so heavy. It feels lonely. I feel targeted. I feel like a brick is on my heart, on my chest. …I like to tell people when I was gangbanging, I never got into any of this type of trouble."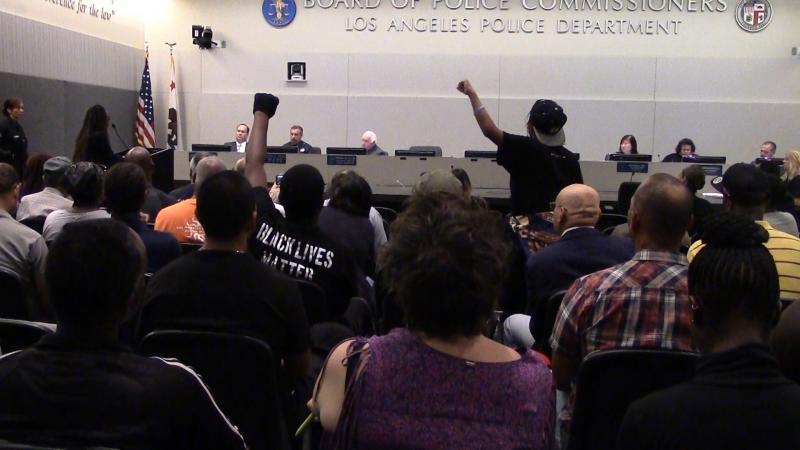 Richards says she has a deep hatred of police. "But I know the best way to reform my community is to get people to care about themselves," she said. "To get people jobs so they wont be able to hang out at the park all day and the police wont be able to target them."
She aims to push for programs that help people build life skills. She wants the city to invest more money in parks so that recreation and sports can flourish, and envisions opening a community and arts center to nourish creativity.
"If you come to Pasadena, there's nothing to do," she said. "Kids are bored, teenagers are bored, young adults are bored. They have nothing else to do but smoke weed, shoot dice, and gangbang. …Half of my friends don't know how to read and they're almost in their thirties."
Richards laments that she's been set back by her court cases. She admits she and the movement could benefit from harnessing raw emotion into more strategic power. However, she adds that strong shows of emotion have caused people to pay attention, especially the press.
"We need to play chess," Richards said. "At first I was playing checkers, and trying to get kings and stuff you know. But now since we're being targeted, we have to move at a certain angle. We need to get people involved, we need to get more of the churches involved, so we can be a community."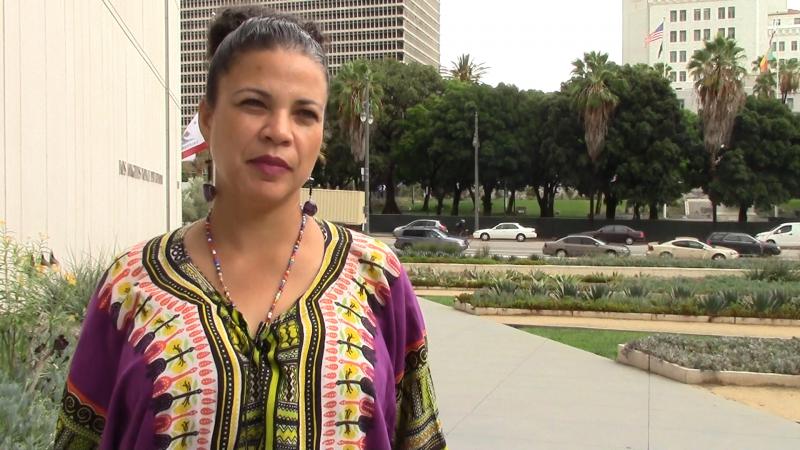 Looking Ahead
Having accumulated milestones here and there, Black Lives Matter is still a long way off from the grand vision. That involves a "massive reform of public safety," said Abdullah. "We're talking about police abolition. We're talking about police disarmament."
However, she asserts that police are only a tool in a "white supremacist patriarchal heteronormative capitalist society" that requires dismantling.
While they are focused on police at the time, Abdullah says they also intend to address employment, education and health resources.
Modkins insists that progress has already been made in the form of conversations around dinner tables and in politics, as candidates for president in the 2016 election figure out new ways to court black voters.
Reach Contributor Helen Zhao here or follow her on Twitter here.