Film and TV
Retro Movie Reviews: 'The Intern'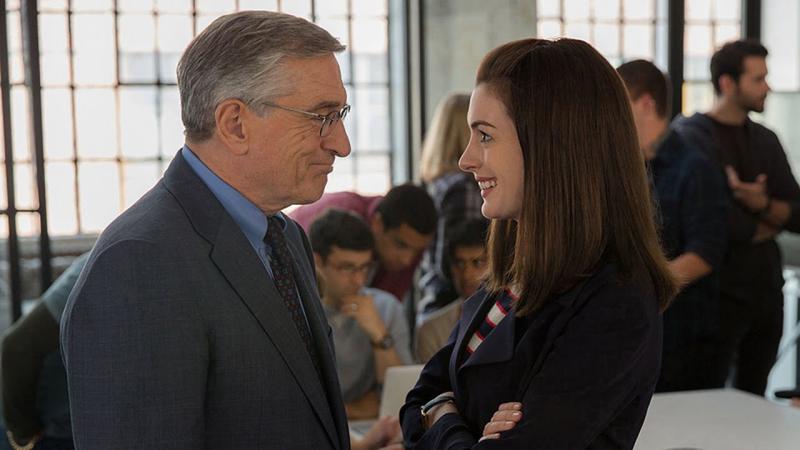 The intern is a witty and funny film featuring the charming story of two polar opposites working alongside one another at an e-commerce fashion company.
The story opens with a voiceover and a brief narration describing Ben Whittaker's (Robert De Niro) life. Once an executive at a phone directory company, he is now retired and dealing with the loss of his wife.
With a lot of time on his hands, he realizes there is only one thing to do in life and that is to keep moving forward. He decides to apply as an intern. He eventually gets the internship and is assigned to Jules Ostin (Anne Hathaway), the "bitchy" CEO of the company, who is hesitant to believe their partnership will work.
As the story progresses, Ben begins to get close to Jules on a personal and professional level, which is something that Jules is uncomfortable with at first. This leads her transferring Ben to another department, a decision she would later regret and quickly reverse.
Ben goes on to win Jules over as he not only makes her life less stressful at work, but also is able to become the saving grace in her life. He encourages her to continue to run her company that she is so good at doing at a time when she feels like giving it all up for her family, particularly her husband.
This movie displays a truly inspirational story not just older people, but for everyone.
This is a charming story of an older man who is retired and widowed, yet ready to begin the next chapter in his life. Despite the fact that he looked to be extremely unqualified from an external perspective to intern at an e-commerce company, he still applied, got the interview and got the position. As unqualified as he may have looked to some working at the company, especially his boss, he didn't let that affect his performance and even exceeded everyone's expectations. For some men, trying to rebuild their life at a point in time when most people would call it quits, it's not about getting another prestigious high-paid position (which is a position he had had for 40 years), but about getting back that sense of fulfillment and passion toward a particular field and life in general. Experience goes a long way and for Ben Whittaker it couldn't be any more true -- not just in the work field, but in life and friendships.
Ben may have rebuilt his life in the work field, but he definitely rebuilt his personal life even more by gaining a best friend, teaching younger cats the ropes in life, and a special friend whom he has an affection for. The old and the new can blend well and Ben ripped down all those barriers. The other young men interning at About the Fit need someone to become almost like a father figure to them. For instance, Ben gives Jason (Adam Devine) advice on how to apologize to the girl that he was trying to have a relationship with and the importance of a handkerchief anytime a girl is in tears. He also brings Davis (Zack Pearlman) to his home at a time when Davis risks being homeless.
Hathaway's performance is stellar, considering she has the most difficult role to play. But, anyone could, Anne Hathaway can. She became the girl who we all love to see on camera with a little help from her friend Ben.
Ben became the friend that she never really had. As Jules' personal problems begin to feel overwhelming, Ben becomes the friend that Jules really needs. Her best friend, father figure, best intern, assistant and nanny sitter for her daughter -- Jules got it all in one swoop in Ben Whittaker. Lucky girl!
Retro Movie Reviews is a weekly column by Kent Martinez, published every Friday. Read other Retro Movie Reviews here.
Reach Columnist Kent Martinez here. Follow him on Twitter here.