Los Angeles
No Shelter: San Pedro's Tiny Houses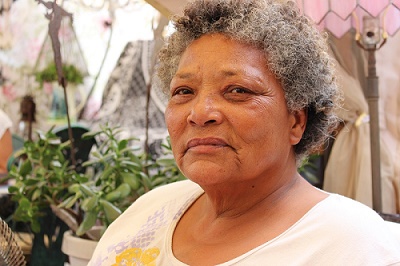 Francis Romero, 61, has lived in San Pedro her entire life. For the past five years this has meant sleeping on a piece of cardboard behind a Chinese takeout restaurant on the corner of 6th Street and Gaffey.
"It's scary out there out in the open like that," Romero says. "You don't know what's going to come at you when you're asleep."
In early August, Romero was approached by Nora Hilda and Fernando Escobedo, founders of the group Helping Homeless in Need in San Pedro and offered a temporary transitional shelter, more commonly known as a tiny house; a small shed equipped with a window, a door and small wheels.
"We were tired of our friends being out there on cardboards and blankets," Hilda said. "What happens at night is their stuff gets stolen ... so we thought, what a better way to protect them than with something a little sturdier.
Homelessness in Los Angeles County is up 12 percent since 2013, with a total homeless population between 40,000 and 45,000. Worse, almost 30,000 of these qualify as "unsheltered" meaning they sleep in their cars or on the street and not in a homeless shelter.
The problem has become so visible that on earlier this year, the Los Angeles City Council declared a "state of emergency" that will commit $100 million to housing and other services for the homeless. Mayor Eric Garcetti has also made the homelessness a key issue of his administration, pledging to house LA's homeless veterans by 2015 and end chronic homelessness in the city by 2016. He pledged $13 million in funds for short-term housing projects.
Despite the attention from the mayor's office, the homeless population in LA City rose by the same amount as the county. In Council District 15, which includes San Pedro and other harbor area neighborhoods like Wilmington, the increase in homelessness has outpaced the city as a whole, jumping by about 25 percent.
Homeless advocates complain that services have not kept pace with the district's growing homeless population, which stands at about 1,500. Between 300 and 400 of those live in San Pedro.
"What people don't realize is that there are no shelters out here," Hilda says. "The only one that is available, you have to be on a waiting list for six months to a year."
READ MORE: After Complaints Fall On Deaf Ears, South L.A. Residents Sue City Over Oil Production
This shortage of shelter space, Hilda says, is in part what drove her group to experiment with the tiny houses, building four in total.
Hilda says Elvis Summers introduced her to the idea at a meeting of the Central San Pedro Neighborhood Council. Summers, who lives in South LA, began building the houses earlier this year. In April, he launched a Go Fund Me campaign that has so far taken in almost $90,000 with more than 2,500 individual donations.
"I was like, let's just build one and we'll see," Hilda says. "But the rest of San Pedro wasn't on board with it."
One of the tiny houses was destroyed, and the others, placed near the San Pedro Post Office, became the subject of a heated online debate between two rival Facebook pages.
"It was 200 people on one side, 200 on another and we would just bicker," says George Palaziol. "I was like, this is ridiculous, I'm sure the community wants to be involved."
Palaziol started a public page with two other anti-tiny house activists called Saving San Pedro. The page has become a sounding board for San Pedro residents upset about the neighborhood's increasingly visible homeless population.
"Within two or three hours, I think about 2,000 people had jumped in," Palaziol said. "I knew that more than our groups wanted to get their views across."
The fight over tiny houses eventually drew in CD 15's Councilman Joe Buscaino, who convened a public forum on San Pedro's homelessness problem in early September. The event brought out over a thousand people to the Warner Grand theater, filling it to capacity.
"We are all here today because the conversation over homelessness has created a lot of tension in San Pedro," Buscaino said. "It's important that we diffuse this tension and work together to come to an understanding on what we can do to achieve a win-win situation."
The councilman announced no concrete proposals on long-term housing solutions for San Pedro's homeless population, but has resulted in increased LAPD foot patrols and the creation of a Homelessness Task Force.
He also vowed to maintain his policy of denying San Pedro's homeless population stable refuge on the neighborhood's streets.
READ MORE: Community Group Stages Event To Protest Evictions
"They are unsanitary, illegal, dangerous and a magnet for drug dealers and rapists," Buscaino said. "I will continue cleaning these encampments whenever and wherever they materialize."
In August, the city Attorney signed off on a motion — put forward to the city council by Buscaino — to have the tiny houses classified as "bulky items." The distinction allows sanitation workers to circumvent the city's 90 day holding policy before disposing of items seized during sweeps of homeless encampments.
The forum was a productive start for Palaziol, who now sits on the Homelessness Task Force.
"I knew going in that we weren't going to have a solution coming out, but a lot of good information and advice," he said. "I hope people went in the same open mind"
Palaziol had especially kind words for forum participant, Deon Joseph, a senior lead officer in LAPD's Central Division. Joseph, who has policed LA's homeless capital Skid Row for 17 years, warned the audience of against allowing the homeless to entrench themselves on San Pedro's streets.
"Tiny houses, noble idea," he said. "Whenever you try to do something wonderful in an area that's laced with criminality, the criminals will come in and ruin it."
Tiny house advocates, like Hilda, question the comparison with Skid Row, an area one-third the size with up to ten times the homeless population as San Pedro.
"I commend him for his efforts in Skid Row, but this is San Pedro not Skid row," Hilda said. "I don't think we could ever get to that point."
Hilda pulled the tiny houses off the street shortly before the September forum saying that the anger over them was making a long-term solution less likely. For Romero, who only spent nine days in her own tiny house, this meant a brief return to her old living situation.
A local family who participated in the tiny house project has since taken her in.
"The tiny houses make you feel better," she said. "Made me feel better. But they didn't like them here."
Reach contributor Kevin Walker here or follow here on Twitter here.