Los Angeles
MADE by DWC: Shop To Stop Homelessness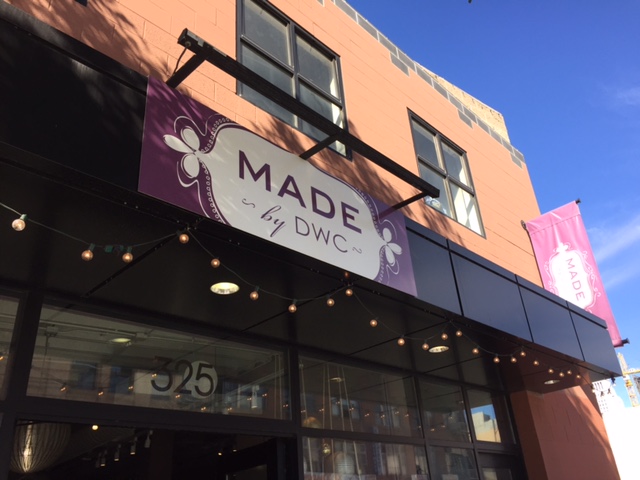 The bell rings as you push through the doors to the café. Behind the counter is a quiet woman of color. She's timid and the tapping of her fingers reveals her nerves. "What would you like to order?" the barista said.
The Downtown Women's Center is a non-profit organization that helps tackle homelessness on Skid Row in Los Angeles. The organization works to train, empower and encourage homeless women through work opportunities in their retail store and café, "Made by DWC". Tomorrow night they are hosting their annual holiday shopping party.
"My job is to train the women to work in a café, make the drinks and interact with customers," said Mia Siaz, the Café Lead Associate. "It's pretty much building soft skills and hard core skills for these ladies to be able to go back into the workforce."
Siaz said the barista behind the counter was once homeless. She is training under Saiz now. DWC has a 12-week program for the women, called "Set to Work" that helps prepare them for their next job opportunity, said Siaz. During the day, the women are placed under the supervision of DWC employees who will guide their time at work. Siaz has said that some women are housed while in the program.
"I had my first cohorts with the Set to Work program, it ended this past September and I had two ladies graduate with flying colors," Saiz said. "One of those two women had an outcome that really opened my eyes to the reason why I'm here."
Siaz knew the mission of the organization and enjoys working for DWC because the organization believes homelessness is not inevitable. But when Siaz witnessed the process of rehabilitation through a trainee, her passion grew stronger for the organization.
"My previous cohort dealt with customers one-on-one for the first time, all of her jobs in the past she was behind the scenes," Saiz said. "Especially coming from a background where people weren't always so nice, this opportunity opened her up and she was always so happy. She's a bright light and it made me really happy to be a part of the journey she was on."

READ MORE: Ornaments deck the halls with craft, creativity and creatures
The Los Angeles Area Chamber of Commerce said Skid Row is comprised of roughly 50 city blocks of the greater downtown area, generally east of the Downtown Historic Core and the high-rise district of Bunker Hill.
Los Angeles city and county are working to expand homeless outreach teams on Skid Row. Officials say their goal is to cut the area's homeless population by 25 percent this year, according to LA Times reporter Gale Holland.
"City Councilman Jose Huizar filed a motion asking that $200,000 of his discretionary funds go to hiring a logistical manager to set up four six-person teams of mental health, medical and substance abuse professionals operating in the streets five days a week," Holland said.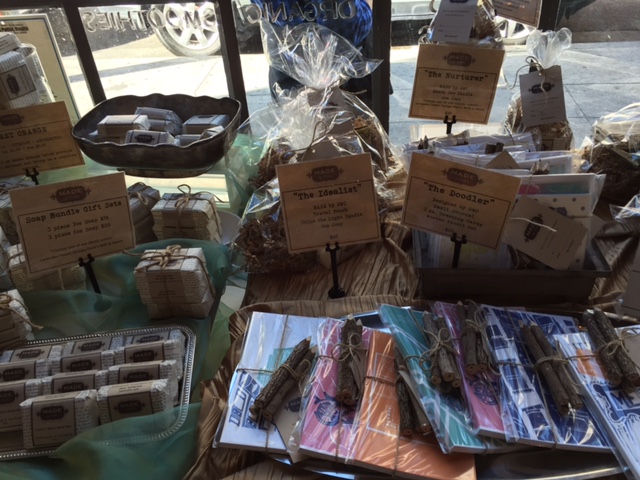 A recent report by the Downtown Women's Action Coalition said there are various factors that cause women's homeless in the United States including domestic violence, lack of affordable housing, job loss and unemployment, substance and drug abuse, mental illness and physical disability.
After surveying nine sites throughout Skid Row a total of 324 surveys show the top three resources that women need most to improve the downtown community are housing, healthcare and employment or training opportunities.
The lack of affordable or low-income housing was the largest variable in keeping women homeless – 73 percent of respondents listed housing as the most essential resource.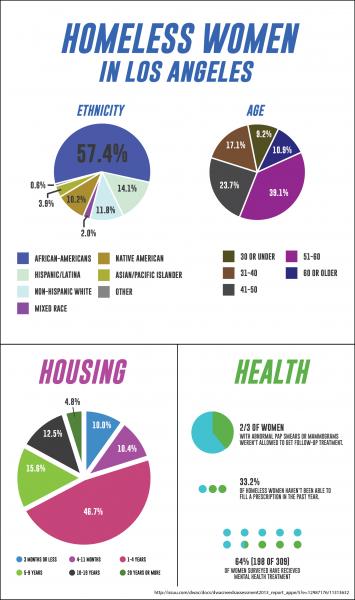 MADE by DWC helps address the employment and training gap for homeless women. Not only do they work in the café or retail store, but they also work to create hand made jewelry and crafts that are sold in both the café and retail stores.
The handmade items will be sold at the event on Dec. 3 to kick off the holiday season and spread awareness about the organization. All of profits from the event will benefit women overcoming homelessness in Skid Row.
"In the workshops the women make these products and create healthy relationships with each other that are more healthy than it would be if they created them elsewhere," Saiz said. "We provide a safe environment for the women to be able to come and want to participate and that is amazing in itself."
Reach Contributor Joy Hahn here.