Film and TV
Why 'A Very Murray Christmas Special' Will Succeed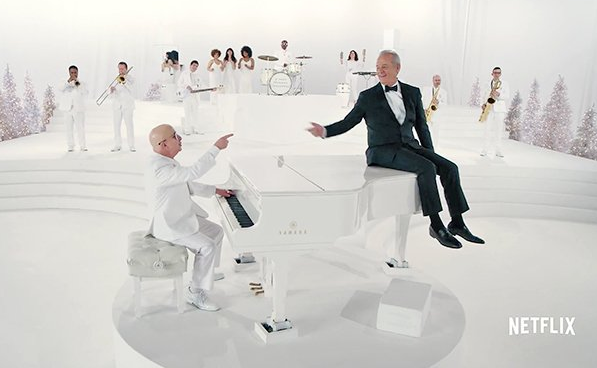 Netflix will be releasing "A Very Murray Christmas" to celebrate the holiday season. The special show will star Bill Murray and a collection of many other stars celebrating the holiday cheer with song and dance.

The holiday season is in full swing and that means that Christmas TV specials are on the way. We will always have our classics, but each year brings something new to the table. That being said, the days of waiting around the television set for our favorite shows is long gone as we can now watch these specials whenever we want.

The premise behind Murray's show: he's hosting his own Christmas special, but he's worried that no one is going to make it in time because of a huge snow storm in New York City.

He has to make sure that the show goes on and he calls on a lot of his famous friends to help ensure that he puts on a show for the ages. Guest stars include Miley Cyrus, Amy Poehler and George Clooney. The show itself is set to be an homage to the classic variety show that is making its way back into the spotlight of popular culture.

There are a number of reasons as to why this special show will be so successful.

One is that everyone loves Bill Murray. His appeal reaches to all ages from the older generation who watched his strive on "Saturday Night Live," to the younger generations that know him as a funny old man. Murray has managed to stay relevant throughout his long and successful career by diving into many different styles of movies. He has shown his serious side and dealt with dramatic roles but he has always kept his charm and maintained his comedic roots.

Another thing that will help the show strive is the huge cast. Having stars from all different shows will bring in audiences from many different fandoms. It will not just be Murray's avid fans tuning in, but anyone who wants to see Cyrus and her antics will be sure to watch as well as those who miss seeing Poehler on "Parks and Recreation."

If Murray and his cast of characters is not enough to bring in a large audience, then the appeal of Netflix alone should do the trick. So many big name stars are heading to Netflix to create more creative content and give the fans the shows they want when they want it. Aziz Ansari, Ellie Kemper and Kevin Spacey are just a few actors to make the move to Netflix and have established the foundation for a new age of entertainment.

By putting the show on Netflix, the special will be able to be viewed at any point following its release. As opposed to being forced to watch the show at a set time and date, viewers can Netflix and chill early in the morning or late at night to their own convenience.

The one thing that could prevent this special from truly striving is that the overwhelming convenience of Netflix could hurt the show in terms of its authenticity. Traditionalists might be opposed to watching a Christmas special whenever they want because they are so used to gathering around the TV with the family and making an event out of this special time of year.

That being said, the combination of Murray and the brand of Netflix will help ensure that "A Very Murray Christmas" is a very successful Christmas show.

The special will debut on Netflix on December 4th.

Reach Staff Reporter Noah Camarena here and follow him on Twitter here.