USC Sports
USC Men's Water Polo Takes Down UC Irvine on Senior Day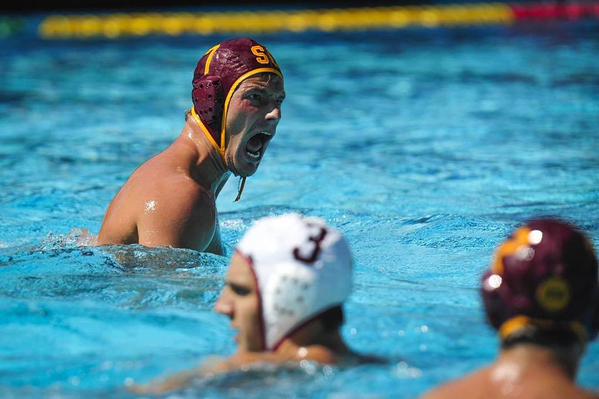 Friends and family of the USC Men's Water Polo team filled the Utengsyu Aquatic Center to watch Senior Mac Carden and the rest of the team beat UC Irvine by a score of 14-8 in their final home game of the season before the MPSF and NCAA championships.
The Trojans opened the game with strong 2-meter defense and three steals in the first quarter alone from Nick Silvers, Nick Bell, and James Walters. Soon after, the Trojan offense got three goals on the board with a pair Blake Edwards and one from Nick Silvers. Edwards is the offensive leader for the team and has been the driving force of their offense this season.
The Anteater offense answered with two goals scored by UC Irvine's Kyle Trush cutting the Trojan lead to one at the end of the first quarter.
In the second quarter, the Trojans showed the depth of their offense with goals from Mihajlo Milicevic and James Walters as well as power play goals from Walters and a pair from Matteo Morrelli, putting the Trojans up eight to three at the half.
The momentum for the Trojan offense continued into the 3rd quarter with a regular-play and 5-meter goal from Blake Edwards as well as a regular-play lob goal from Grant Stein.
The fourth quarter was the strongest for the Trojans with both the offensive and defensive forces holding their ground against the Anteaters. The offense put three more goals on the board to bring the lead to 14-8. Power play defense for the Trojans helped preserve the comfortable 6-point lead with a block from goalie McQuin Baron during a UC Irvine man-up and another block from the field on a 6-on-4 play for the Anteaters.
After coming off a loss last week at Cal, the Trojans were looking to get their momentum back with a win. But with the championship games ahead of them, as well as the big rivalry game next week against UCLA, the team is ready to look forward.
"Going into next week we will be working a lot on our offense. The past couple of matchups against UCLA had been difficult because the are a very strong team defensively," says stat leader Blake Edwards. "We're looking to get that championship and we need everyone's support to help make that happen as we go into MPSF and NCAA post season," says senior Mac Carden.
The Trojans have a series of exciting matches in the upcoming weeks against UCLA and then into Championship play. The Trojans are looking to bring the championship back home and emerge victorious after a well-fought season.