Los Angeles
USC International Students Experience Thanksgiving Traditions
While Thanksgiving is mostly known as a time to gather with family, most international students at USC cannot fly home. The holiday atmosphere and decorations on campus and in the town make them a little bit homesick.
"Definitely I'm more or less homesick," said USC graduate student Ruoran Wang. "Seeing everyone go home and have family meal makes me think about my parents and family members."
However, this year, the Office of International Services and Graduate Student Government presented a Thanksgiving match-up program to serve international students a taste of Thanksgiving. The organizer found volunteer host families to match students with. The program included a traditional Thanksgiving meal.
Annenberg graduate student Austin Liu said that this was his first Thanksgiving. He had a big Thanksgiving meal including turkey with more than 20 members of Professor Erroll Southers' family. He also took part in one of the family's Thanksgiving traditions for the first time.
"Everyone wrote a thankful note and put that in a bottle, and we read other people's notes after that," Austin said. "I really realize the status of Thanksgiving in U.S. because every family member sees this holiday as very important."
He was also impressed by his host family.
"They (were) super super hospitable, and they helped us really get involved into Thanksgiving games," Austin said. "We also chatted a lot, for almost three hours after the meal."
OIS said they have been doing this event since late 90s. Volunteer host families include USC faculty members and some other families in LA.
"This year we matched up over 200 international students and over 80 volunteered host families," OIS staff said. "International students are happy to have this experience, and host families are enjoying too."
Dr. Erin Quinn, Associate Dean of Science and Health in Dornsife School, hosted four international students this year. Currently, all of her children have lived outside of the U.S., in Prague, Mexico and Spain. She herself lived in Spain as a student.
"All of us have met wonderful people who invited us into their homes to celebrate special occasions,"Dr.Quinn said. "I always feel that by opening my home to others, that the same will be true for my children when they visit other countries."
Dr. Quinn said that she had a fabulous Thanksgiving celebration.
"We all chatted and visited while I was cooking the gravy and finishing up the vegetables, and then we all enjoyed a wonderful dinner," Dr. Quinn said. "I like sharing Thanksgiving, as it is a truly American celebration with food that represents the American culture."
Other holiday traditions included shopping on Black Friday.
Wang shopped from midnight until 12 p.m. in Desert Hills Premium Outlet.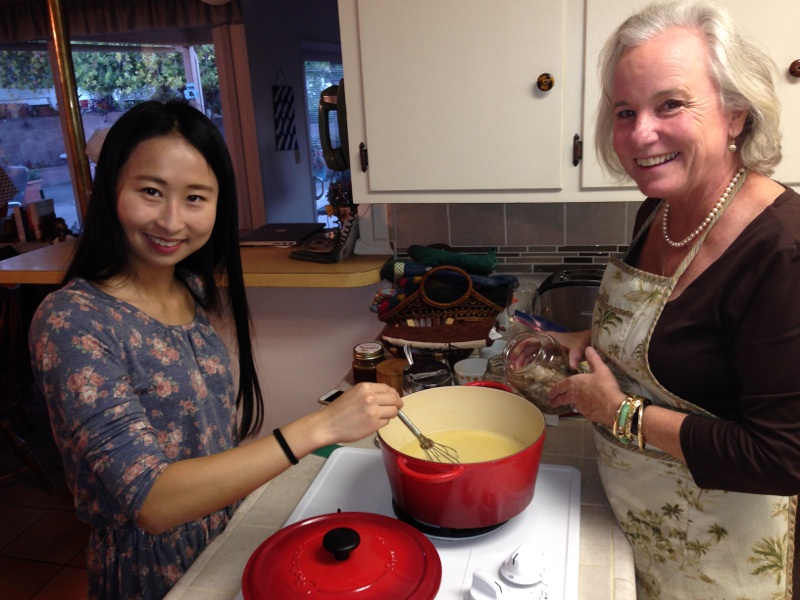 "Crazy," she said and laughed. "I was too tired and fell asleep on my way back home."
Another new tradition for internation students was to watch the 2015 rivalry game in Memorial Coliseum Saturday afternoon. The USC Trojans won, 40–21, over the UCLA Bruins, the first win in four years.
"I don't have a family here in US so I cannot really have a Thanksgiving," USC Viterbi student Lan Luo said. "So I wanted to participate in an exciting event to spend my Thanksgiving."
Lan Luo spent 250 dollars into buy a ticket, which was also her first time watching a football game in person. She said she'd be sorry to miss the game because she's going to graduate next spring.
"I want to experience the football culture in Southern California and Trojans spirit," Lan said. "Me and friends prepared 'Beat UCLA' clothes and we are happy to see the victory."
Reach Contributor Xinyu Zhang here.