Politics
A Preview Of The Second Democratic Debate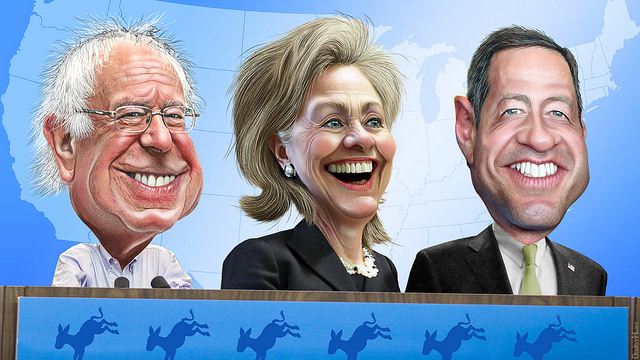 The Democratic candidates for president will debate a second time Saturday night in a showdown that will pit policies a little to the left of President Obama against policies to the far left of Obama, which will inevitably be rejected by a Congress and Senate controlled by Republicans determined to obstruct Democratic proposals.
Nevertheless, the Democratic primary has dwindled to three candidates:
Former Secretary of State Hillary Clinton, the front runner, who simply has to maintain her lead after a successful October.
Vermont Sen. Bernie Sanders, who is aiming to sharpen his policy contrasts to Hillary Clinton in order to get momentum back on his side.
Former Maryland Gov. Martin O'Malley, who will be on the offensive in order to bolster his marginal poll numbers.
Joe Biden's anticlimactic decision to forego another presidential campaign and the expected departures of Jim Webb and Lincoln Chafee leave a bigger spotlight on the remaining Democratic hopefuls, each with presumably different strategies heading into the Iowa Caucus.
Clinton's Strategy: Don't Choke
After a tumultuous summer riddled with controversies ranging from Benghazi conspiracies to private email scandals, Clinton saw her massive early lead dwindle as the more progressive Democratic voters "felt the Bern," and gravitated toward Sanders' liberal policy-oriented, grassroots campaign.
SEE ALSO: Clinton Goes On The Defensive In First Democratic Debate
The politically savvy Clinton, however, seemed completely unfazed during the first debate. She managed to shrug off allegations of untrustworthiness and political flip-flopping, and appeared polished, poised and, most importantly, presidential. Clinton was able to maintain her status quo, which kept her on top of the polls.
For those who have grown wary of her centrism, Clinton painted herself as a "progressive who gets things done," offering pragmatic solutions that effectively countered Sanders' idealistic solutions of creating a more equitable economy.
Soon after, Clinton successfully maintained her composure through a Republican-led, 11-hour Benghazi hearing, proving she is a levelheaded leader who remains calm under pressure.
Rather than entering on a turbulent note, as she did in Las Vegas, Hillary will smoothly arrive at Des Moines, coasting on a resurgent rise in the polls.
Since the first debate, her average lead in the national polls has risen over three points to a 21.6 point lead on Sanders, while her overall support climbed nearly 11 points to 54 percent. This is the first time she has been the clearly preferred candidate among Democrats since the summer.
Additionally, and conceivably more indicative of her possible success, her lead on Sanders in Iowa has doubled to 24 points since the first debate.
In New Hampshire, where Sanders's support is strongest, she's closed the gap from nine points to just over one.
In South Carolina, her formidable 28-point lead has surged to a monstrous 48 points.
Considering Clinton simply has to defend her lead, it is unlikely she will attack her competitors, like she did when she harshly questioned Sanders's gun control record. She simply has to counterpunch likely attacks on her credibility, play it safe, and focus on her experience and practical proposals during this debate.
If Clinton doesn't take the bait given by Sanders and/or O'Malley, and she stays on the path of her progressive vision of America, she should lock up Iowa come February. Such a victory would make Sanders's uphill climb to the nomination much more steep.
Sanders's Strategy: Go On The Offensive
Although Clinton surged in the polls following the first debate, Sanders more than held his own, questioning the current state of American capitalism and setting the tone of the debate to focus on substantive economic and social injustices that adversely affect the vast majority of Americans.
Unfortunately for Sanders, he won't be getting any favors from the media.
A Facebook-endorsed poll published by CNN reported 85 percent of viewers declared Bernie Sanders the winner of the first debate, as opposed to 12 percent opting for Hillary.
Additionally, Sanders was the top searched candidate throughout the debate, according to Google analytics.
But the establishment darling Clinton has been the presumed Democratic nominee since Obama was reelected president. Furthermore, Sanders, a self-described "democratic socialist," has to deal with the negative connotation the word "socialist" carries within American politics.
SEE ALSO: Round-up, Round Four: Twitter Reacts To The Fourth GOP Debate
Despite allegations from Sanders activists asserting Time Warner's ownership of CNN and contributions to Hillary's campaign contributed to the major news network pushing a narrative that Clinton won the debate, she simply looked more polished and caught Sanders flat-footed in the onset.
Sanders, however, regained his composure and used his no-nonsense, policy-oriented campaign to make his presence felt.
Unfortunately for Sanders, politics is a game where appearance is just as important as substance, and he needs to make a decision of whether he wants his long-shot campaign to fall short and simply push Clinton leftward or sacrifice some of his signature brand genuineness by attacking the frontrunner's credibility. He has already started some of the attacks on the former secretary of state, so it appears he is in it for the long haul.
The first Democratic debate was a Kumbaya compared to the Republican temper-tantrum of a primary race, and an insatiable demand for conflict and drama always persists in American politics.
Sanders' shots at Clinton would certainly be among the top stories of the debate, giving him some much needed press coverage to compete with Clinton's name recognition and standing within the party.
Sanders doesn't even need to go negative to attack Hillary. He can maintain his sincerity and simply compare his consistent voting record to Clinton's varying political stances, especially on issues such as NSA surveillance, the Iraq War, Wall St. bailout and LGBT rights – all issues held dearly among Democratic voters.
Not only would this expose the former Secretary of State's weaknesses, but also it would augment Sanders's authenticity and consistent principles.
The American electorate may not be ready for an eccentric, shaggy-haired, arm-flailing liberal, so Sanders has to show more moderate voters that he has the composure, bravado and backbone to lead the United States into the 21st century.
After opting to resist mock-debate preparations prior to the last debate, expect to see Bernie much more prepared and aggressive in order to close the gap in this crucial state.
O'Malley's Strategy: Gain Exposure
The former Maryland governor has been mainly an afterthought this primary, stalling in the single digits in both the national and early voting polls.
Sanders has overshadowed him in terms of policy and ideology, and Clinton has a significant advantage in terms of experience. Neither candidate carries the baggage of presiding over a state whose largest city was recently engulfed with racially charged riots over police brutality.
Given the smaller field, O'Malley has a better opportunity to generate some buzz. He can attack Clinton's shifting positions, particularly immigration, and Sanders's less progressive stances, most notably gun control, which was the topic that brought about the biggest argument in the first debate.
SEE ALSO: What To Expect From Tonight's Democratic Debate
As Sanders and Clinton consume most of the spotlight, the clock is ticking for O'Malley.
He finished Sept. with less than $1 million in campaign funds, and out of the $3.6 million he's raised as of Oct. 16, only eight percent came from small donations of $200 or less, as opposed to Sanders's outrageous 77 percent and Clinton's 17 percent.
Essentially, Sanders is carrying tremendous grassroots support and Clinton is cashing in checks from large corporate donors, while O'Malley continues to struggle generating coverage on a daily basis.
This leaves the debates as O'Malley's biggest, and perhaps only opportunity to jump-start his campaign.
The debate will air Nov. 14 at 6 p.m. PST on CBS.
Reach Contributor Sam Corey here.