Sports
Pac 12 Power Rankings: Week 11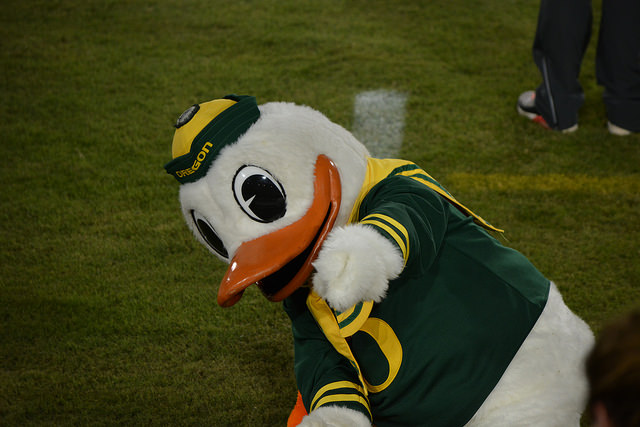 Everybody beats everybody in the Pac, and, sadly, just about everybody was eliminated from playoff contention on Saturday. Both of the conference's one-loss teams were beaten on Saturday, leaving the the North and South divisions very much up for grabs. Stanford, USC and UCLA all control their own fates in their respective divisions, while Wasington St., Utah and Oregon would need a little bit of help to reach the conference championship. Without futher ado:
1. Stanford (8-2; 7-1)
The #15 Cardinals were a successful two-point conversion away from overtime, but a résumé with wins against USC, UCLA and Washington St. keeps them on top of the rankings. Unfortunately, the Pac-12's best candidate for a playoff bid just about had their hopes stripped away on Saturday. The Cardinals control their own fate in finishing on top of the Pac-12 North, but will have to face tough opponents Cal and Notre Dame to end the season.
2. USC (7-3; 5-2)
Not their prettiest performance, but the #22 Trojans took advantage of Colorado's backup quarterback in the second half in order to slide past the Buffs on Saturday. USC has rallied behind interim-head coach Clay Heltonm, putting together their largest win streak of the season at three. The Trojans have their two most important games of the season remaining with Oregon and UCLA slated on the schedule, granting USC a perfect chance to clinch the Pac-12 South and keep a long-awaited return to the Rose Bowl within sight.
3. Washington St. (7-3; 5-2)
Did you ever think a team that lost to Portland St. could crack the ranking's top three? Well, the Cougars have been pretty darn impressive ever since their Week 1 loss, going 7-2 since and adding a UCLA win this past Saturday to its resume. It's time for this Washington St. team to stop being overlooked, who sport the conference leader in yards passing and total offense, quarterback Luke Falk. The Cougars' expect to keep their Pac-12 North title chances alive against Colorado next week.
4. Oregon (7-3; 5-2)
The #23 Ducks proved on Saturday that they have one of the most explosive offenses in the country, led behind now fully-healthy quarterback, Vernon Adams Jr. With a dangerous formula for success rooted in outscoring opponents in offensive shootouts, Oregon has allowed the most points in the conference this season. Still, the Ducks have looked like a different team in the second half of the season and hope to use their momentum to take down USC in Eugene next week.
5. Utah (8-2; 5-2)
An ugly loss for the Utes sends them moving considerably down the rankings, as Utah struggled to contain Arizona's Anu Solomon all game on Saturday. As others above Utah in the rankings show signs of improvement gearing toward the season's end, the Utes, who no longer hold the top spot in the Pac-12 South, seem to be taking steps back. Utah has a must-win matchup against UCLA next week to keep their South title hopes alive.
6. UCLA (7-3; 4-3)
The Bruins lack the résumé that others in the conference display, as their win against Cal might be their most impressive of the season. Nonetheless, UCLA can still finish atop the Pac-12 South by winning out. The Bruins will travel to Utah next week, which is an elimination game for one of the team's South title-contenders.
7. Cal (6-4; 3-4)
The Golden Bears lock up a bowl game and end a four-game losing streak with a win against the Beavers. The 54-point onslaught was a much needed confidence booster for the Golden Bears' offense and projected first-round draft choice Jared Goff, who threw nearly as many interceptions as touchdowns during the team's four-game skid. Cal will look to really shake up the rankings with a win against Stanford next week.
8. Arizona St. (5-5; 3-4)
The Sun Devils overcame a 17-point deficit on Saturday to beat Washington and end the team's three-game skid. Arizona St. needs only one more win to before locking up a bowl game, and will have the opportunity to do so against in-state rival Arizona next week.
9. Arizona (6-5; 3-5)
The Wildcats took down Utah in overtime despite losing quarterback Anu Solomon in the fourth quarter. The win snaps a three-game skid for the 'Cats, who have been plagued by offensive inconsistency, injuries and a spotty defense (at best). Arizona will play its final game of the season next week against the Sun Devils.
10. Washington (4-6; 2-5)
The Huskies have the lowest points allowed in the conference, yet quarterback Jake Browning hasn't been able to produce enough on the offensive end in his rookie season. Washington put up a great first-half performance in their loss to the Sun Devils on Saturday, but inconsistency has come hand-in-hand with the team's young core. The Huskies need to beat Oregon St. and Washington St. in its final two games in order to go bowling.
11. Colorado (4-7; 1-6)
Close, but no cigar for Colorado, who put together an impressive first half against USC on Saturday. The loss looms larger for the Buffs, however, losing starting quarterback Sefo Liuafu for the season. Colorado will travel to Washington St. next week.
12. Oregon St. (2-8; 0-7)
Don't even get me started… No conference wins. No respect.
Contact Garrett Schwartz here and follow him on Twitter @gschwartz95.