Los Angeles
A New Class of Promise Corps Places Value in Community Service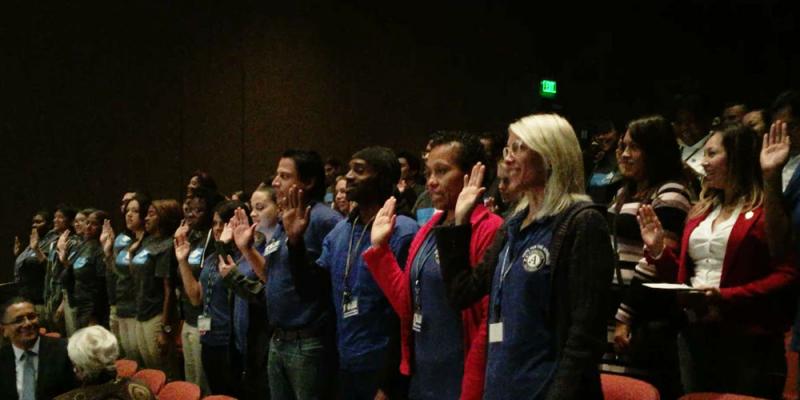 The 'season of giving' has not formally begun, but Mayor Eric Garcetti commended the newest
AmeriCorps
members for offering up their services to the city of Los Angeles as they were officially sworn in as volunteers on Tuesday afternoon.
In a simple ceremony held at the LAPD Deaton Hall Auditorium in Downtown Los Angeles, Garcetti led 90 of the 118 new Los Angeles-based volunteers as they gave the oath to serve AmeriCorps.
AmeriCorps is part of the Corporation for National and Community Service that was formally created as a federal program in 1994 under President Clinton. The program places adults in intensive community service positions around the country with the goal of "helping others and meeting critical needs in the community" according to their website.
The new generation of AmeriCorps volunteers are being referred to as the Promise Corps. They will work full-time with the Youth Policy Institute to tutor young students in math and English and offer college counseling at schools in Promise Zone's around Los Angeles as well as in the Boyle Heights and Watts areas. Many of the schools in these areas are low-income and most often do not have the resources to help students in and out of the classroom.
SEE MORE: LA's Promise Gala
Los Angeles has made a push to increase the graduation rate of the students who attend schools within the Los Angeles Unified School District. And while the numbers have steadily increased, they are not yet anywhere near 90 percent, signaling that there is still a great deal of work to be done.
There are some detractors of AmeriCorps like author James Bovard, who believe that civic service is idealist with messianic pretensions. But according to a survey conducted by the Aspen Institute, 61 percent of people in the United States support national service programs regardless of political party or education level. Most Americans generally support endeavors like Promise Corps.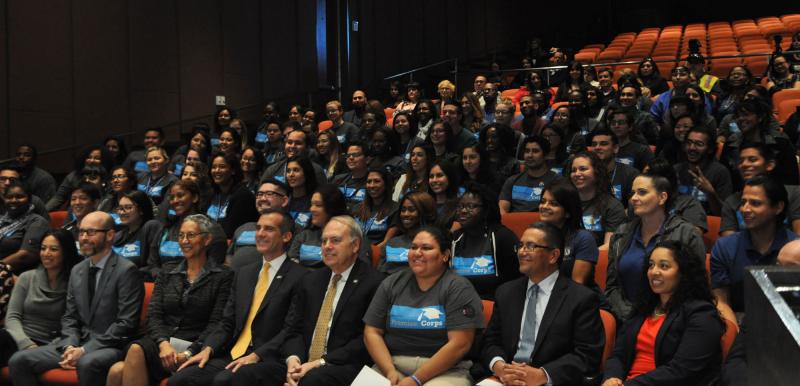 Amanda Jones, a science tutor with Promise Corps has been placed at the Academic Performance Excellence Academy in Hollywood, and is looking forward to helping students excel academically.
"When I went to school here, I used to be part of a program similar to this and they gave me a lot of support," she said. "It feels good to know that I'm giving back the same kind of support that I was given."
At the ceremony, Garcetti spoke of the importance of civic duty and the impact that it has on the people.
"The commitment that you made to yourself and the commitment that you made to your city and the world around you helps so many people, many of which may not remember you many years from now, but you will have an impact and totally change their lives," Garcetti said.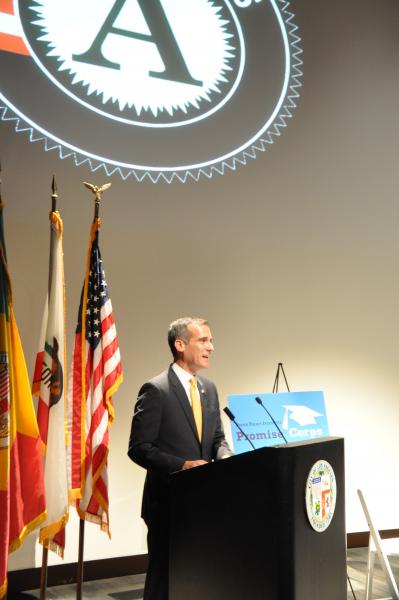 During a more personal moment, Garcetti reflected on his own experience volunteering after he finished graduate school. He flew to Burma in 1992 to help promote democracy, but quickly realized what an idealistic view that was after working with people who had seen their classmates shot and killed in front of them because the government did not want them to be part of the free elections that were being held.
When he asked a Burmese woman why she was volunteering she told him, "I don't really have a choice. I'm here. But I want to know what freedom taste's like. You have experienced freedom – you have smelled it, tasted it, and lived it. And that is what I want".
"That has stuck with me every single day. I'm here because of the experiences that I saw, the friendships that I formed, the people that I worked alongside and the way that I saw the interconnectivity that human beings have," Garcetti said.
Jasmine Tovar, a 23-year-old Promise Corps project leader from South Los Angeles who has been volunteering for a year now has felt the impact of civic service first hand. Last year, Tovar worked at the 99th Street Elementary School in Watts and watched as a young girl went from being timid and struggling with her coursework to being confident in her abilities and successful.
SEE MORE: Educator's Struggle With Parent Involvement in LA Preschool Program
Her experience with Promise Corps has also impacted her life and given her direction.
"In the future I plan to go back to school and earn my masters and continue to help the community that raised me and to help more roses grow out of the concrete," Tovar said.
Reach Contributor Ariba Alvi here or follow her on Twitter here.