Politics
L.A. Plans To Create More Green Jobs
Los Angeles Mayor Eric Garcetti and Vice President Joe Biden gathered for a round table discussion today at L.A. Cleantech
Incubator, or LACI, to discuss introducing more green employment in L.A.
"This is how we envision the new Los Angeles," Mayor Garcetti said.
The La Kretz Innovation Campus, where LACI will be housed, is a place where policymakers, entrepreneurs, engineers, and scientists come together to collaborate on the development of L.A.'s green economy. The focus is creating clean technologies, which can lead to green jobs.
LACI is a non-profit, public-private partnership that allows companies to deliver market-ready clean-tech solutions. It targets local talent, helps to nurture their ideas, and gets new products into the market, creating more jobs and a consequently a bigger green economy in L.A. In other words, LACI will act as a mentor and help get start-up companies on their feet.

SEE ALSO: Vice President In L.A. To Discuss Minimum Wage Increase
LACI recognized that while we are facing global challenges, we need local solutions, such as this tech incubator, in every neighborhood and city.
"It offers our entrepreneurs, our future workers, our students, our innovators and our do-ers 60,000 square feet that is theirs to explore the possibilities of what tomorrow may look like," Garcetti said.
The La Kretz Innovation Campus is made up of 3.2 acres, owned by the L.A. Department of Water and Power and is located in L.A.'s Arts District.
The space offers conference rooms, prototype workshops, training centers, event spaces, offices and research and development labs all under one roof, which can help get promising tech companies up and running.
The goal is to connect clean-tech incubators around the world with each other.

"If we're going to solve this critical challenge, it's going to happen one by one in each of our nations," Garcetti said.
So why was Los Angeles chosen as the location for LACI? Los Angeles is one of the leading cities in innovation. Biden said that Los Angeles offers promise, if given the chance.
SEE ALSO: L.A. Hosts First US-China Climate Leaders Summit
LACI CEO Fred Walti also talked about how the Los Angeles incubator is so unique. He said that it's the only one of its kind in the world. The Los Angeles facility has been designed to initiate clean-tech from the very beginning.
Within this incubator, a researcher is able to conduct research, make the prototype, and have the product certified all under one roof. At LACI, innovators have the ability to introduce the finished product to the market place.
"This is the house where the magic happens. This is where invention, and innovation, and incubation, and if we're lucky monetization…all of that…happens," Walti said.
In addition to establishing green jobs, creating a greener environment is also a goal.
Biden discussed the plan to curb carbon pollution from vehicles and coal plants in order to cut carbon emissions by an additional 26-28 percent by 2025.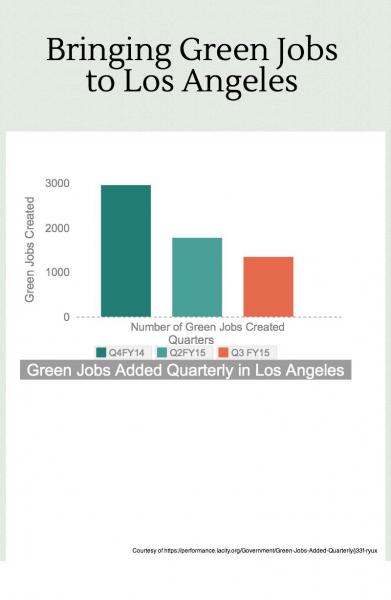 According to Biden, the cost of solar has gone down by 60 percent.
He added that solar electricity generation creates jobs ten times the rate of any other sector of the economy. Wind power is now cheaper than coal.
"We're leading the world as we head to Paris this month to hammer out the deal to change the climate trajectory across the planet and we can do this," the vice president said. "We have three other assets that no other country has."
He explained that our country's consensus is the first asset. He said our second asset is that we have the most advanced scientific technological skills in the world that can address our climate challenges. Our third asset is our access to freedom.

SEE ALSO: Biden Touts Free Community College Plan In Culver City
He also addressed what he called the "unrelenting wave of immigration, interrupted only occasionally".
"It gives us the advantage of having the best, the most capable, the most innovative people from every culture in the world, because for anybody to leave home, it takes some courage," Biden said.
The vice president explained that in order to fundamentally change things you have to break the old system. He pegged this as one of the reasons behind American innovation, in addition to the freedom we enjoy.
"Those assets all align right here in this facility and bringing together innovative minds, who have the courage to take risks and chances, to start up on new enterprises…that's the definition of incubator," Vice President Biden said. "There is a power in an incubator."
The idea of having all necessary resources to take a product from paper and introduce it into the market all under one roof is set to be the model for the future.
"I'm not sure that any of us really envisioned it coming where it is now when we started it, but it's been terrific to be here and I think we're just really beginning," Walti said.
Encouraging entrepreneurs, business leaders, students, and innovators to collaborate and work together under one environment is the new goal to create clean-tech in Los Angeles.
Click here for data.

Reach Contributor Jasmine Kianfard here.