Film and TV
Film Review: 'By The Sea'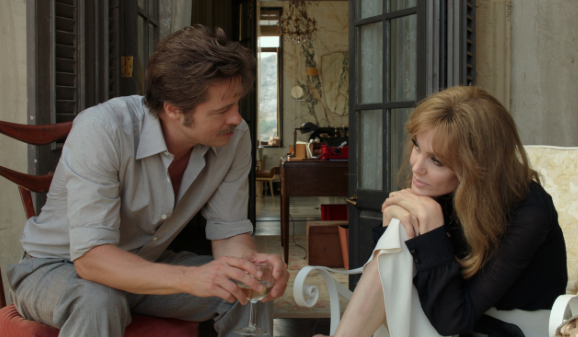 "By the Sea" marks super-couple Brad Pitt and Angelina Jolie-Pitt first starring film together since "Mr. and Mrs. Smith" premiered in 2005. That film was pivotal in that it sparked one of the most controversial love triangles in contemporary Hollywood history, in which Pitt famously left his then-wife, Jennifer Aniston, for Jolie. While the Pitts have only been officially married for a year, their characters in "By the Sea" are a struggling couple that has been married for 14 years. Both Pitts produced the film, with Jolie-Pitt directing and writing the script.
The film takes place in the early 1970s, and Roland (Pitt) and Vanessa (Jolie-Pitt) are taking a vacation at a beautiful French hotel on a Mediterranean cove. The visuals are absolutely breathtaking, and Roland and Vanessa set up home in the hotel, filling it with suitcases, liquor, pills and a typewriter. Roland is a struggling writer who attempts to get over his writer's block, but spends most of his time drinking his sorrows away at the hotel bar. Vanessa, a former dancer, paces aimlessly around in her room, her face streaked with running black mascara from crying. And crying. And even more crying. At a certain point, you wonder if someone needs to sedate this woman, for she cries so much.
READ MORE: 'Made In The A.M' By One Direction - Album Review
It's clear that both Roland and Vanessa are living an unhappy marriage, as they both don't really pay attention to one another and wander off in their own sadness. While at first the viewer is curious as to why both of them are just so sad, that morphs into impatience. The film moves at an incredibly slow pace and doesn't do much to make up for it. However, interest is piqued with the arrival of Lea (Melanie Laurent) and Francois (Melvil Poupaud), a French couple on their honeymoon whose relationship is clearly the polar opposite of Roland and Vanessa's. Lea and Francois are sexy with one another and have fun. They fit the role of the happiest couple on Earth perfectly.
The rest of the movie progresses a little predictably. Lea and Francois are obviously there to help Roland and Vanessa explore and push their boundaries, even if they don't interact with them. After overhearing Lea and Francois' lovemaking, Roland and Vanessa experience a wave of emotions that make them release Lea and Francois are replicas of their former selves. They are turned on, saddened, angered, and puzzled, which causes them to communicate for what is clearly the first time in a long time. This film is perfectly abstract, as it's not exactly clear what Jolie-Pitt is trying to have the viewer understand. The character development is sub-par, and the explanation for Roland and Vanessa's detachment from one another is entirely cliché.
Verdict: Don't see it. Even if you're a die-hard Brangelina fan, the film moves at such a slow pace that the plot twist won't even wake up a viewer who fell fast asleep. A movie that relies so heavily on its twist ending isn't exactly worth watching again. Fans of the couple will have a better time ordering pizza and re-watching "Mr. and Mrs. Smith" on Netflix.
Reach Staff Reporter Adrianne Ramsey here.