Entertainment News
Demonstrators Protest Against Trump's Appearance on SNL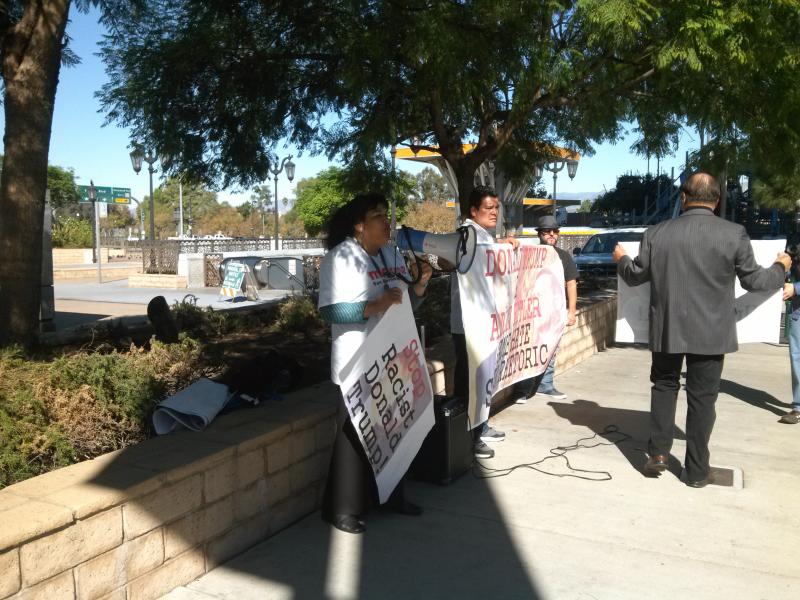 Protesters lined outside of NBC's building on Friday in Universal City, California to show their opposition of presidential candidate Donald Trump hosting this week's episode of Saturday Night Live. These protests coincide with ones held outside of the SNL studio in New York.
Trump has been named guest host on this week's SNL following an appearance made by Democratic candidate Hillary Rodham Clinton in early October.
SEE MORE: Twitter on Fire During Third Republican Debate
Members of the Full Rights for Immigrants Coalition chanted through a megaphone on a section of busy Lankershim Boulevard, across the street from the entrance to NBC Universal. Their signs likened Trump to Hitler with both names highlighted in bright red.
Protester Marco Lira says they are "manifesting themselves against Donald Trump." Lira says Trump "has to say so many comments against [the Latino] community" and the Coalition is upset that NBC is choosing to broadcast Trump despite his comments.
"Trump will, however, end up drawing the majority because they don't care about the minority," Lira said. He says the television company can go ahead and broadcast Trump but it is their job today to "let them know that this is not okay."
Dr. John Fernandez has been organizing protests for the Coalition since 2006. He says "racism is no joke" and the Coalition is "calling on the Latino community, the Mexican community, and the immigration community to boycott Comcast." So far, an online petition has been started and signed by 230,000 people in pressure NBC to cancel Trump's appearance.
Trump's guest star on SNL comes after NBC dropped Trump earlier this year after Trump's remarks about illegal immigrants. NBC refused to air the Miss Universe pageants anymore and dropped him from reality TV show "Celebrity Apprentice."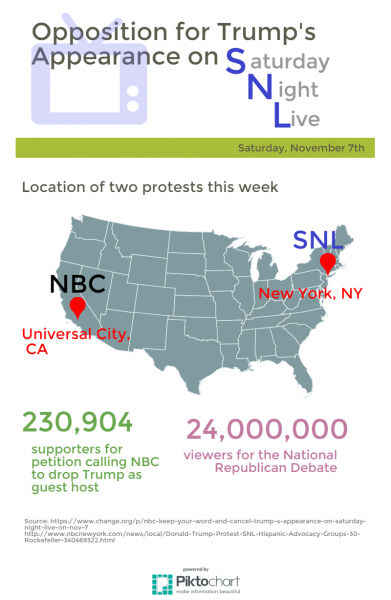 NBC lawyer Lincoln Bandlow, Fox Rothschild LLP, said the Coalition's efforts to stop speech is "deploring." He said he is 100 percent against their movement of stopping any speech that hurts people's feelings. The protesters have "understandable concern" over Trump's appearance but believe they have mischaracterized him as a racist, he said.
SEE MORE: Young Versus Trump: More Than Politics
The large viewership has financial value. CNBC and CNN have charged ad companies six figure amounts for 30-second ads during the debates last week and in September, respectively, according to a media buyer who spoke to The Charlotte Observer. Thirty second ads on Saturday Night Live are $180,000 but these rates may go up during Trump's appearance, the same buyer said.
At the end of the day, though, the Coalition thinks it's all about the ratings. Coalition leader Fernandez says NBC and Trump are partnering up because Trump needs votes and NBC needs to profit, he said. The Republican debate held in August drew 24 million viewers and CNN reported 22.9 million viewers.
As for viewers, there may be at least one. Clinton commented on Jimmy Kimmel Live! Wednesday night that she "might" watch Donald Trump's appearance on SNL.
Contact Staff Reporter Chris Porter here.